Loot Gaming is a subscription box for video game fans from Loot Crate. Each Loot Gaming crate feature $60+ worth of epic collectibles, figures, apparel, accessories and more from the biggest and best video game franchises. With today's Loot Gaming review we're unboxing the September 2016 Loot Gaming crate. The September Loot Gaming theme was BATTLEGROUND.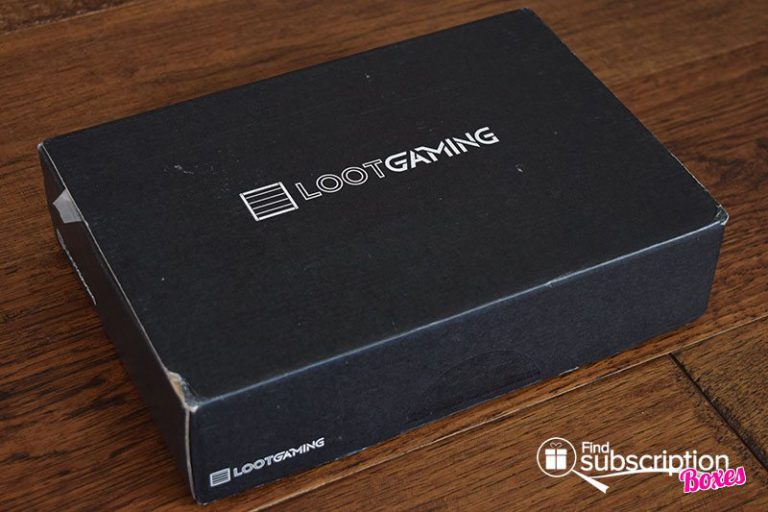 This month Loot Crate included a large Battleground poster that had descriptions of each month's gamer collectibles on the back.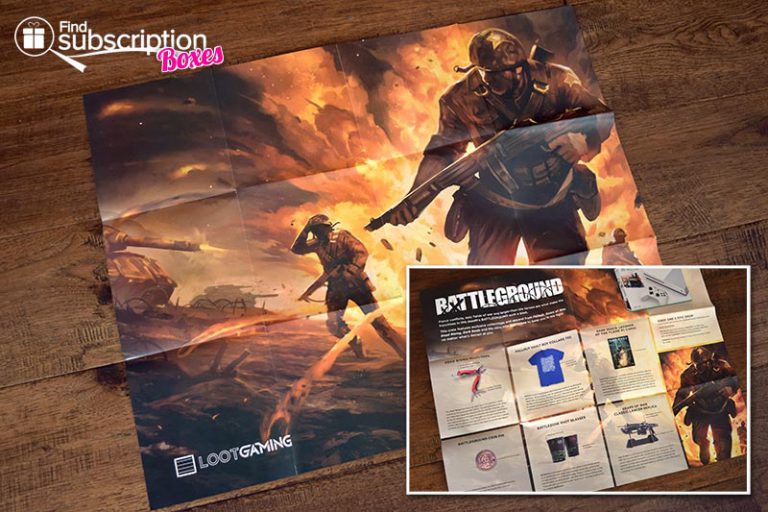 Here's a first look inside our September 2016 Loot Gaming Battleground crate.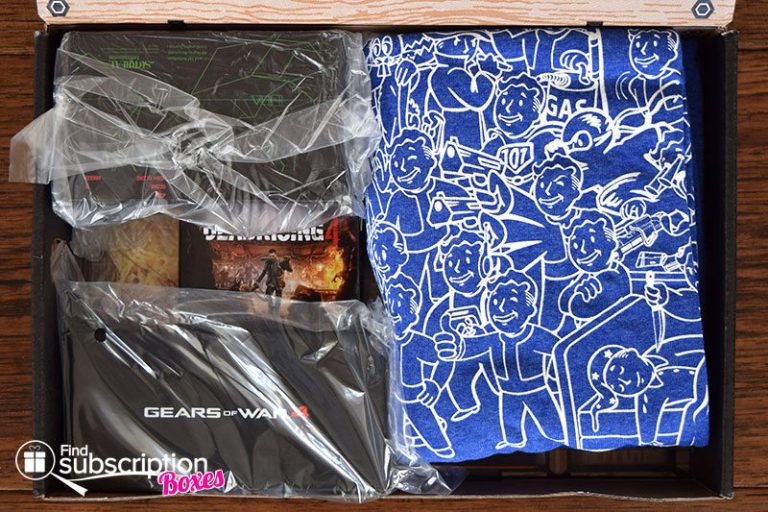 Inside the September 2016 Loot Gaming Battleground Crate
There were 6 video game items in the September Battleground Loot Gaming subscription box.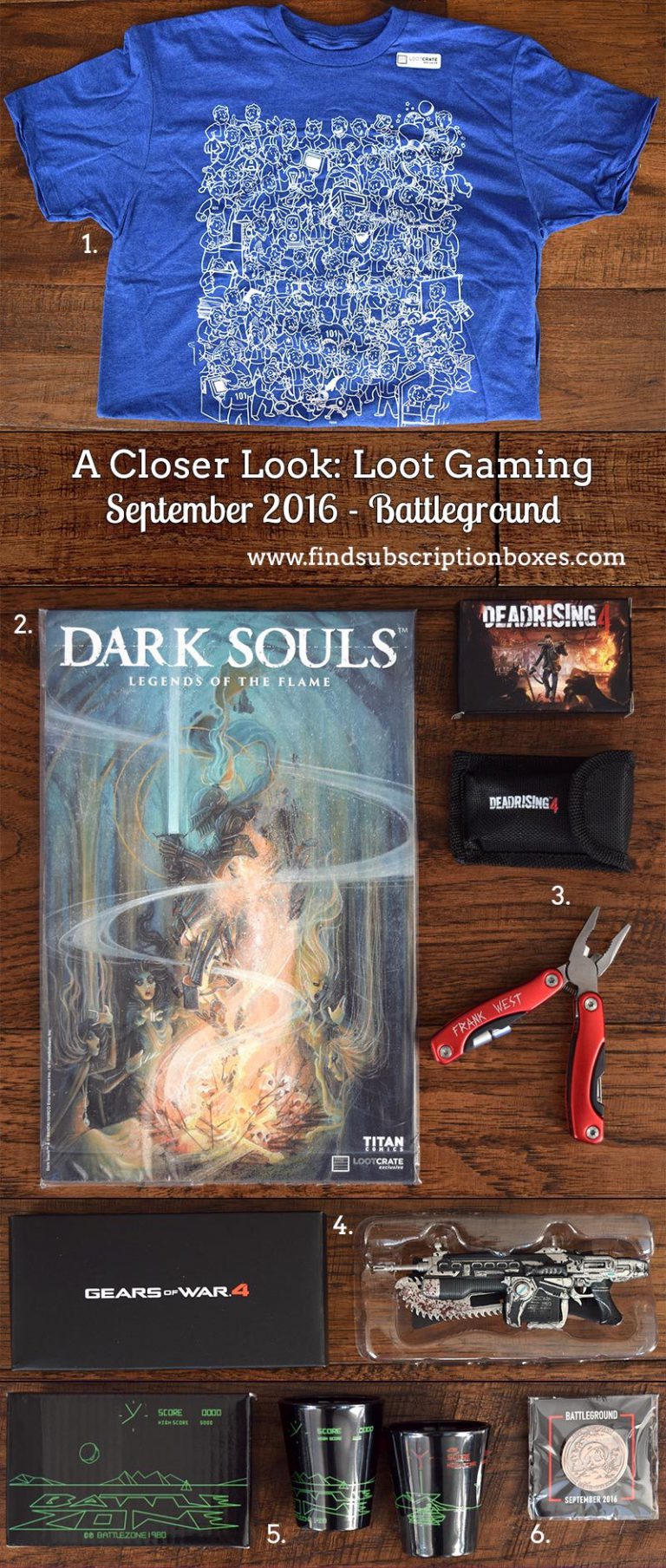 EXCLUSIVE Fallout Vault Boy Collage Tee
This exclusive Fallout t-shirt showcases the many faces of the Vault Boy.
EXCLUSIVE Dark Souls: Legends of the Flame #1 Comic
With an exclusive Loot Gaming Cover, this edition also has a 4-page feature showcasing Dark Souls concept art.
EXCLUSIVE Dead Rising Multi-Tool
With 6 non-blade tools and a flashlight, this multi-tool is super helpful in the real world or during a zombie apocalypse.
EXCLUSIVE Gears of War Classic Lancer Replica
Measuring 4.5 inches, this scale model of the Mark 2 Lancer Assault Rifle from Gears of War is an iconic addition to your collection.
EXCLUSIVE Battlezone Shot Glasses
These two exclusive shot glasses feature the "Game Over" and map screens from the original Battlezone.
EXCLUSIVE Battleground Coin Pin
This exclusive coin features a design commemorating the fallen and the heroes who carry on.
September 2016 Loot Gaming Box Review Wrap-Up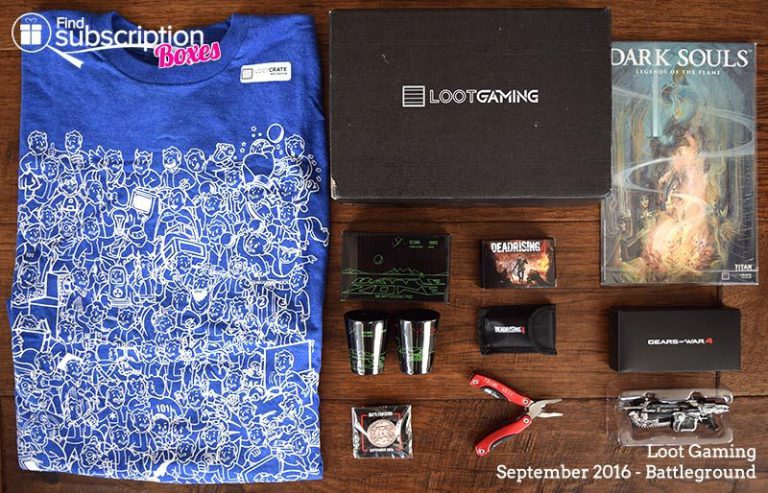 September's Loot Gaming crate was filled with exclusive items from a variety of battle and war-inspired video games. We love the bright blue Fallout Vault Boy t-shirt. It has outlines of different versions of the Vault Boy, the official mascot of the Fallout universe, designed in Where's Waldo style.
The Dead Rising Multi-Tool is a practical collectible for any gamer. It has a screwdriver, bottle opener nail file, flashlight, and pliers that fold to fit into a small pouch. One handle is etched with "Frank West", the main character of the game.
The Lancer Replica comes with a stand so you can showcase this chainsaw/machine gun combo. This battle-worthy gun replica is very detailed and even has spatters of blood on the end.
After a day of battle, you can relax with a round of drinks from the Battlezone shot glasses. One glass has the map screen and the other shot glass has the Game Over screen.
The Dark Souls comic book introduces new stories based on the Dark Souls franchise. The short stories tie into the world of the game and emulate player story lines.
What was your favorite geek collectible from the September Battleground Loot Gaming crate?
Loot Gaming Coupon Code
Use Loot Gaming coupon code SAVE3 for $3 off any new Loot Gaming subscription. Join today!