Nerd Block Classic delivers monthly mystery subscription boxes of nerd gear and collectibles. Each Nerd Block Classic has 4-6 nerd collectibles, including an exclusive nerd t-shirt, with a total $60+ value. Every Nerd Block also includes a free $10 credit to ShirtPunch.com! With today's Nerd Block Classic review, we're unboxing the September 2016 Nerd Block Classic nerd subscription box.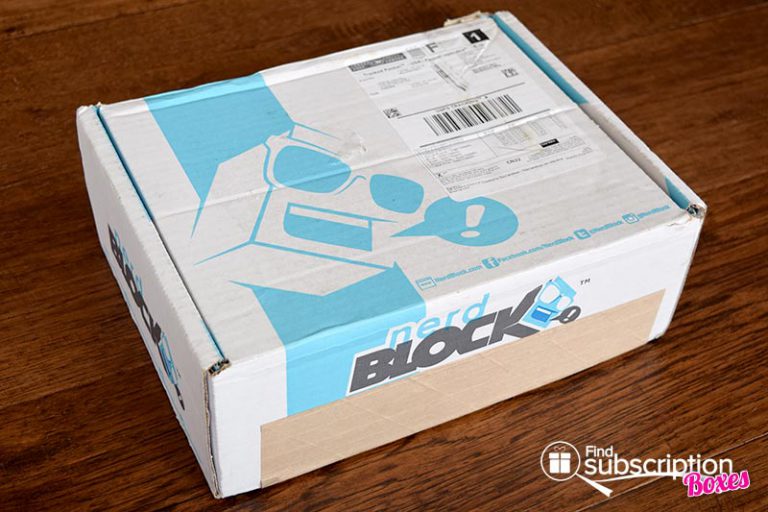 Nerd Block Classic boxes include a product card sharing information about the nerd collectibles in that month's nerd box. There was also a spoiler for the October Nerd Block Classic box.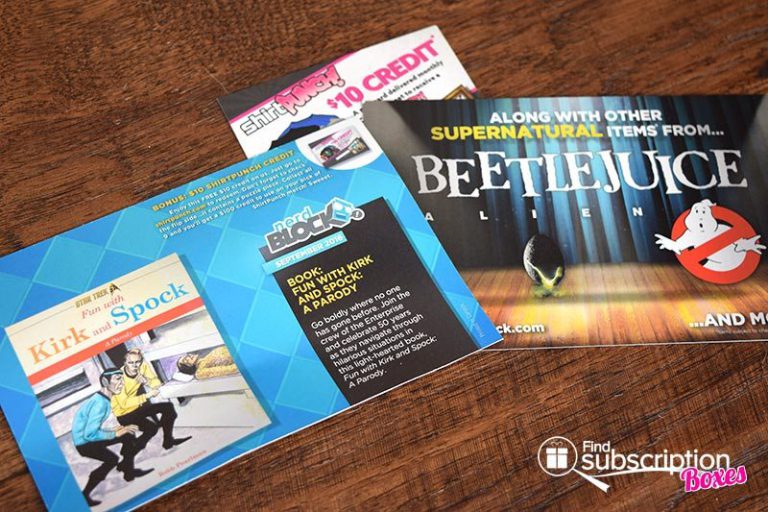 Here's a first look inside our Nerd Block Classic September nerd subscription box.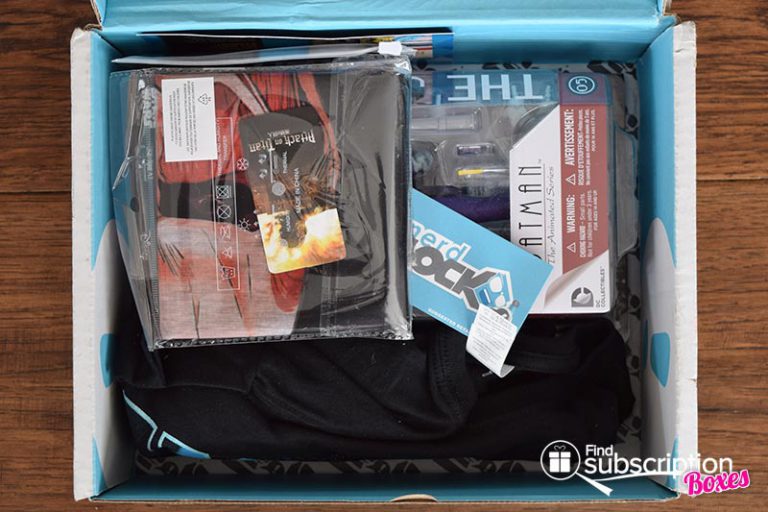 Inside the September 2016 Nerd Block Classic
There were 6 collectibles in our September Nerd Block Classic monthly nerd box.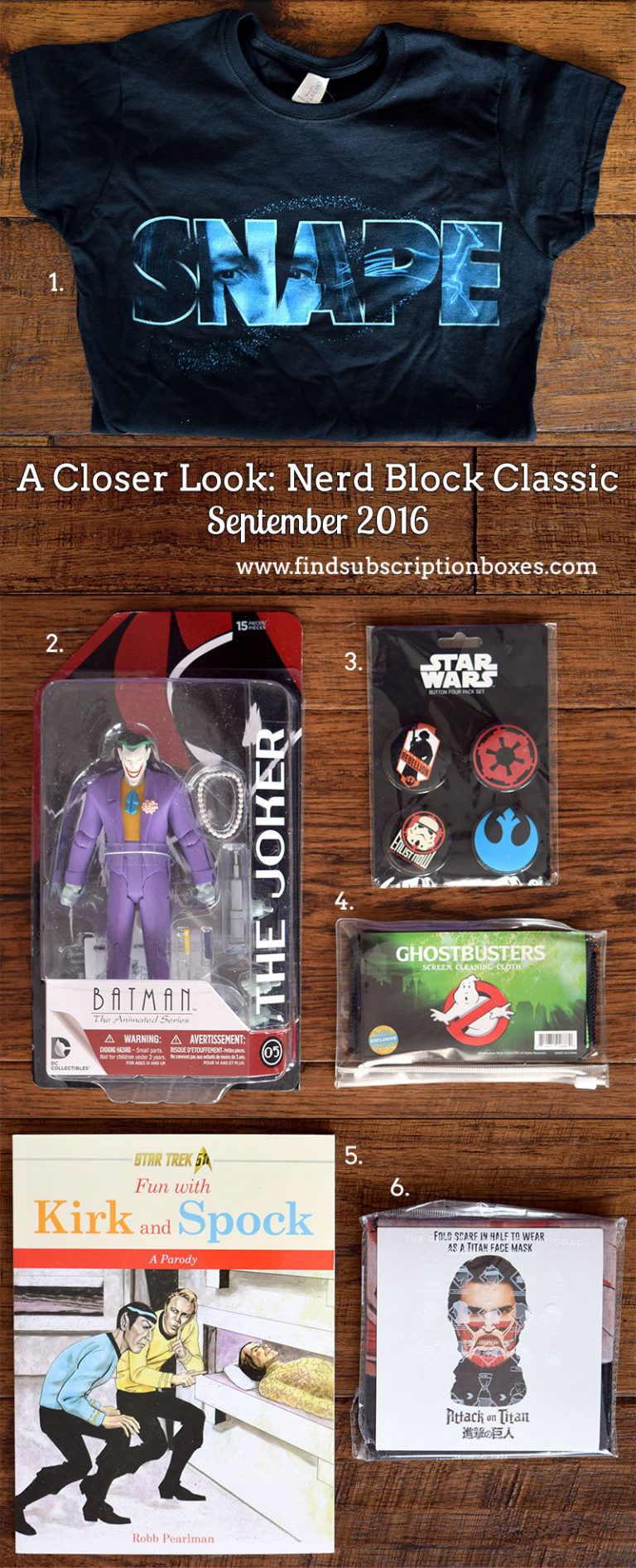 EXCLUSIVE ShirtPunch Harry Potter T-Shirt
This exclusive Harry Potter Shirt celebrates potions master Severus Snape.
Batman the Animated Series/The New Batman Adventures Assorted Figures
Featuring Batgirl, Penguin or The Joker, decorate your Batcave with one of these awesome figures.
EXCLUSIVE Attack on Titan Multi-Functional Scarf
Wear this exclusive scarf as a scarf, headband, or for cosplay to turn into a colossal titan and devour your enemies.
Fun with Kirk and Spock: A Parody Book
Join the crew of the Enterprise and celebrate 50 years of space exploration with this light-hearted parody book.
EXCLUSIVE Star Wars 4pk Button Set
Use these exclusive Star Wars pins to show whether you ally with the rebellion or the Galactic Empire.
EXCLUSIVE Ghostbusters Screen Cleaning Cloth
For those who didn't get the exclusive Ghostbusters phone case, this screen cleaning cloth is perfect for getting your tablets, computers or glasses clean.
September 2016 Nerd Block Classic Review Wrap-Up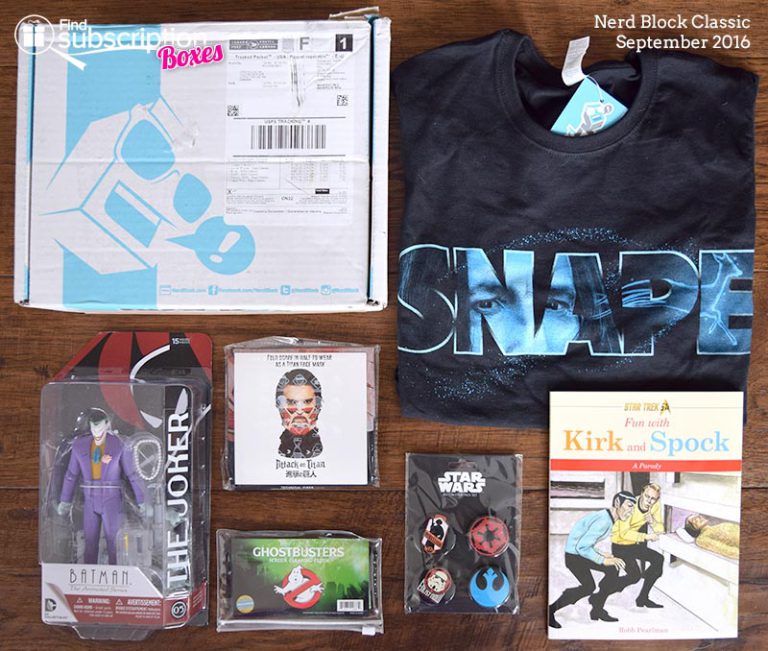 September's Nerd Block Classic monthly box for nerds featured items from popular manga, TV shows and movies. Harry Potter fans will love the exclusive shirt honoring Snape – the man who was secretly protected Harry, despite his Death Eater past.
We received The Joker figure from DC Comic's Batman: The Animated Series. This figure is jointed so the arms and legs can move and it comes with various accessories like a spy glass, purple comb, and knife. It also has replaceable hands so the figure can hold the different items.
The Attack on Titan scarf is made of a thin microfiber material. You can fold it in half to wear it as a Titan Face Mask. It's also a headband, neckerchief, scarf or headband. It's very versatile.
Another useful item is the Ghostbusters cleaning cloth. When folded out, it says "Who you gonna call?". It's perfect to clean your monitors or screens before your next gaming session.
Fun with Kirk and Spock: A Parody by Robb Pearlman gives a humorous look at some of the Star Trek characters in simple children's book style. Think Dr. Seuss or See Spot Run.
Finally, the Star Wars pins are great for geeking up your backpacks, bags or jackets. Two pins represent the rebellion while the other two support the Galactic Empire. Which will you choose?
What did you think September Nerd Block Classic nerd box?
September 2016 Nerd Block Classic Coupon
Join Nerd Block Classic today and save on your first nerd mystery box! Use Nerd Block Classic coupon code FindSubBox16 to save 15% off the first month of new monthly Nerd Block Classic subscriptions. Save more with multi-block and multi-month subscriptions!