Smockbox is a monthly surprise box filled with clothing, accessories, and toys for babies and toddlers. Each box is curated on your preference of boy, girl, or gender neutral. These items are hip, stylish, and ethically made. You can discover new boutiques and small indie brands through the handpicked items that Smockbox provides.
The Smockbox for May contained 4 items. I chose the newborn gender-neutral box, but you can choose boy or girl and go up to 2T.
Let's take a closer look at everything that came in the box:
1. Black and White "X's & O's" Swaddle Blanket ($18.99)- This is a soft, muslin swaddle blanket with a cute neutral "hugs and kisses" design. It came wrapped up in a cute bow, but unfolds to 47″ x 47″. It is made by Lulujo Baby and is 70% bamboo. The size of this swaddle makes it very versatile to use as a blanket, cover, pad, or more. It is already prewashed and it just gets softer.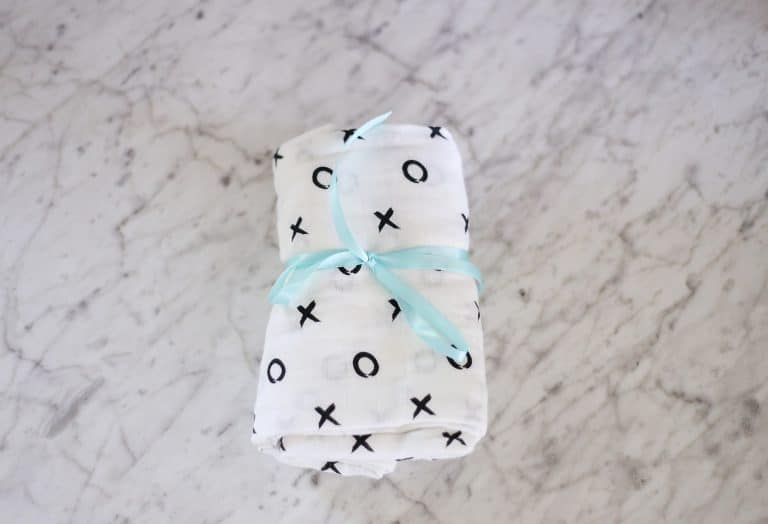 2. Mustard Cactus Print Bib ($22.00)- This cactus bib in mustard is a trendy kerchief style. It is made out of 100% organic cotton. With its double layer, it is designed to absorb messes before they reach the clothes underneath. It has two snaps in the back to adjust the neck size. The bib is made by a company in the USA, Winter Water Factory, who hires artists to design their bibs with unique prints.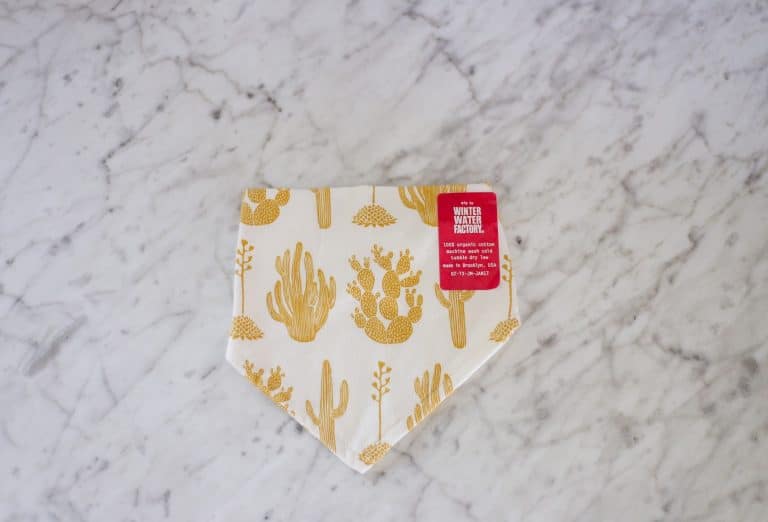 3. Bright Yellow Pear Fruit Teether ($12.99)- This pear fruit teether is made out of 100% natural rubber in a bright yellow color to draw the attention of babies. It is designed to be worry free for moms with no holes to accumulate mold and no dyes that can harm little ones. It is made by Oli & Carol who have a focus on creating eco-friendly products and being socially responsible.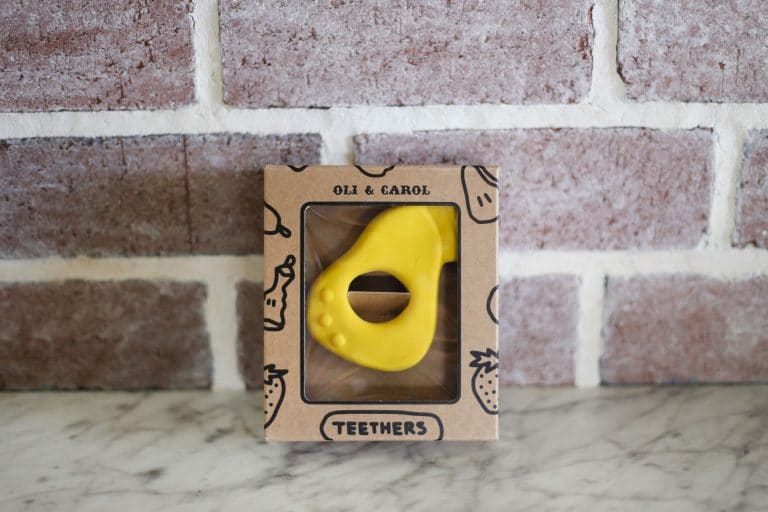 4. Printed "Loved" Newborn Onesie ($22.00)- This onesie is created by Tenth & Pine, a company based in the USA, that focuses on making gender neutral clothes for babies. The word "loved" is in typewriter style and is very trendy. It feels soft to touch and is made out of 100% organic cotton. The onesie itself is off-white and feels like good quality. This would look great on either a boy or girl.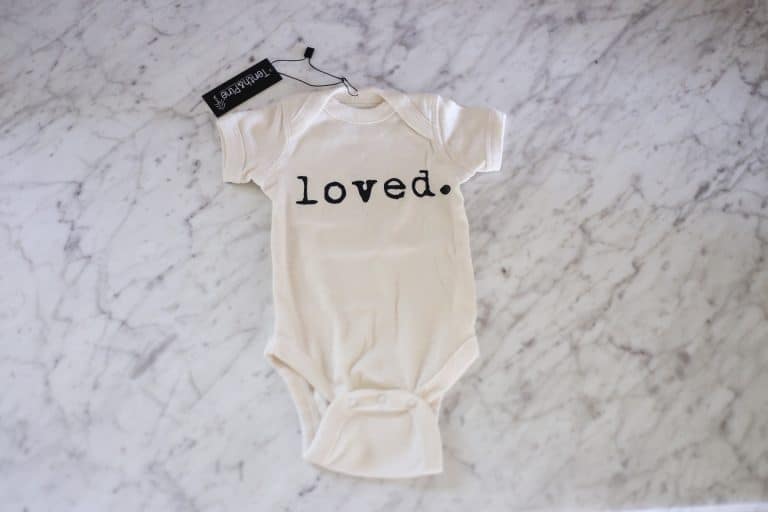 That concludes the items in the May 2018 Smockbox! All of these items came in a bunny printed cotton drawstring bag (valued at $6.00). The bag can be used for other purposes as well. Overall, I found the items to be very appropriate for the box that I chose and they are all things I will use. The swaddle and the teether are not only cute, but perfect for the newborn stage. The bib and onesie are also very stylish and could easily be worn on either a boy or girl. The items that you get will vary on the box that you choose, but that's what keeps it a surprise.
A monthly box is $64.95, though this total box values at $81.98. Because these items are sourced from smaller shops in the USA, you are spending a bit more than on something you would get at a bigger store. This could be a con to some, though others may be drawn to the fact that the box is supporting USA brands.
Smockbox can make a great gift for a friend or even a treat for your own family. It is fun to learn about new brands and see what products will arrive.