SNACK BOX by Try The World is a monthly snack subscription box for people who want to try gourmet snacks from around the world. Every month, they deliver 5 popular treats snacks from 5 countries for you to discover and enjoy. Today, we will be reviewing the SNACK Box by Try The World August 2016 box.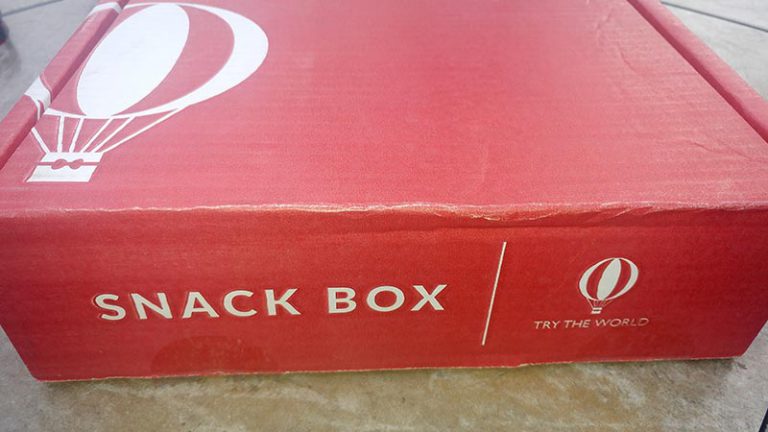 The matte, apple red box, which arrived at our doorstep, was plum full of goodies. When opened, the lid of the box features a lattice pattern on the interior of the box. Natural colored, decorative straw surround your goodies. The portion of each product is quite generous; you get your fill of each.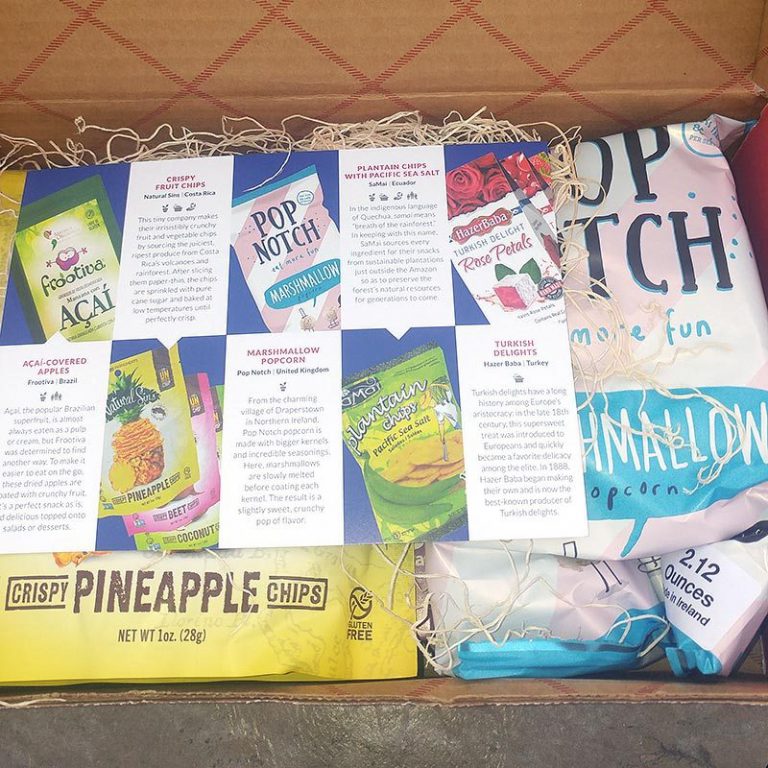 Inside the SNACK BOX by Try The World August 2016 Box
Let's start with the sweet stuff! Frootiva-Acai-Covered Apples from Brazil, are perfect for a bike ride, hike, day at the office or at the park. According to the informational sheet provided by Try The World, "Acai is a popular Brazilian superfruit, is almost always eaten as a pulp or cream but, Frootiva was determined to find another way. To make it easier to eat on the go." These delicious, apple seed sized nibbles are chewy, sweet, bitter and a great topping to assist your favorite ice cream, salad etc.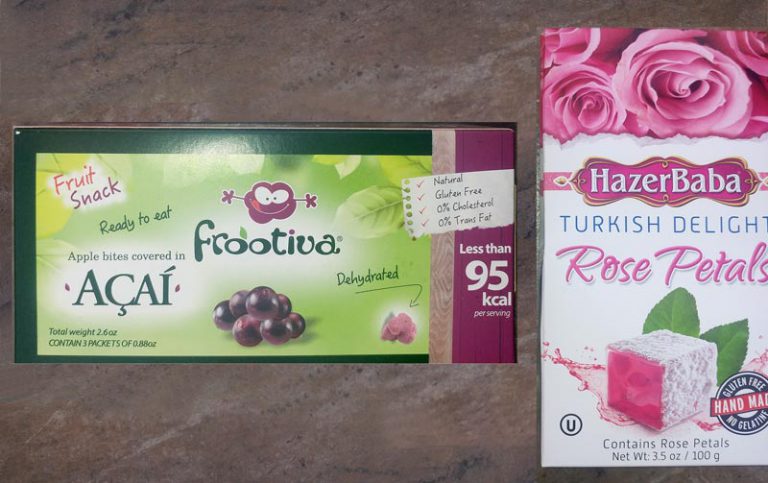 The Hazer Baba-Turkish Delights from Turkey turned out to be our favorite on the sweet side! "Turkish delights have a long history among Europe's aristocracy. Quickly became a favorite delicacy among the elite. In 1888, Hazer Baba began making their own and is now the best-known producer of Turkish delights." The Delights are chewy, mildly sweet, smooth and gummy with a mild rose flavor, covered with powdered sugar. These tasty buggers melt away in your mouth, before they have a chance to stick to your teeth. Heavenly!
Next, Pop Notch-Marshmallow popcorn from the United Kingdoms. Here it reads, "From the charming village of Draperstown in Northern Ireland. Pop Notch Popcorn is made with bigger kernels and incredible seasonings. Here, marshmallows are slowly melted before coating each kernel." The texture is that of kettle corn, with a traditional popcorn ball taste. Popped to perfection with lightly browned edges, the white corn kernels have a nice crunch and pink marshmallows coating. The best part is that, unlike most sticky popcorn snacks, Pop Notch does not stick in your teeth.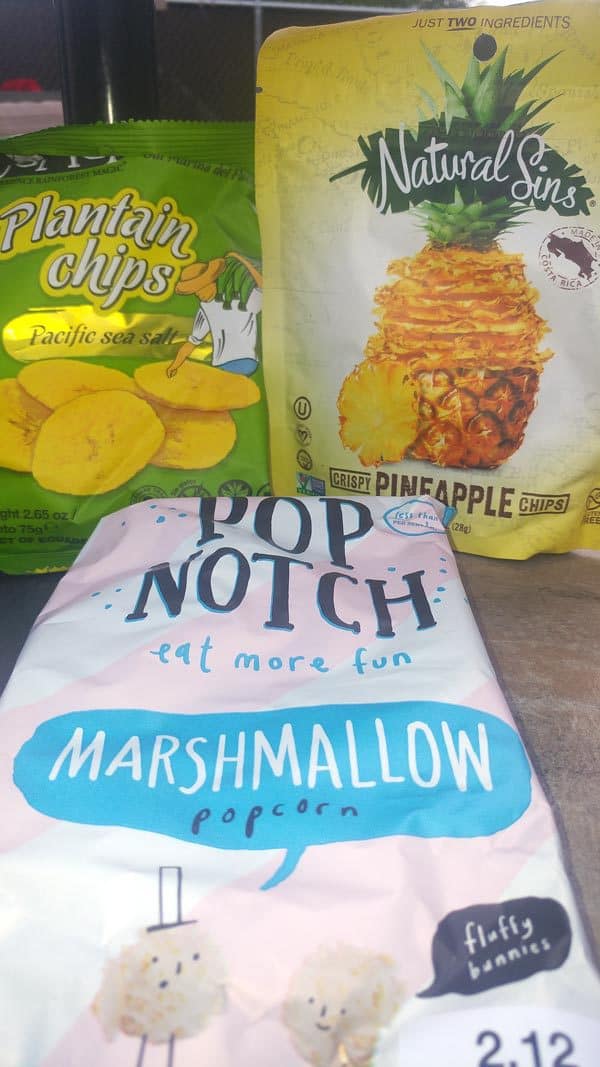 Now what? You guessed it, CHIPS! These thin cut Natural Sins-Crispy Fruit Chips from Costa Rica use the whole pineapple, rind and all. These fun shaped treats taste well, like dehydrated pineapple. The information card reads "This tiny company makes their irresistibly crunchy fruit and vegetable chips by sourcing the juiciest, ripest produce from Costa Rica's volcanoes and rainforests. Sprinkled with pure cane sugar and baked at low temperatures until perfectly crisp." Oh, and they are perfectly crisp. They have a bit of a chewy texture, after you have bitten into the chip and begin to chew on them. Although, over all, they are crispy and crunchy. Natural Sins also makes Beet and coconut chips, among many others.
The last snack we tried was the SaMai-Plantain Chips with Pacific Sea Salt from Ecuador. Out of all the delicious snacks in the SNACK BOX by Try The World August 2016 box, these are our favorite. Seasoned nicely, these chips are easy to bite into with a nice crunch to them. Cut to just the right thickness, you can also complement them with a dip. Eaten by the handful, they may remind you of traditional potato chips but, enjoyed one by one, you can taste the sweetness of the plantain. "In the indigenous language of Quechua, samai means 'breath of the rainforest'."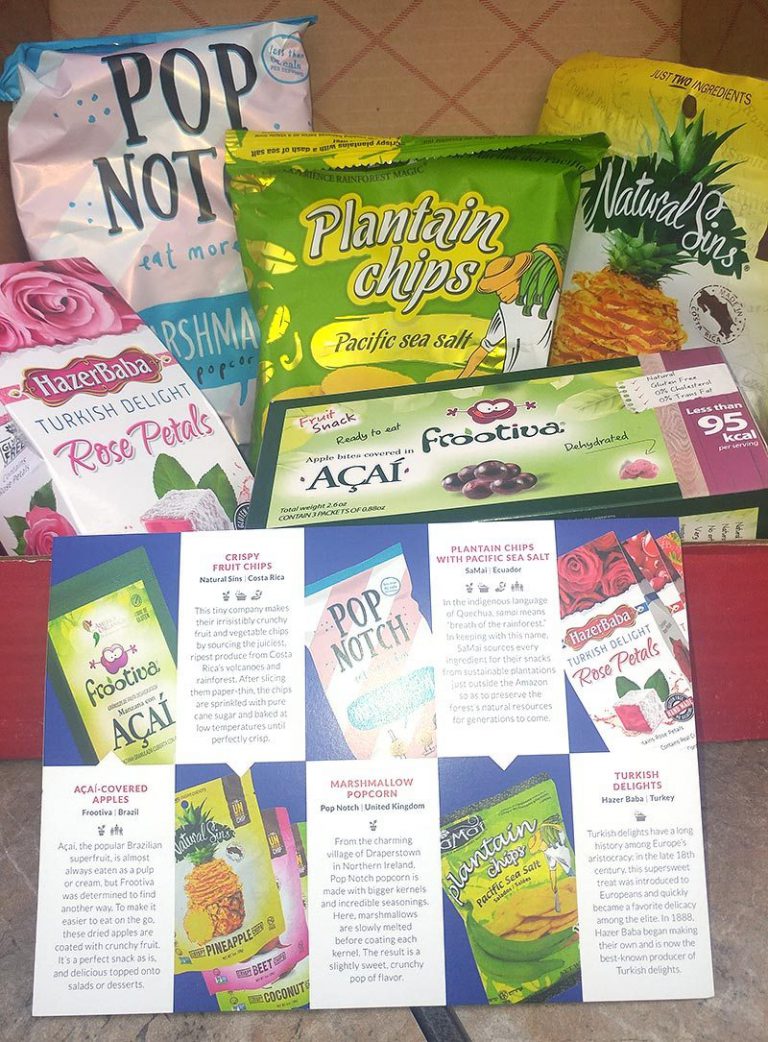 I must say, that the SNACK BOX by Try The World August 2016 box was such a delight – from portion sizes to presentation, diversity to the culture. All around "Try The World" made quite a positive impression on our taste buds! I hope that you may think about giving "Try The World" a shot for yourself.