Supply Pod is a monthly mystery subscription box where science meets science fiction. Curated by the professional geeks at Outer Places, Supply Pod by Outer Places delivers a themed box of science kits, sci-fi gear and more collectibles. With today's Supply Pod review, we're unboxing the Spring 2017 Supply Pod. The Spring Supply Pod theme was Genetics!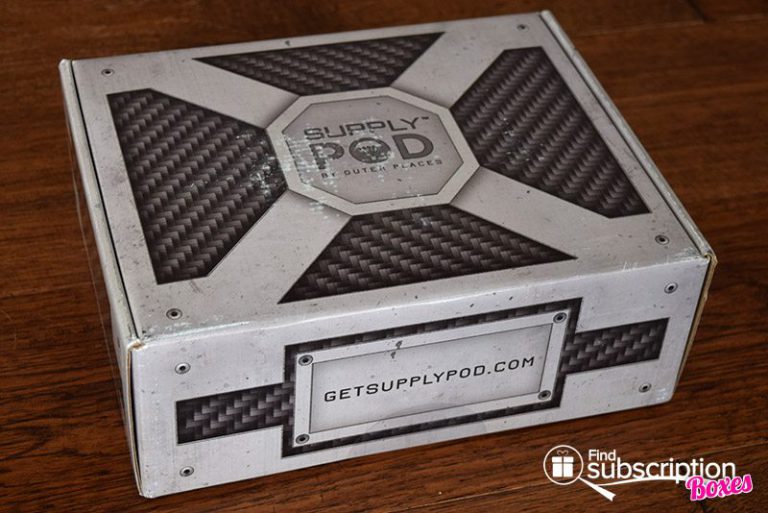 Supply Pod includes an informative magazine in each season's sci-fi box. The Genetics issue describes each of the items in the box and fun activities surrounding the DNA theme and an article about the history of genetics.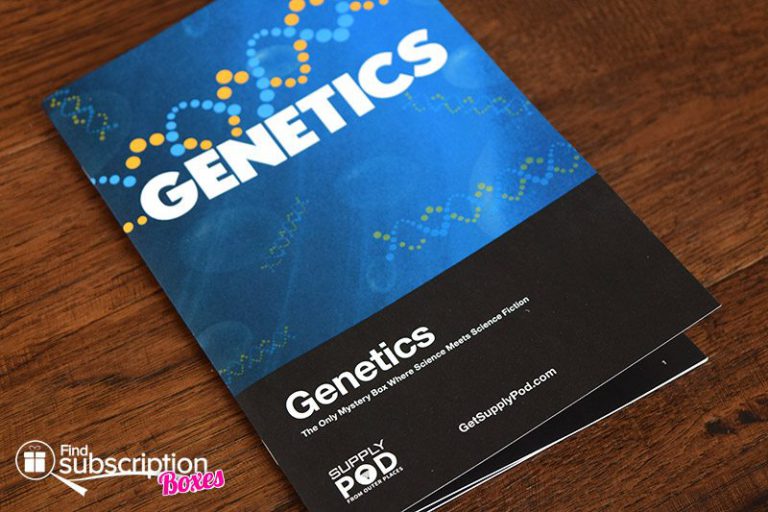 Here's a first look inside our Genetics Supply Pod Spring 2017 box.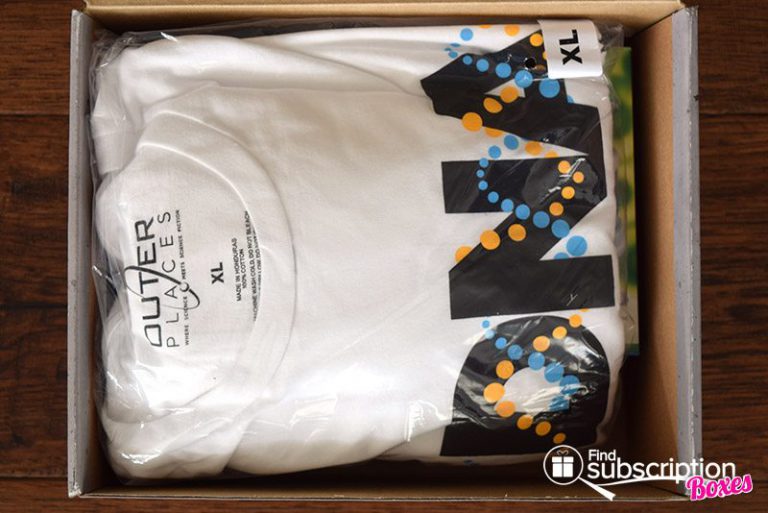 Inside the Spring 2017 Supply Pod Genetics Box
There were 5 sci-fi goodies in our Supply Pod Spring 2017 Genetics box.

EXCLUSIVE Genetics T-Shirt
This exclusive Genetics t-shirt is designed by the Supply Pod team and printed in the US.
Mighty Molecules
Explore the structural properties of molecules and chemical bonds with this Essential Chemistry Molecular Models set.
Handheld Microscope
Inspect dead bugs and other microscopic items with this 20x and 40x handheld microscope.
My First Lab Creepy Crawlies
Get a close look at some creepy crawlies with these 5 microscope slides.
Decoding Genes with Max Axiom Comic Book
This fun comic books gives a great overview of what genes are and how they work.
Charles Darwin Quotable Notables
This evolutionary sticker set is fun for the entire family.
Genetics Supply Pod Spring 2017 Box Review Wrap-Up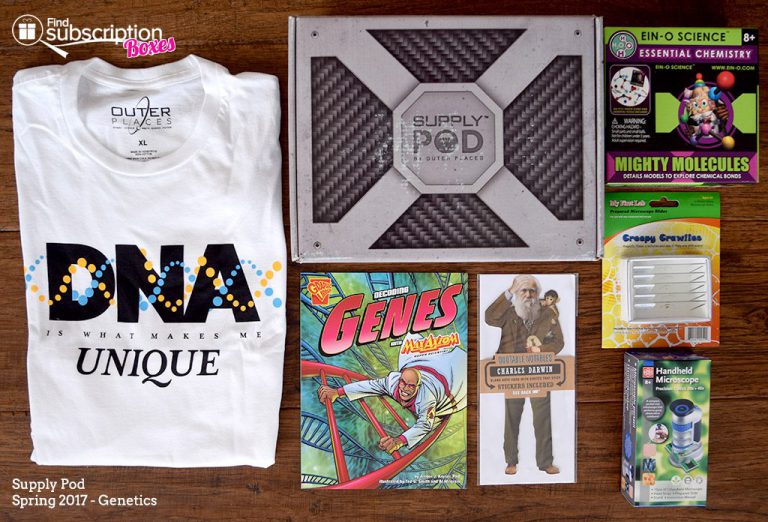 Supply Pod is a fun way to learn about a new science theme every month. The Genetics Spring 2017 Supply Pod delivered a variety of products and activities that made learning about Genetics interesting and engaging. Since we were in high school, we always got a kick out of building molecules using the colorful atoms and bonds. Now we can create our own molecules with the Ein-O's Molecular Models box kit.
When was the last time you looked REALLY close at something? The handheld microscope included in the box will re-spark the joy of discovery! Supply Pod also sent 5 My First Lab Creepy Crawlies bug slides to start off your science studies. Challenge the kids to take a closer look at clothes, hair and other things around the house and see what they discover.
We love the different t-shirts that Supply Pod creates for each box. This month's Supply Pod t-shirt design honors DNA and how it is what makes each of us unique.
The Charles Darwin card is a fun evolution-inspired card. There are unique stickers provided with the card that you can use to customize it. We loved reading the Decoding Genes with Max Axiom comic book by Amber J. Keyser, PhD. Through colorful illustrations and a simple story line with examples, you learn about genes, heredity and evolution.
With their new emphasis on STEM and education, Supply Pod is great monthly box for anyone who loves science! Which was your favorite Supply Pod Genetics item?
Supply Pod Coupon Code
Join Supply Pod today and save 10% off any Supply Pod subscription when you use Supply Pod coupon code FIND10 at checkout.