The FabFitFun VIP Box is a quarterly subscription box for women. Every season, the FabFitFun VIP Box sends subscribers over $225 in amazing beauty, wellness, fitness and fashion finds for just $49.99. With today's FabFitFun review, we're unboxing the Summer 2016 FabFitFun VIP Box. The FabFitFun Summer VIP box was designed by designer and creator, Alyx House.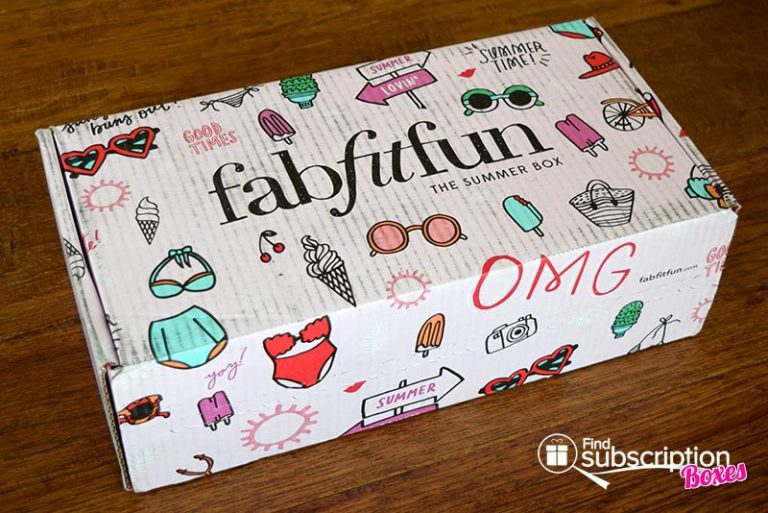 FabFitFun recently upgraded from a product insert to a special quarterly magazine. The FabFitFun Summer 2016 edition shared information and fun articles about each product. There was also fun summer popsicle recipes and ideas for how to have a great summer.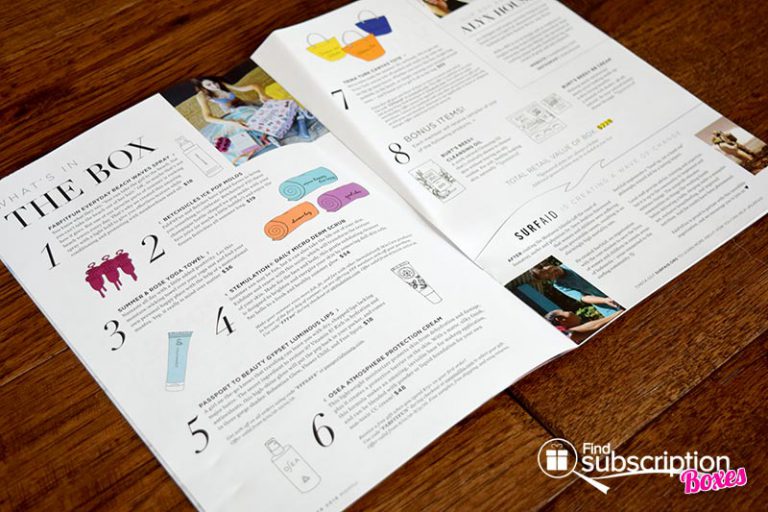 Here's a first look inside our FabFitFun Summer VIP Box.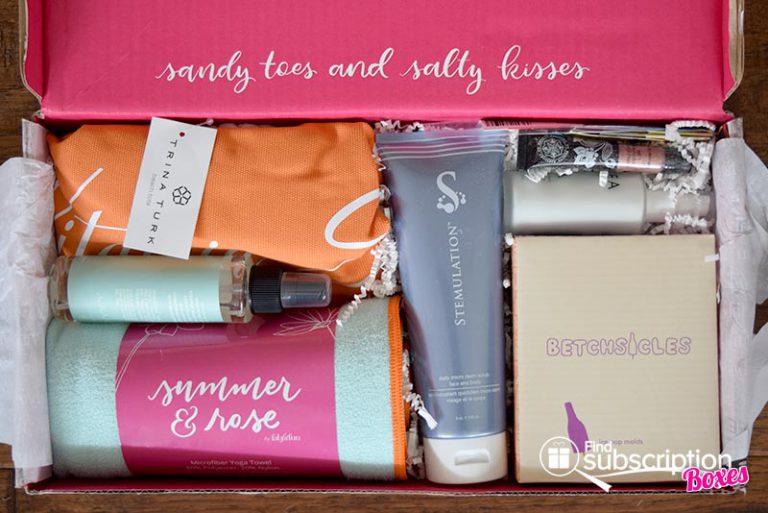 Inside the Summer 2016 FabFitFun VIP Box
There were 7 products in our FabFitFun Spring 2016 VIP Box.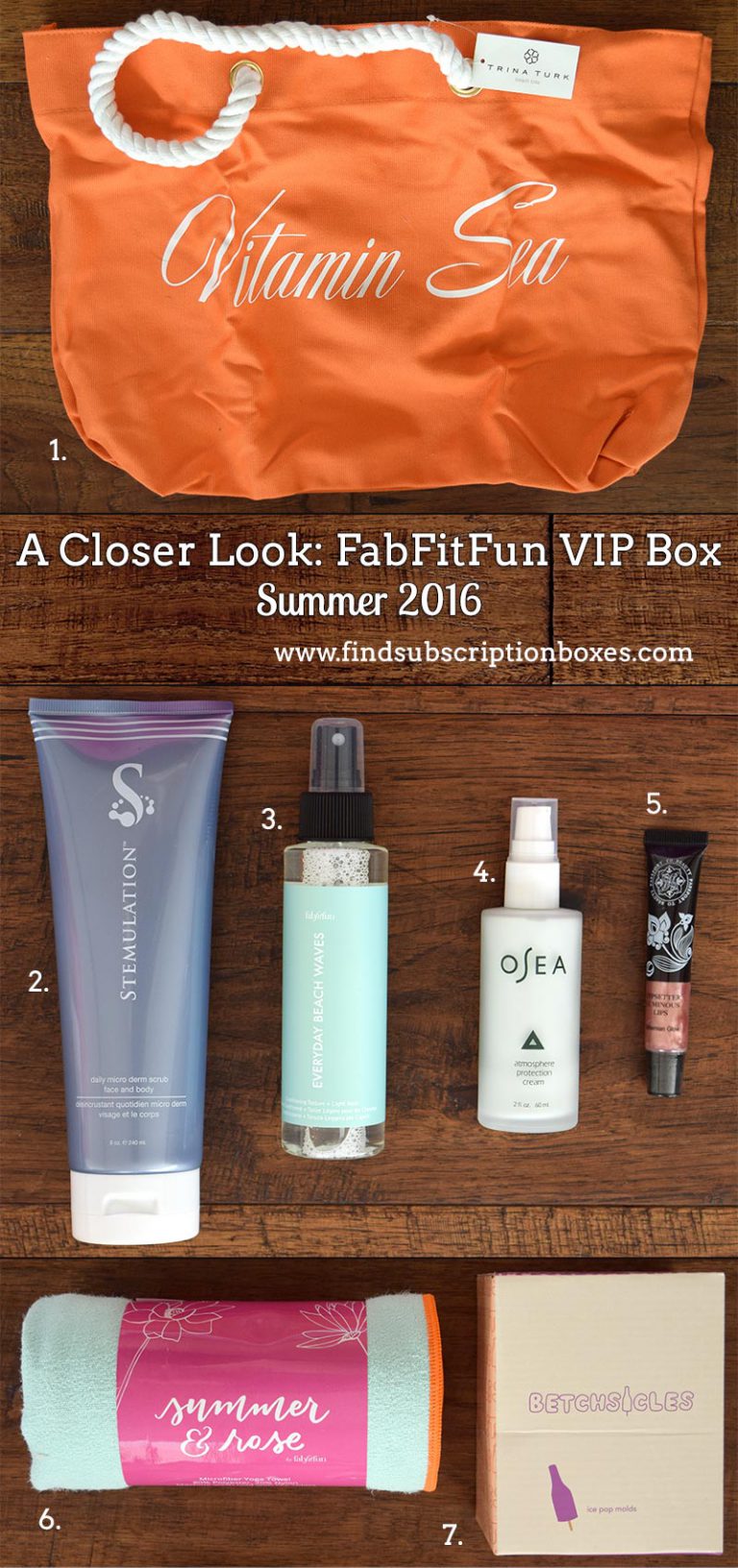 Trina Turk Canvas Tote, Retail Value: $55
Pack your towels and other on-the-go must-haves in this bright canvas tote with roped handles.
STEMULATION Daily Micro Derm Scrub, Retail Value: $34
Exfoliate and renew your skin with this gentle exfoliating cleanser for face and body.
FabFitFun Everyday Beach Waves Spray, Retail Value: $18
Get amazing beach waves with this texturizing and conditioning hair spray.
OSEA Atmosphere Protection Cream, Retail Value: $48
Protect your skin from dehydrating and damage with this lightweight moisturizer.
Passport to Beauty Gypset Luminous Lips, Retail Value: $18
This lip gloss adds a pop of color and rich hydration to soothe dry, chapped lips.
Summer & Rose Yoga Towel, Retail Value: $36
Use this versatile yoga towel over your yoga mat to wick away moisture as you stretch and relax.
Betchsicles Ice Pop Molds, Retail Value: $19
Make your own frozen popsicles and frozen treats with this FabFitFun and Betches champagne bottle-shaped ice pop mold.
Bonus Item: Burt's Bees BB Cream
Summer 2016 FabFitFun VIP Box Review Wrap-Up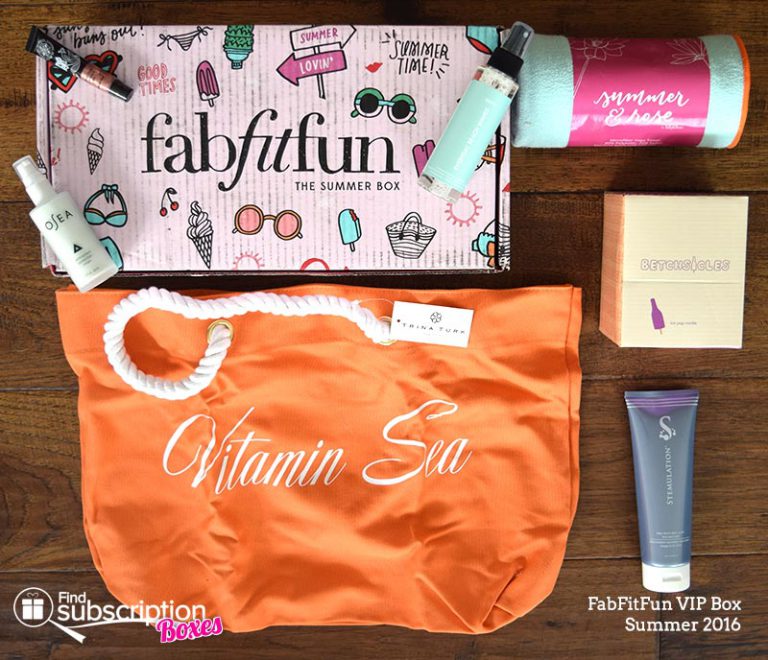 This Summer's FabFitFun VIP Box was packed with summer must-haves to help us look and feel our best this season. The Trina Turk Canvas Tote is perfect for summer trips to the pool or the park. It has a sturdy canvas material and a vibrant orange color. The Yoga Towel is another great summer essential. Use it for your next yoga session or as a great beach towel.
We received the OSEA Atmosphere Protection Cream in another box and have been using it as a daily light moisturizer. You can wear it alone or as a base for makeup or powder blends. Another great skin care find is the STEMULATION exfoliating scrub. Tiny exfoliating beads gently scrub your face and body to reveal smooth, radiant skin. It also has an amazing fresh scent.
For the a fresh summer look, the FabFitFun VIP Summer Box delivered some pampering and nourishing beauty products. First up is Passport to Beauty's lip gloss. We're big fans of Passport to Beauty. We loved that this gloss not only provides an all day shine, but is also packed with Vitamin E for hydration. For gorgeous summer hair, just spritz the FabFitFun Beach Waves spray onto dry or damp hair. Scrunch your hair with your hands and you'll get a fresh off the beach look. The total retail value of the Summer 2016 FabFitFun VIP Box was $228!
What was your favorite Summer 2016 FabFitFun VIP Box item?
FabFitFun VIP Coupon Code
For a limited time, new FabFitFun VIP Box subscribers can save $10 off your 1st VIP box when you use exclusive FabFitFun coupon code FSB10 at checkout. Your first VIP Box is just $39.99 after savings!