Once a season, Rachel Zoe and her team at The Zoe Report curate a surprise subscription box filled with the season's most coveted and trend-setting fashion and beauty finds. This quarterly Box of Style subscription box has $400+ worth of stylish fashion, accessories, beauty products and more. With today's Box of Style review, we're unboxing the Summer 2017 Box of Style by The Zoe Report.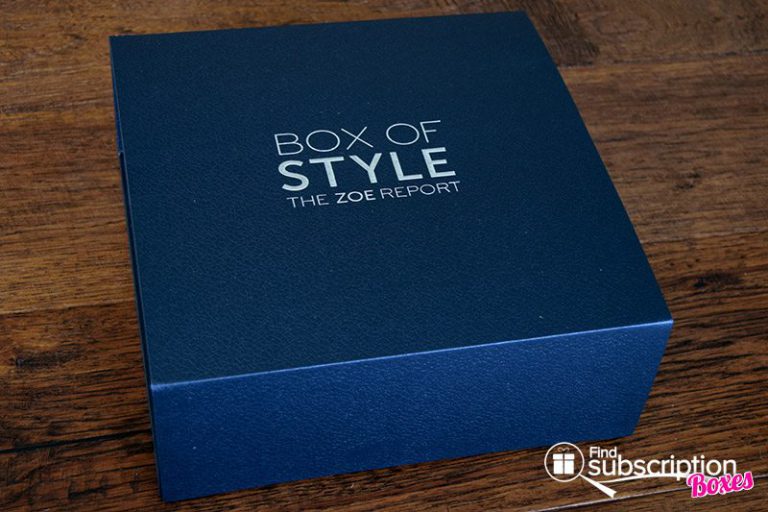 The Summer Box of Style included a product brochure with descriptions and pictures for each of the items in this season's box. There are also notes from Rachel Zoe and tips for styling or using the items in the box. Several discount codes for each of the featured brands are also provided at the back of the brochure.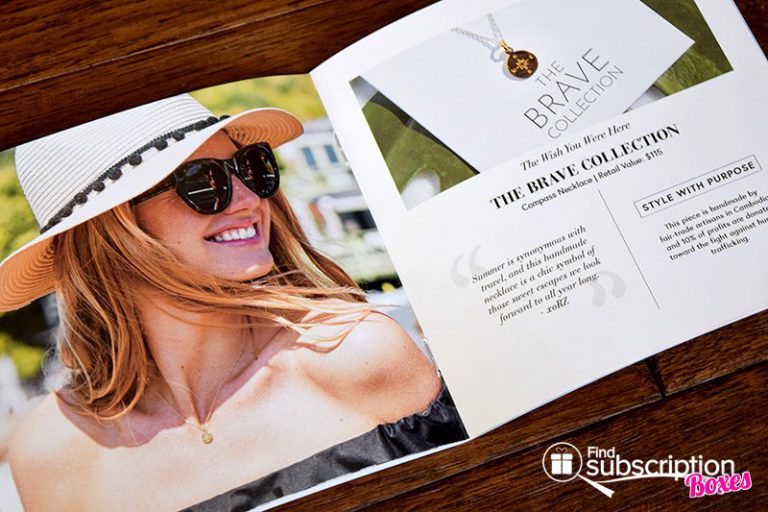 Here's a first look inside our Rachel Zoe Box of Style Summer 2017 box. We love that you can't get any hints or sneak peeks when you first open the box since each item is individually wrapped in black tissue paper.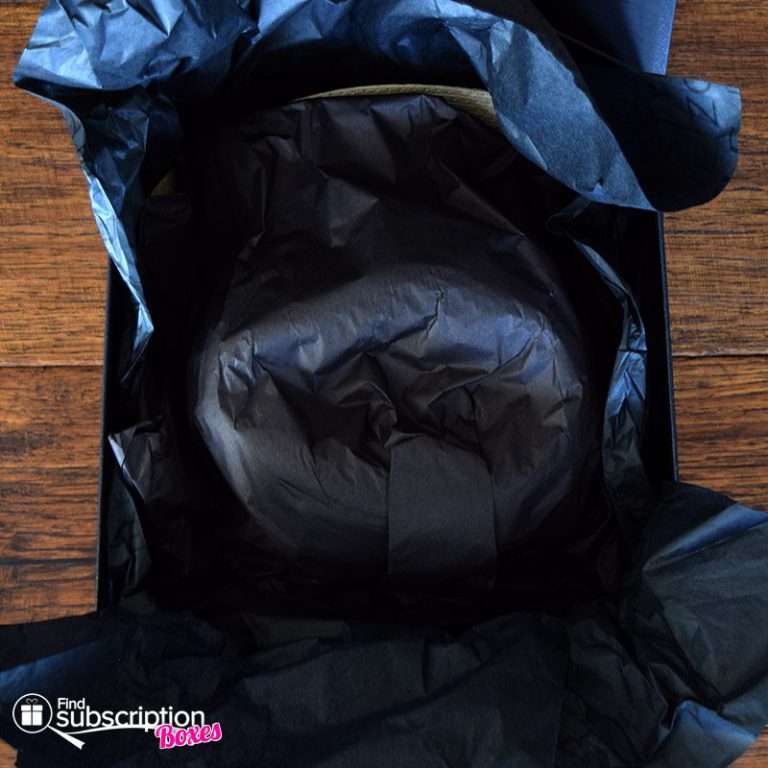 Inside the Rachel Zoe Summer 2017 Box of Style
There were 6 items in our Spring Box of Style by The Zoe Report Box.

Exclusive Collab – Helena Quinn Kimono, Retail Value: $120
"Versatility is the key to a polished closet. From the beach to the street, this muted floral stunner pulls together any ensemble – instant chic." – RZ
Sole Society Straw Panama Hat, Retail Value: $27
"A wide-brimmed hat is one of the most glamorous ways to protect your face from the sun, and this playful iteration adds a bit of splash to any outfit." – RZ
RAEN Durante Sunglasses – Black or Tortoise Shell, Retail Value: $150
"There's no such thing as too many sunnies, and this modern twist on a timeless style completes any look, casual or glam." – RZ
BeautyCounter Protect Stick Sunscreen, Retail Value: $18
The Brave Collection Compass Necklace, Retail Value: $115
"Summer is synonymous with travel, and this handmade necklace is a chic symbol of those sweet escapes we look forward to all year long." – RZ
BeautyCounter "Color Pinch" Cream Blusher in Hibiscus, Retail Value: $37
"A bright cream blush and a fresh, breathable sunscreen are summer's dynamic beauty duo and the ultimate way to bring out your natural glow." – RZ
Rachel Zoe Summer 2017 Box of Style Review Wrap-Up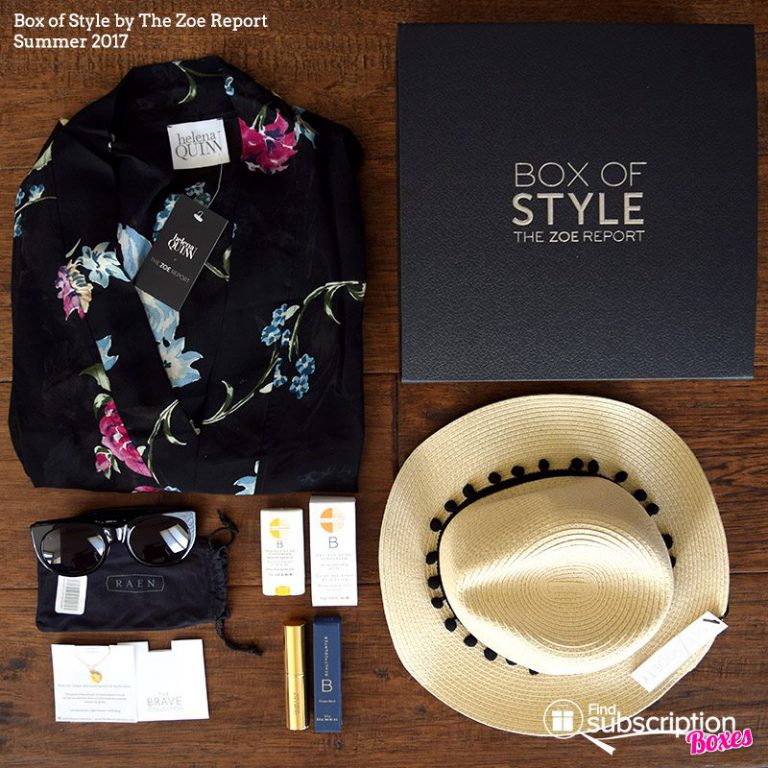 Quite simply, the Rachel Zoe Summer 2017 Box of Style by The Zoe Report was AWESOME. Every item in the box is both stylish and perfect for the warm Summer seasons. Let's jump right in with the gorgeous Helena Quinn Kimono. Those lovely, sheer kimono is a great cover for the beach, is a light cover-up for cooler Summer nights. The elegant design makes virtually any outfit look more chic.
The Summer Box of Style had two fashion accessories to help you look and feel cool while in the sun. You can protect your eyes while looking stylish with the RAEN Sunglasses. With classic colors, these sunglasses are versatile accessories that easily fit into your collection. To protect your face in the sun with the wide-brimmed, Sole Society Panama Hat is the perfect stylish solution. The hat isn't snug when you put it on, leaving plenty of room to tuck in your hair or wear a loose pony-tail underneath. You can also tie a scarf underneath for a more snug fit.
This Summer's Box of Style had two beauty treats, both from BeautyCounter. First is the easy-to-use Cream Blusher. Use this stick blush to add a touch of pink to your cheeks, and even your lips, for a subtle and natural look. Next, is the Broad Spectrum SPF30 mineral sunscreen stick. We love the convenient stick format so you can just rub the sunscreen directly onto your skin without streaks or having to goop up your hands. It's a water-resistant formula that's also paraben-free and silicone-free.
Finally, the delicate Compass Necklace is jewelry with a purpose. Handmade by fair-trade artisans in Cambodia, this necklace from The Brave Collection helps fight against human trafficking. The simple golden circle and stamped compass are classy and fun and can be worn day or night.
What was your favorite Summer 2017 Box of Style by The Zoe Report product?
The Summer 2017 Box of Style by The Zoe Report is still available. Subscribe today to get this box of amazing Summer fashion finds!
Summer 2017 Box of Style Coupon Code
We have an exclusive Box of Style The Zoe Report coupon code. For a limited time, use Box of Style promo code FSBSU10 to save $10 off your Summer Box of Style by The Zoe Report. Save $20 off an annual Box of Style subscription when you use code BOS20!