Supply Pod from Outer Places is a monthly subscription box for science fiction fans. Every other month, Supply Pod delivers a themed box with a new sci-fi theme. With today's Supply Pod review, we're unboxing the July/ August 2016 Supply Pod from Outer Places box. The Supply Pod August 2016 theme was Warp Speed!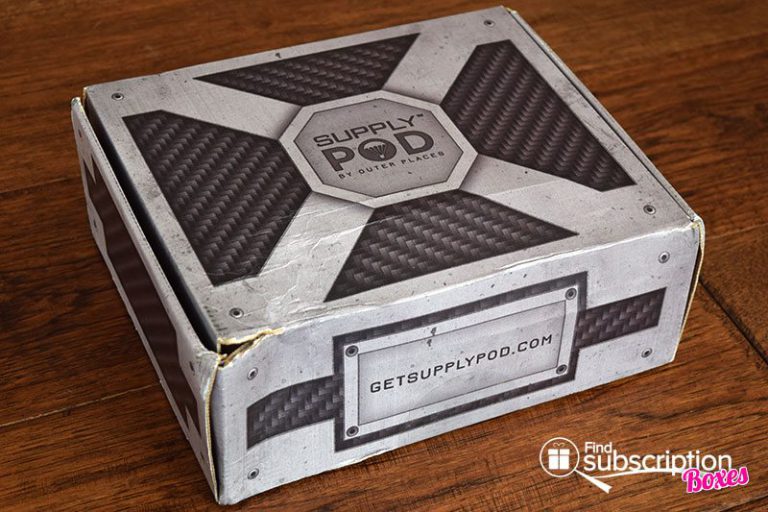 Here's a first look inside our Warp Speed August 2016 Supply Pod.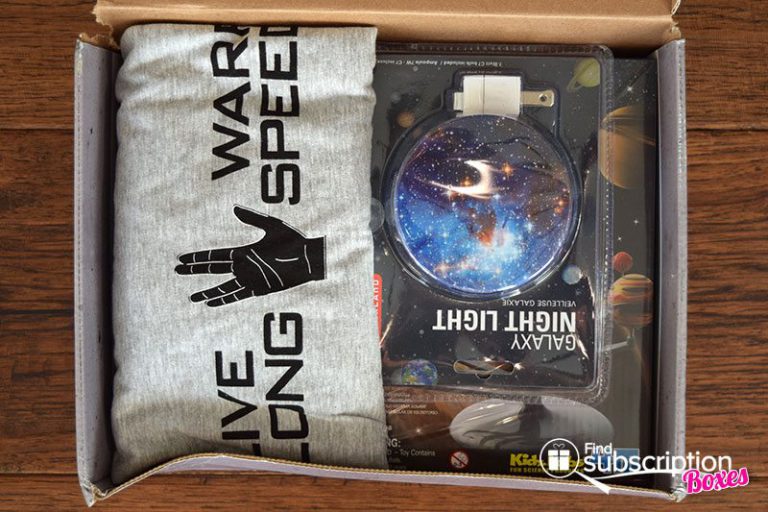 Inside the July/ August 2016 Supply Pod Warp Speed Box
There were 7 sci-fi goodies in our July/ August Supply Pod from Outer Places Warp Speed box.

Outer Places Warp Speed T-Shirt
Kidz Labs Solar System Planetarium
IDW's Star Trek: Altered Encounters with Exclusive Variant Cover
Star Trek LED Watch
Kikkerland Galaxy Night Light
Star Trek Spock Ears
Star Trek Captain's Log Pocket Notebook
Warp Speed Supply Pod August 2016 Box Review Wrap-Up
As Trekkies, the Warp Speed August Supply Pod was out of this world. Starting with the Outer Places Warp Speed t-shirt which says "Live Long" and shows a the Vulcan salute. Another fashionable Star Trek item is the LED watch. This Star Trek watch has an invisible watch face that only shows the time when you press the face. The front of the watch is decorated with the Star Trek comms badge.
Catch up with Captain Kirk and the Enterprise crew in IDW's Star Trek comic book. In Issue #59, Altered Encounters, two timelines merge when the crew finishing its latest Five Year Mission encounters another version of themselves!
You can use the Star Trek 50th Anniversary Captains Log notebook to keep track of your daily missions. The logbook has 64 lined pages and as well as charts and inspirational quotes. The Spock ears are a fun items for people who want to dress-up like Spock.
The Warp Speed Supply Pod also had two items that help you bring a little outer space into your own home. The Solar System Planetarium is a great way to bring the planets of our solar system into your room. The kit includes plastic planets and a stand with rotating arms that you put together. Paint, including glow-in-the-dark paint, is provided to paint the planets.
Finally, you can get the subtle glow of stars and galaxies when you plug in the Galaxy Night Light. The night light has a 7W bulb that gently illuminates the galaxy design on the front.
What was your favorite Supply Pod Warp Speed box item?
Supply Pod Coupon Code
Join Supply Pod today and save 10% off any Supply Pod subscription when you use Supply Pod coupon code FIND10 at checkout.