Are you a sci-fi lover? Don't miss your chance to save 20% off your first Supply Pod science fiction subscription box during this ONE DAY Supply Pod Cyber Monday Sale! TODAY ONLY, save 20% off new Supply Pod subscriptions when you use coupon code CYBERMONDAY at checkout.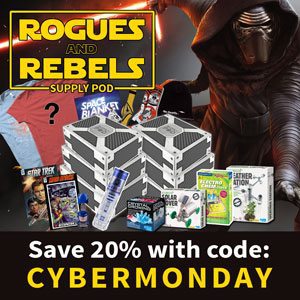 Your first Supply Pod will be the Rogues and Rebels Supply Pod! This month's supply pod was inspired by Star Wars and the release of Rogue One!
Join Supply Pod today and save 20% with code CYBERMONDAY today! TODAY ONLY, your 1st sci-fi box from Supply Pod is only $31.99 + FREE shipping.
Hurry, the Supply Pod Cyber Monday Sale ends tonight!