Supply Pod from Outer Places is a science fiction subscription box delivering a fun do-it-yourself science kit and the coolest sci-fi items every other month. Each Supply Pod has a different sci-fi theme. With today's Supply Pod review, we're unboxing the Supply Pod December 2016 box. The November/December Supply Pod theme was Rogues and Rebels!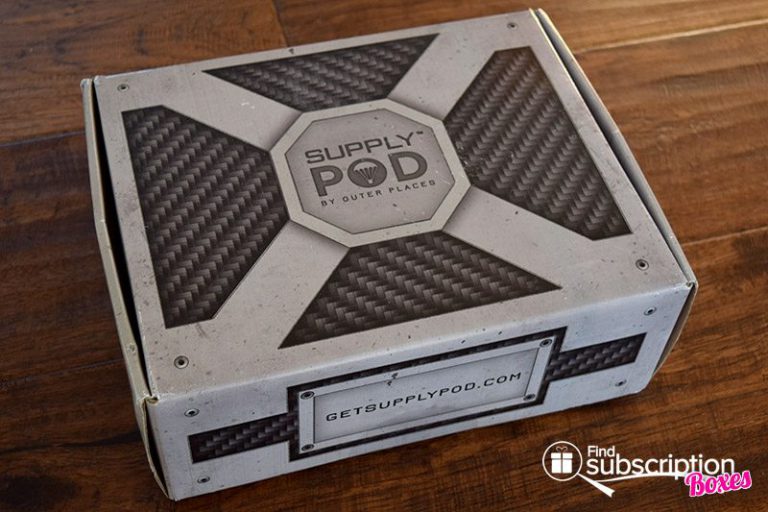 Here's a first look inside our Rogues and Rebels Supply Pod December 2016 box.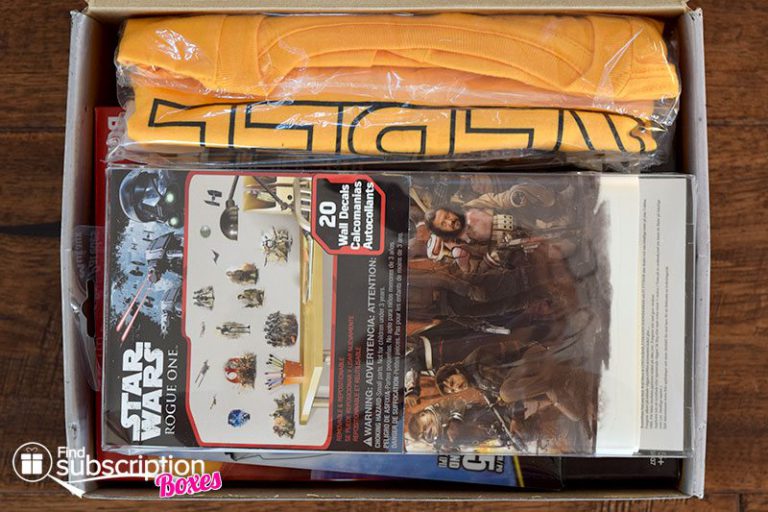 Inside the November/December 2016 Supply Pod Rogues and Rebels Box
There were 4 sci-fi goodies in our Supply Pod December 2016 Rogues and Rebels box.

Outer Places Rebel T-Shirt
Star Wars Science Boba Fett Launch Lab
Star Wars R2-D2 MicroKite
Star Wars Rogue One Set of 20 Wall Decals
Rogues and Rebels Supply Pod December 2016 Box Review Wrap-Up
The November/December Supply Pod was all about Star Wars and Rogue One. This month's shirt has an outline of someone (possibly Hans Solo?) shooting a blaster, along with the word "Rebel." We love the bright, gold color.
The Star Wars Rogue One Wall Decals are a great way to decorate your walls or office with your favorite Rogue One characters and space ships. The decals are removable, repositionable and re-usable so you can create your own Rogue Ones scenes.
We haven't flown a kite in years, so the R2-D2 kite is a fun throwback item. The kite is 6.5″ tall and comes with its own SkyTails, handle and line. Now we just need the perfect windy day to watch R2-D2 fly!
Finally, we can build our own air-powered rocket with the Boba Fett Launch lab. This DIY science kit has everything you'll need to launch a rocket up to 50′ into the air – a base, air tube, air pump, Boba Fett rocket, and jetpack. There's also an informative science learning poster that makes the rocket launch kit both fun and educational.
Which was your favorite Supply Pod Rogues and Rebels item?
Supply Pod Coupon Code
Join Supply Pod today and save 10% off any Supply Pod subscription when you use Supply Pod coupon code FIND10 at checkout.