Supply Pod from Outer Places is a monthly subscription box for science fiction fans. Every other month, Supply Pod delivers a themed box with a new sci-fi theme. With today's Supply Pod review, we're unboxing the September/October 2016 Supply Pod from Outer Places box. The Supply Pod October 2016 theme was Time Travel!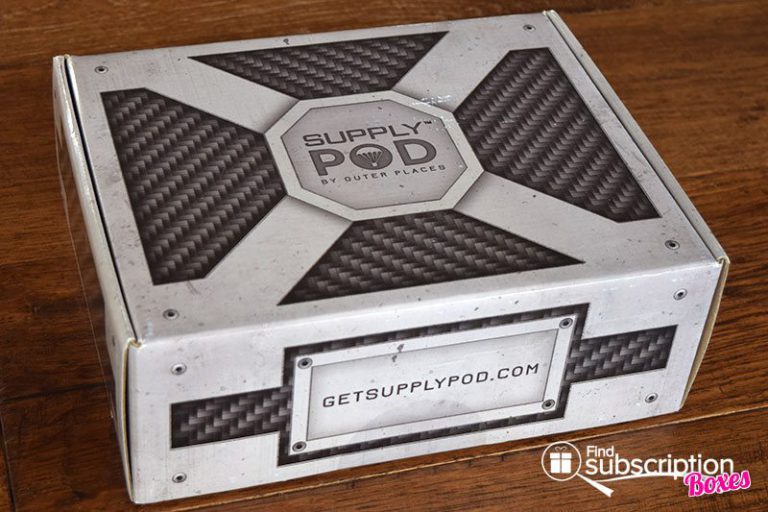 Here's a first look inside our Time Travel Supply Pod October 2016 box.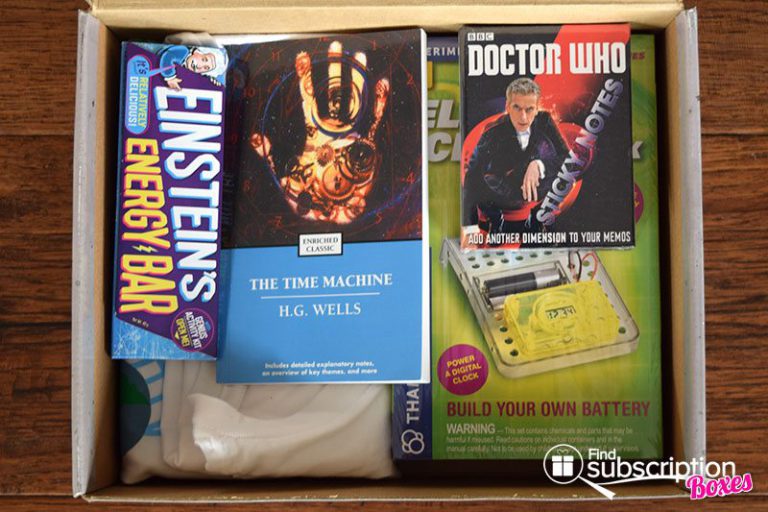 Inside the September/ October 2016 Supply Pod Time Travel Box
There were 7 sci-fi goodies in our Supply Pod October 2016 Time Travel box.

Outer Places Time Travel T-Shirt
Outer Place Bag
BBC Doctor Who Supremacy of the Cybermen #1 with Exclusive Variant Cover
Thames and Kosmos Electro Chem Clock Experiment Kit
Enriched Classic The Time Machine by H.G. Wells
BBC Doctor Who Sticky Notes
Einstein's Energy Bar
Time Travel Supply Pod October 2016 Box Review Wrap-Up
From Doctor Who to H.G. Wells, the September/October Supply Pod delivered a variety of time travelling collectibles for wanna-be time travellers. This month's Time Travel t-shirt by Outer Places has a sci-fi design featuring the Time Travel Energy Equation which "determines the maximum possible energy that one can squeeze out of a rotating Black Hole." Also, from Outer Places is the Time Travel and space-inspired bag. The straps allow you to wear it over your shoulder or as a backpack to carry your sci-fi gear.
We're looking forward to reading H.G. Wells's The Time Machine. The Enriched Classic version also includes an introduction with background information, a chronology of H.G. Wells's life and works, and explanations and analysis about the book.
The Electro Chem Clock kit includes 3 experiments that leverage electrochemistry. With this kit, you can build a battery from lemonade and use the battery to power a digital clock.
There were two Doctor Who items in the Time Travel Supply Pod. First is the Doctor Who comic book. In this Issue #1 comic book, Doctors 9, 10, 11 and 12 team up to stop the Cybermen from changing the course of history. The Cybermen have acquired the ability to time travel and want to turn all of their defeats into victories. Only the Doctors can stop them! The Doctor Who Sticky Notes are a fun way to keep track of important dates and your to-do list. The sticky notes have two designs – one is Tardis shaped and the other features the Twelfth Doctor, Peter Capaldi.
Give your brain a power boost with the Einstein's Energy Bar Fruits & Nuts snack bar. The packaging has a genius activity kit that describes Einstein's Theory of Relativity, and breaks down time dilation, Einstein's Twin Paradox, and Length Contraction.
What was your favorite Supply Pod Time Travel box item?
Supply Pod Coupon Code
Join Supply Pod today and save 10% off any Supply Pod subscription when you use Supply Pod coupon code FIND10 at checkout.