Supply Pod from Outer Places is a monthly subscription box for science fiction fans. Every other month, Supply Pod delivers a themed box with a new sci-fi theme. With today's Supply Pod review, we're unboxing the Supply Pod Star Wars December 2015 box from Outer Places.
Supply Pod included a product flyer describing each of the Star Wars themed items in the sci-fi box.
Here's a first look inside our Star Wars Supply Pod.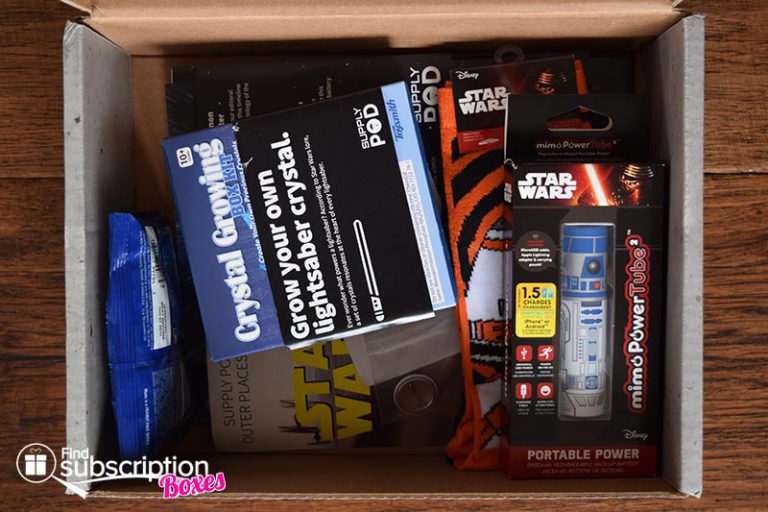 Inside the Supply Pod Star Wars Box
There were 7 sci-fi goodies in our December 2015 Supply Pod from Outer Places Star Wars box.

Star Wars Psychology: Dark Side of the Mind by Travis Langley
Star Wars Force Awakens BB-8 Socks
R2-D2 MimoPowerTube2
Star Wars Jelly Beans
Crystal Growing Kit
Star Wars Pin
Star Wars Canon Timeline Poster
Supply Pod Star Wars Box Review Wrap-Up
The Star Wars Supply Pod had a variety of sci-fi collectibles for Star Wars fans. Making his first appearance in Star Wars: The Force Awakes, BB-8 also made his way into the box with the colorful BB-8 socks. The Star Wars pin is another fun fashion accessory that you can wear on your shirt, jacket or bag.
Every Jedi harvests his own crystal to build their lightsaber. The Crystal Growing Kit in the Star Wars box gives us the chance to grow our own crystals. It's a fun project for both kids and adults.
If you're on the go with your smartphone, the R2-D2 backup battery is a great for getting that extra power boost when you need it. It's compatible with iPhones, Androids and tablets and other devices and comes with a convenient carrying pouch. Just charge it up and throw it in your bag so you can recharge your phone when you need it.
Supply Pod usually includes unique books and posters in each box. For the Star Wars box, Outer Place designed a Star Wars poster that gives you a complete timeline of the Star Wars canon – from to when. Many people know the battle between the light and dark side of the Force that appears in Star Wars. The Star Wars Psychology book gives readers a more in-depth look at different characters' psyches and the lessons woven throughout the films.
We love our Jelly Bellys, so the Star Wars Jelly Beans were a delicious treat. This bag of candy features some of Jelly Belly popular flavors in fun "sparkly" bean colors.
What was your favorite Supply Pod Star Wars box item?
The September/ October 2016 Supply Pod theme is Time Travel. Get a sneak peek!
Supply Pod Coupon Code
Join Supply Pod today and save 10% off any Supply Pod subscription when you use Supply Pod coupon code FIND10 at checkout.