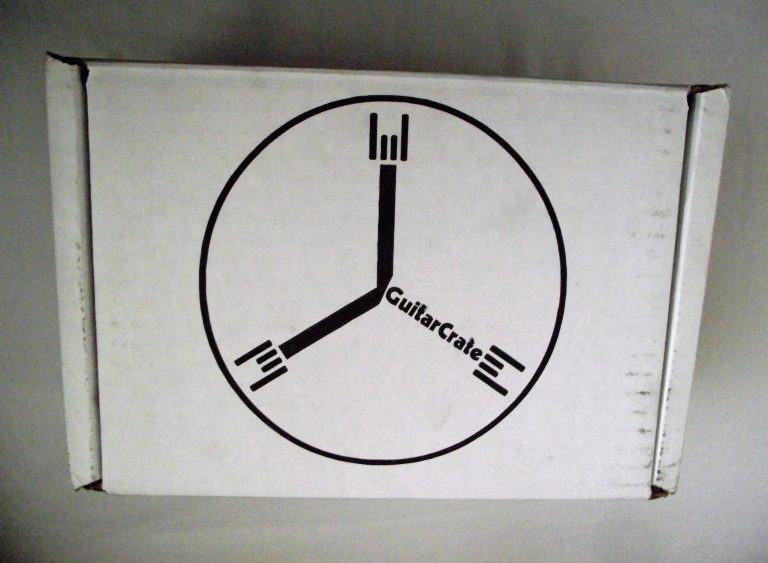 Guitar Crate is the perfect subscription for the guitar player in your life. They have various options for subscriptions including Guitar crate+, Bass Crate, Pedal of the Month and various others. This particular box is their base guitar crate and comes with one set of strings a month and various fun guitar equipment. The total cost of this particular crate is $20 a month and includes free shipping which makes the value of the box that much better. Today I am reviewing the Guitar Crate I received for the month of August.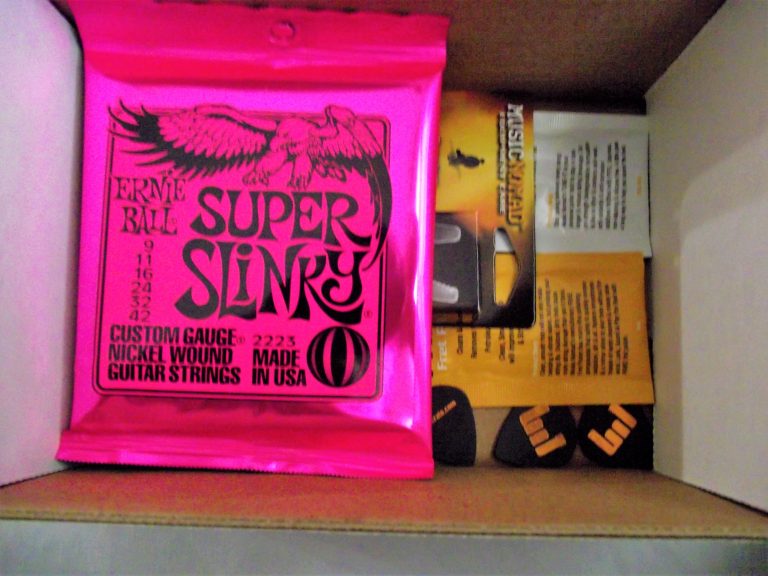 The box ships on the 7th of each month and it arrived at my house 5 days later on the 12th. That is incredible for speed with a subscription box company. The box was small, and while the items were not individually wrapped or secured, there was no worry about them breaking. The box itself did arrive in really good condition and fit perfectly in our mailbox. All that said, in regards to the technical and logistic aspect of the box, I could not be more pleased. It is time to get into the specific items in the box now!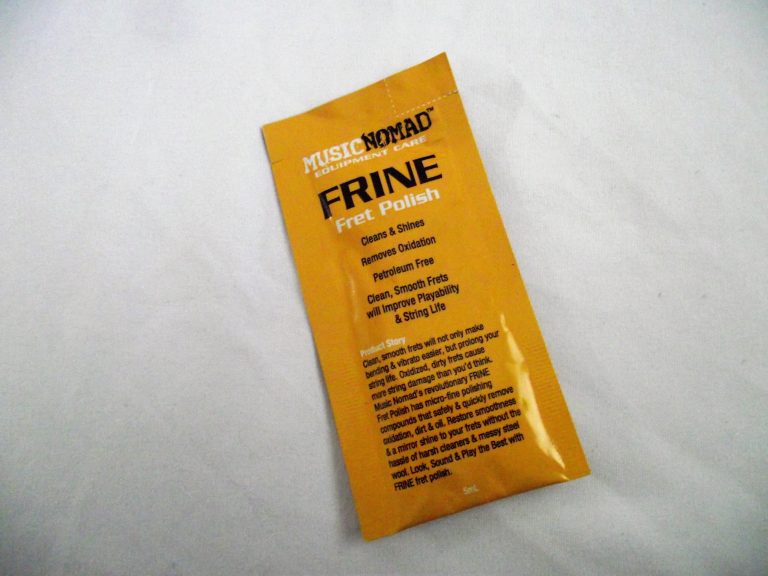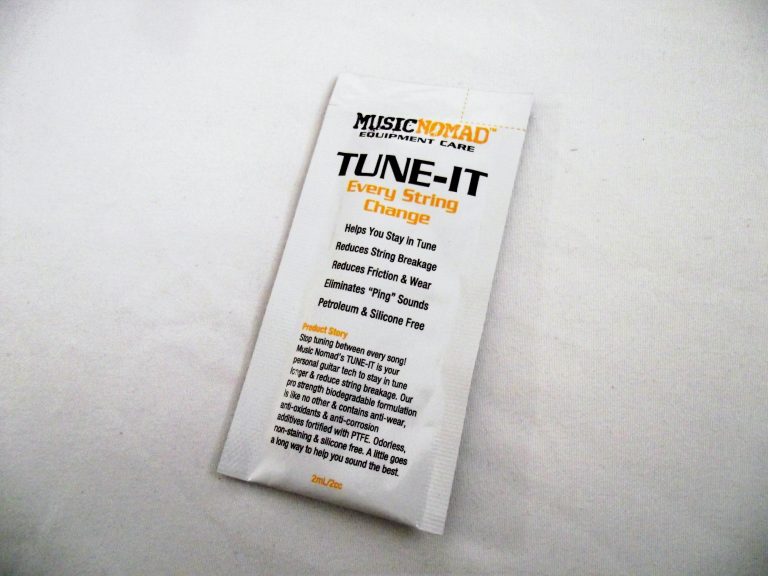 The first items in the box was a sample size MusicNomad Frine Fret Polish and Tune It lube. Frets look their best when they are clean and shiny. This polish is wonderful for helping prevent oxidation and making them shine. I have never met a guitar player who does not feel better playing on a well cared for guitar. This polish package itself describes the purpose of using fret polish, it cleans the frets, makes them smoother and reduces wear and tear on your strings. The Tune It lube also helps with the prevention of string breakage. and helps to keep the moving parts moving! I put this right on my Epiphone and it made a world of difference. It is a good idea for any guitar subscription box that includes string, to include fret polish and lube to care for it like you would anything else important in your life.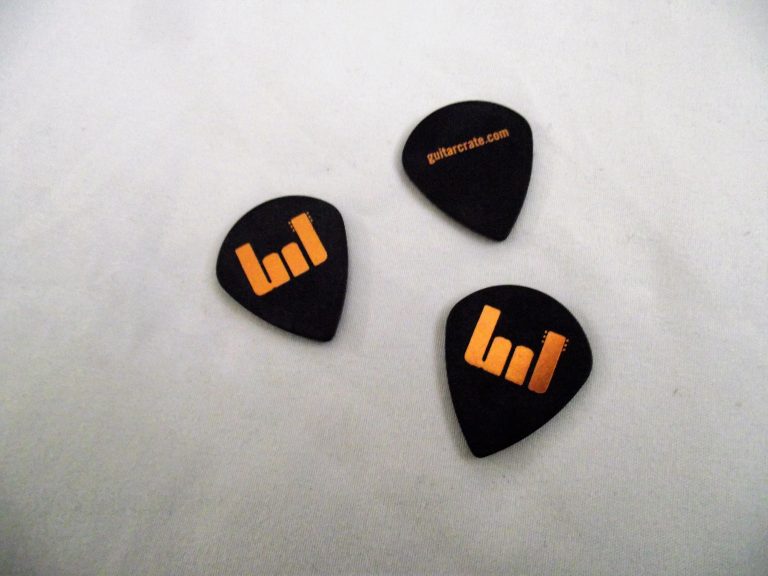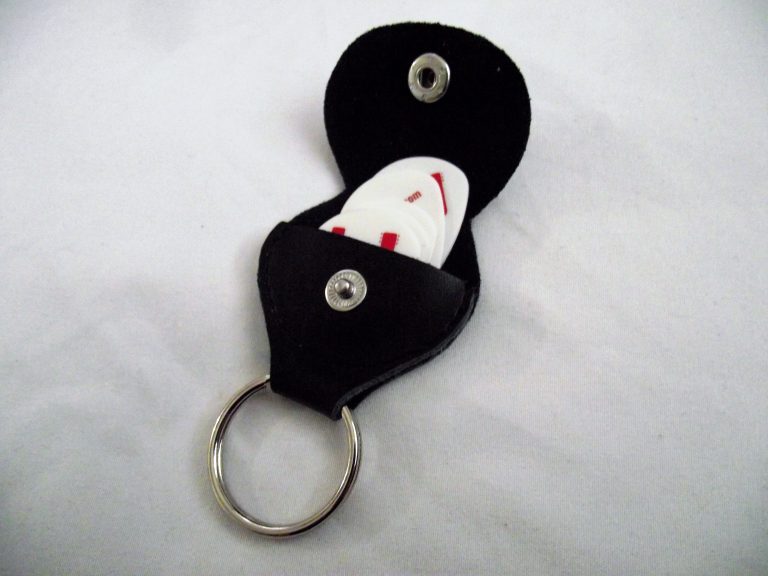 Multiple items make up this one item in the box. I go to band practice and even with four guitar players we often find we are lacking in the pick department. It can be a struggle if someone forgets or the occasional accident of losing a pick in the acoustic guitar. It pretty much derails practice. I noticed my brother, also a musician, had one of these pick key chains on his keys and I instantly realized I wanted one too. Looking around I made the mistake of ordering a cheap one and the clasp sticks and it does not hold many thicker picks which are my preference. I saw this in the box and boy did I smile. I saw the three black picks floating in the box, so I was not expecting to open the key chain and find even more! the best part is all these picks are thicker which is absolutely perfect for me. The key chain itself opens so much easier than my old one, while not opening on its own. I love this addition to the box.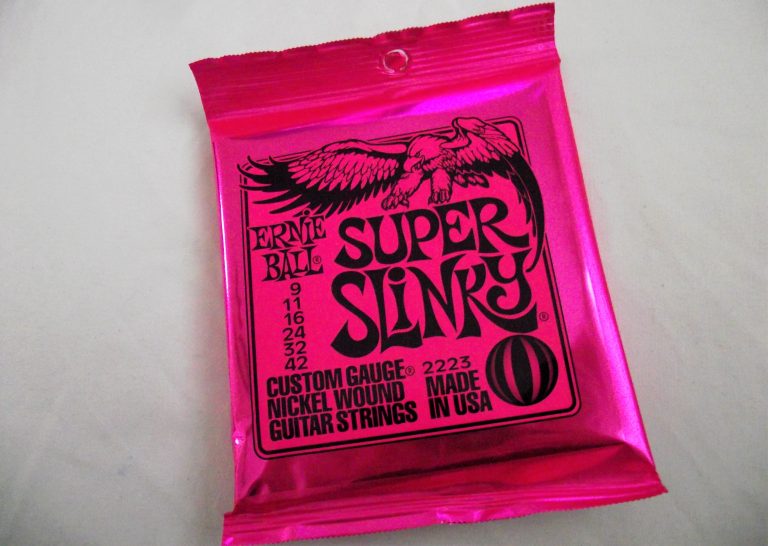 Strings are, I would say, the most important tool for any guitar player. You can not play without strings and it is just as hard with old worn out strings. This crate includes one full set of strings a month. Each new set of strings means you never have to worry about poor sound. I play almost every day so I tend to run through strings pretty frequently. Getting monthly strings helps keep my guitars in tune. Another reason I have to change my strings frequently is the oil buildup. I have two little kids who like to play with my guitars. A huge problem is they do not always clean their hands which gets the strings dirtier than usual. These particular strings are my favorite and perfect for my favorite electric guitar. I could have and would have used any strings they sent to me but the fact that they are ones I preferred just made them even better!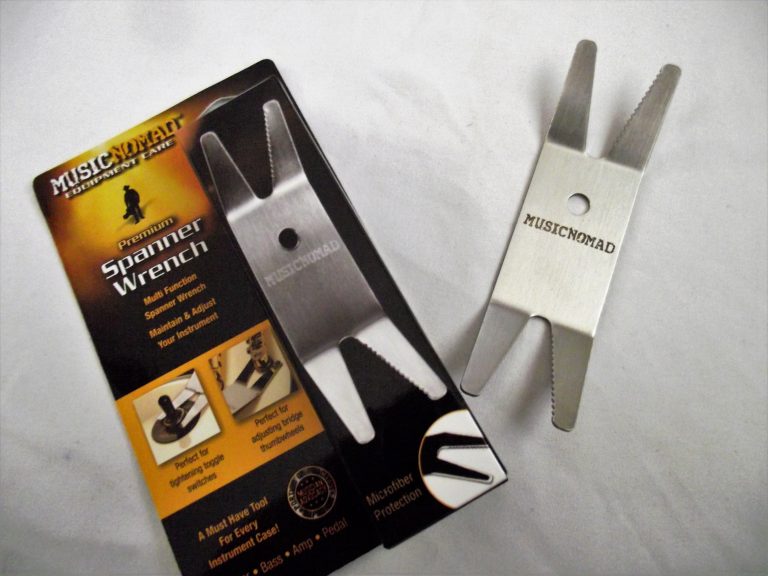 The last item in the box is a MusicNomad spanner wrench. I work a labor job and have almost all the tools I need. Unfortunately, one I did not have was a spanner wrench. These wrenches have multiple uses but are ideal for guitar players. It is small enough to fit in your pocket or case. There also is  a felt attachment to keep from scratching your instrument. It is really perfect for maintaining your instruments health and letting you play the best you possibly can.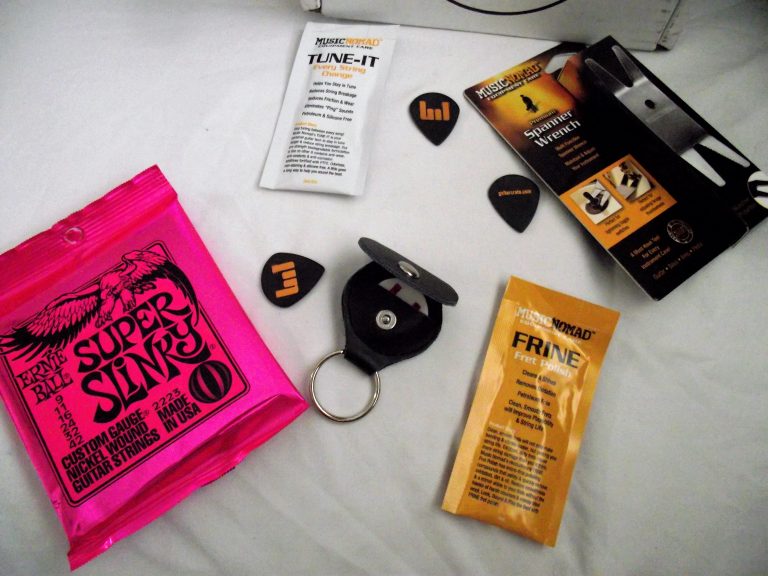 Overall this whole box is amazing. The value is outstanding for what you get, each item can and will be used and  it makes you feel like you are treating yourself and your instrument. if you know any guitar players who could use this fantastic box, click here!