The Ms. Collection is a personal styling and rental service for women. A team of stylists will tailor each pack to you, using your sizes, preferences, weather, and feedback as their guide. You can enjoy the styles sent for as long as you like. Keep what you love and return the rest. Plans start at $59/month, and includes free shipping both ways.
Know a special man in your life who would benefit from this styling service? Check out their brother service, The Mr. Collection.
Today, I will be reviewing The Ms. Collection Premium Once a Month pack. This plan costs $69/month, and includes 4 clothing items.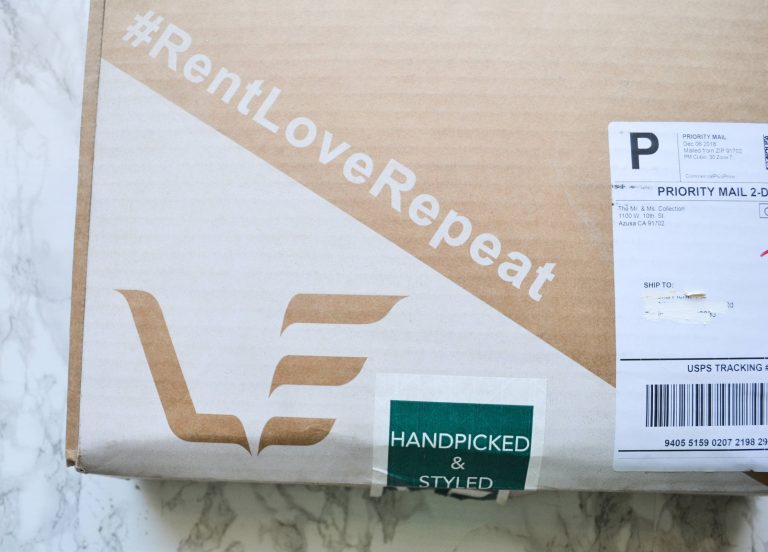 My clothes were neatly folded, and tied with a bit of twine. My eyes were immediately drawn to a lengthy handwritten note from my stylist. Very rarely do I receive handwritten notes in boxes, and this note is the most detailed one I've ever received! Right off the bat, this made me feel like a valued customer.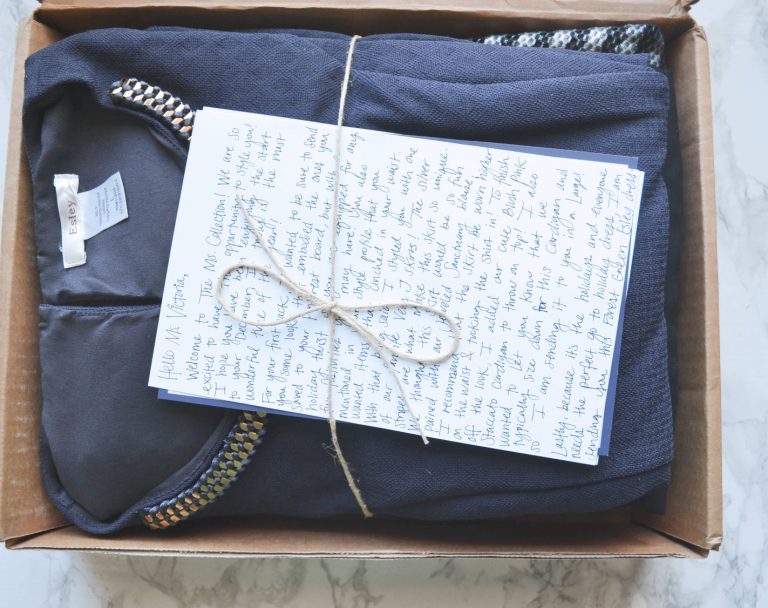 Kortney, my stylist, explained why she included each piece of clothing in the box. She took my styling requests into account, and even perused my Pinterest board for inspiration!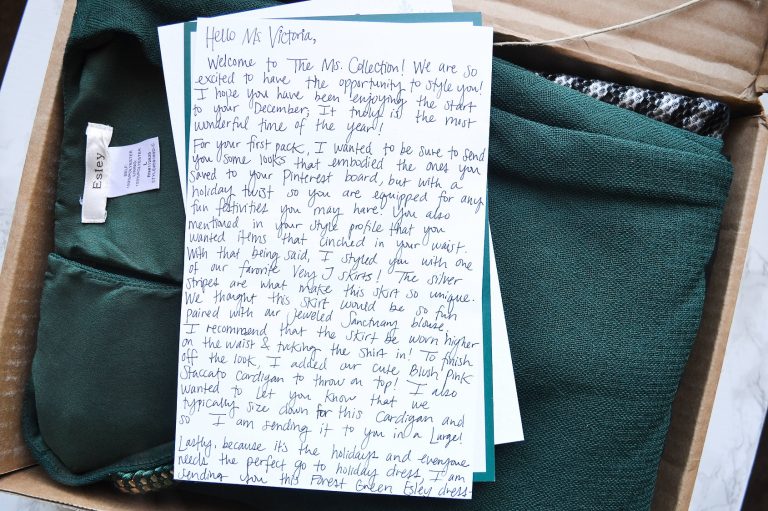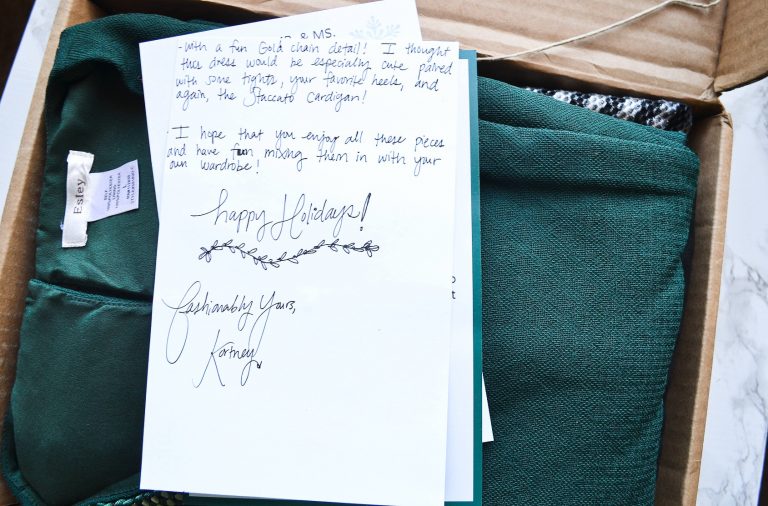 For context, it can be very hard to find clothes that fit me right. I'm curvy and petite – I'm only 5'0, and my measurements are 43″-33″-43″. Most tops either fit my bust and make the rest of me look heavy, or just won't fit over my chest. I never really have a problem with skirts, but pants are often too long. So, I know going into this that my stylist has her work cut out for her. I included my measurements in my styling requests to help make it a little easier.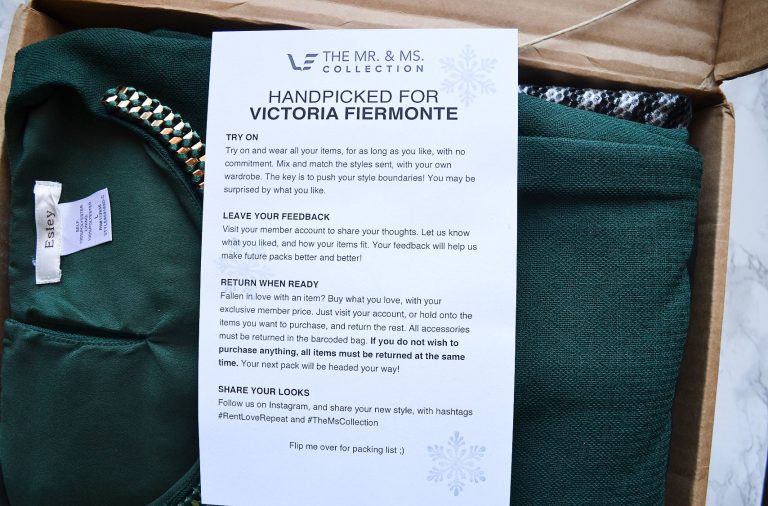 The Ms. Collection also included a sheet with information about their services, as well as pricing information about each item of clothing. You don't have to keep any of the clothing in your pack – but if you choose to do so, you will receive a discount. The retail value of the entire box is $249.24. If I chose to keep the whole box, it would cost $191.39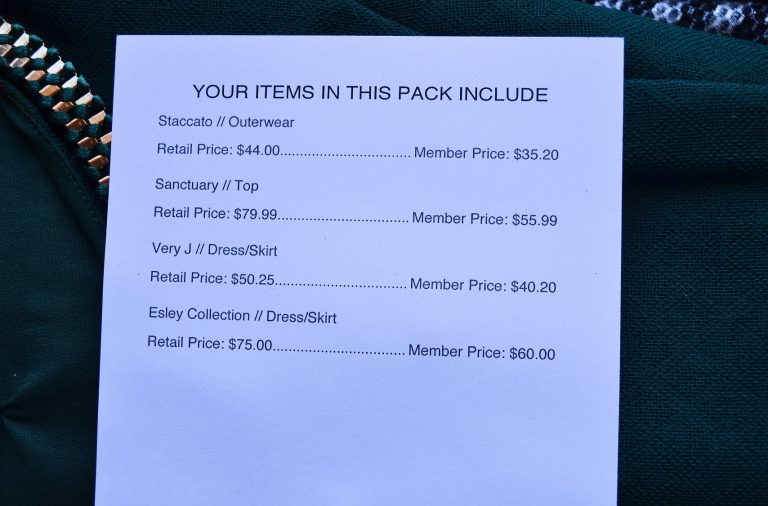 After taking the clothing out of my box, I was immediately struck by the unique textures and high quality fabrics. Each item has personality, and I was so excited to try them on!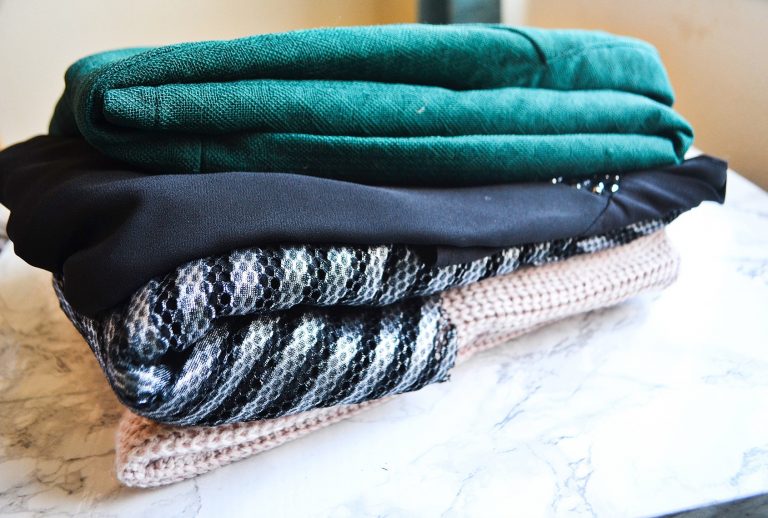 The first item I was drawn to is this Sanctuary Top. It is a size Large, and retails for $79.99. The top is silky, and is adorned with a beautifully beaded collar.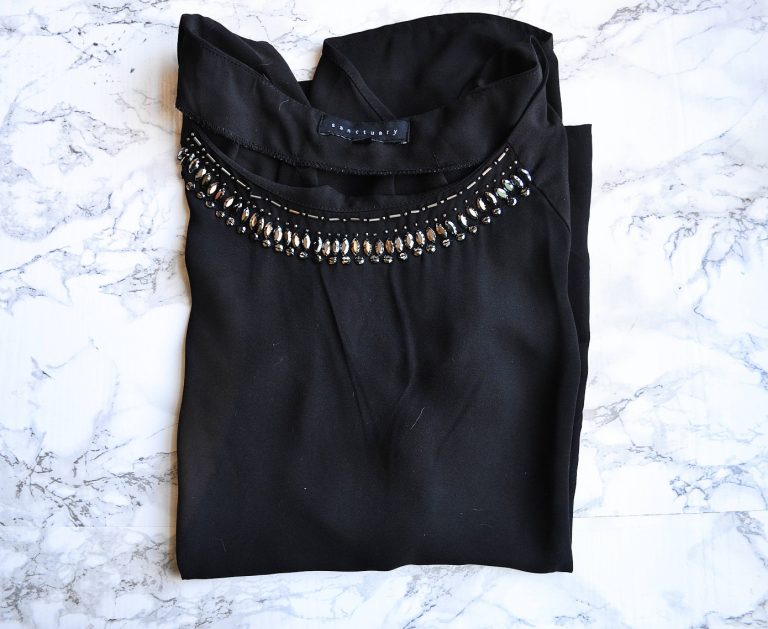 The top would be quite simple, but the collar really brings it to the next level! The beads give the top an almost festive feel – this would be great for a Christmas party, but is also work appropriate. The top is slightly sheer – I didn't notice that until looking back at photos, but I would wear this again with a camisole underneath.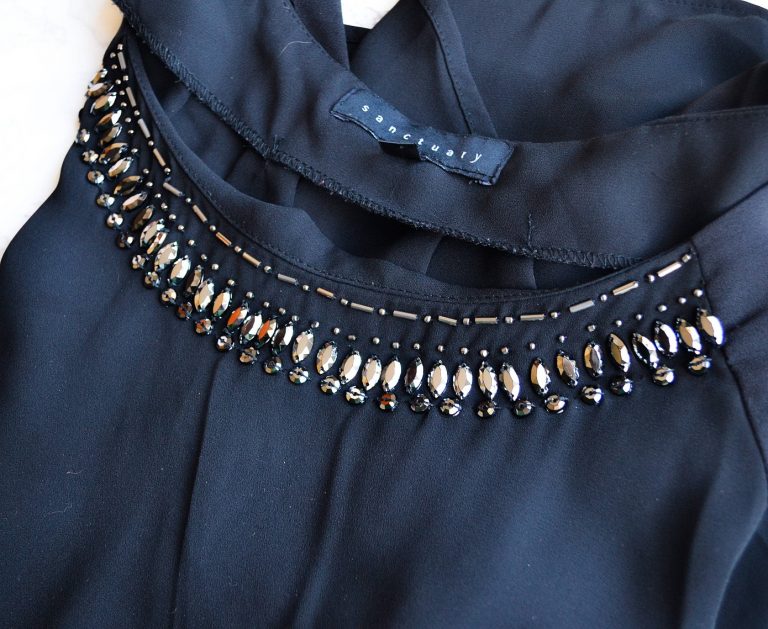 The back of the top is pleated, which is another touch that keeps it from being too simple.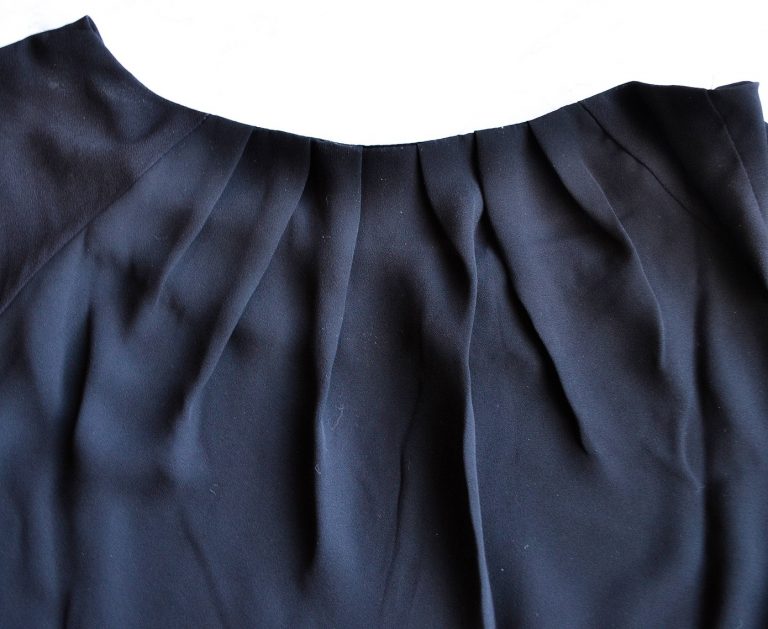 Here's a look at the shirt at full length: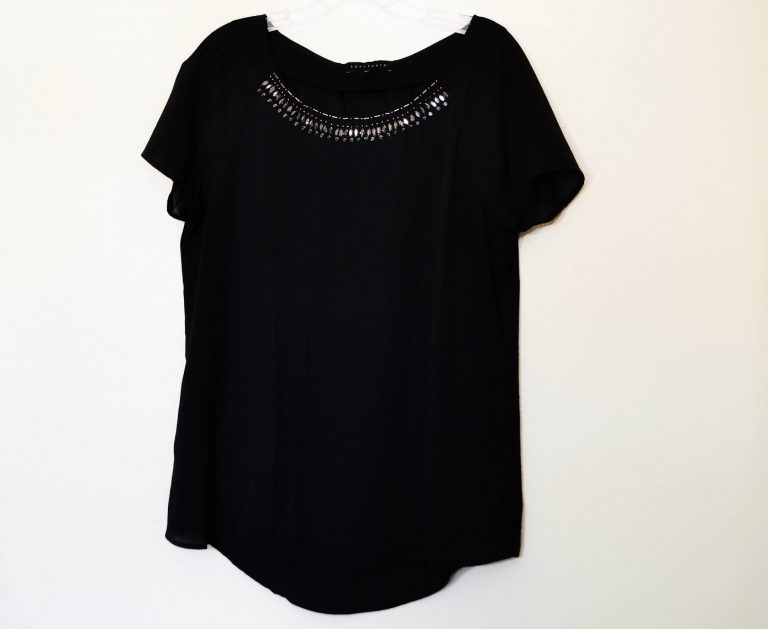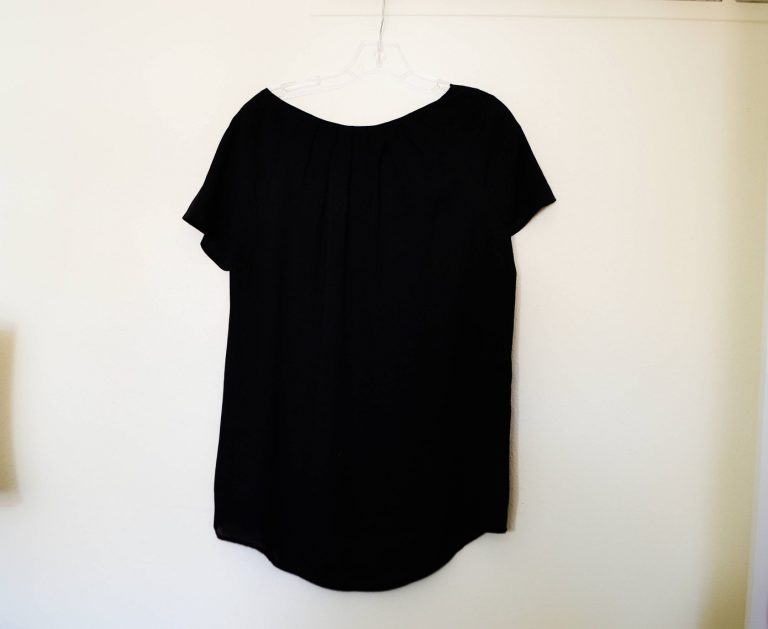 I was a little worried when trying on the top, because I usually don't fit well into silky materials. However, this fit amazingly! It didn't pull taut over my chest, and the sleeves were flattering. I wore it as my stylist suggested, tucked into a high waisted skirt. I am in love with this top, and have worn it out a couple times over the past two weeks.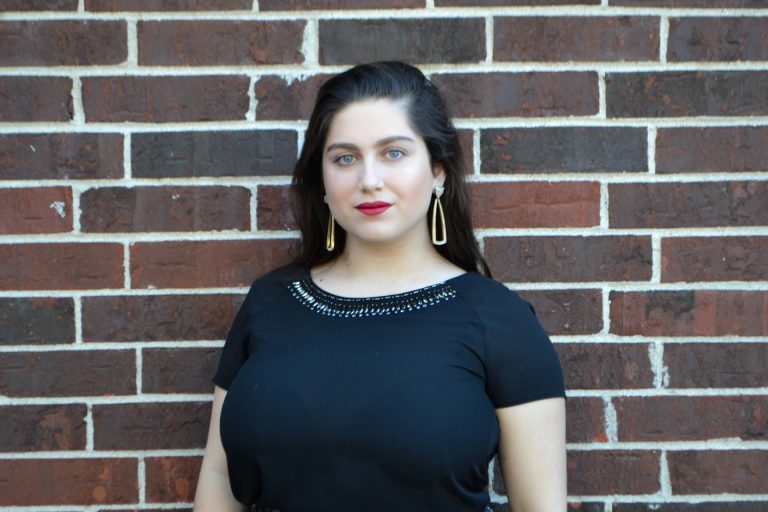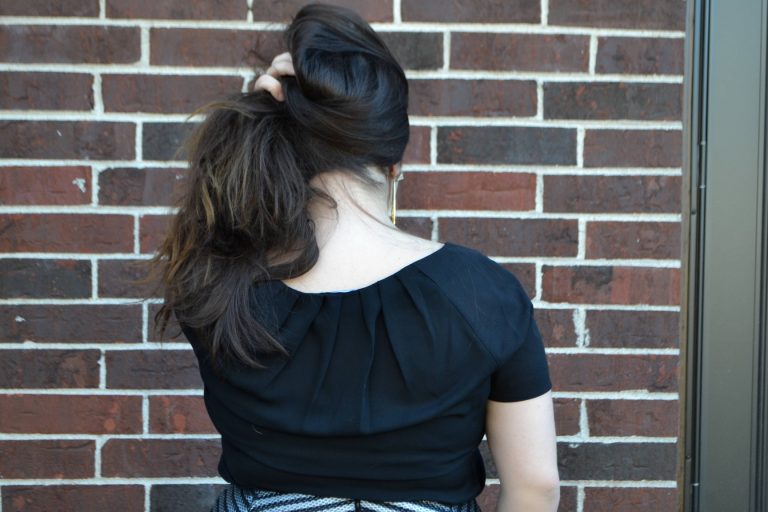 The next item of clothing is this Very J Skirt in a size Large. which retails for $50.25. This fits like a skater skirt – something that I'm rather partial to, and I believe my stylist picked out because of my Pinterest board. This skirt is unique, and its metallic finish gives it a badass feel! The outer layer has little eyelets, and there's a shorter black layer on the inside. I am a sucker for unique fabrics, so I feel head over heels for this.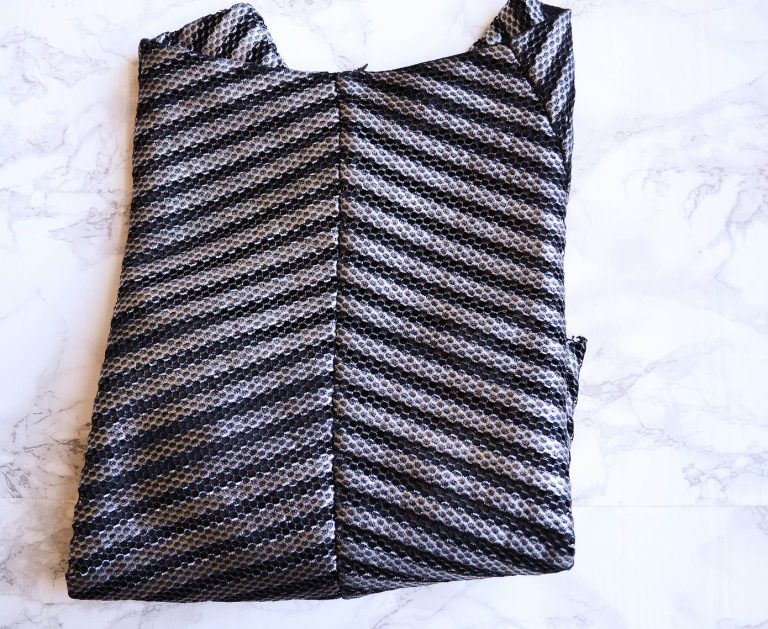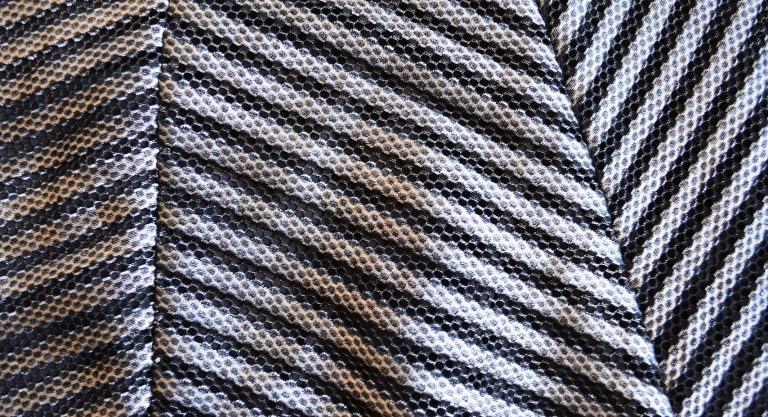 Here's a look at the full skirt: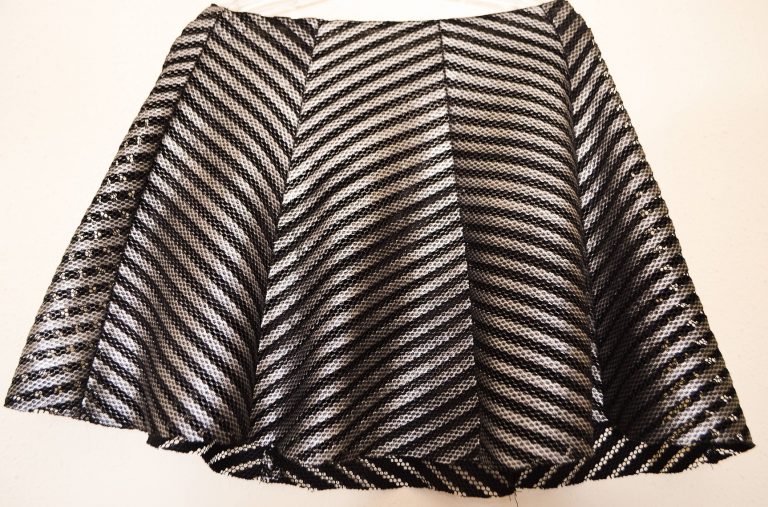 I felt absolutely gorgeous while wearing this! It has a zipper on the side, so I was able to get a nice fit & flare effect. It cinched in my waist, and made my figure look great. I usually struggle with body image, but this outfit boosted my confidence. I asked my fiance what he thought, and he said he loved that I wasn't hiding my body under baggy clothes.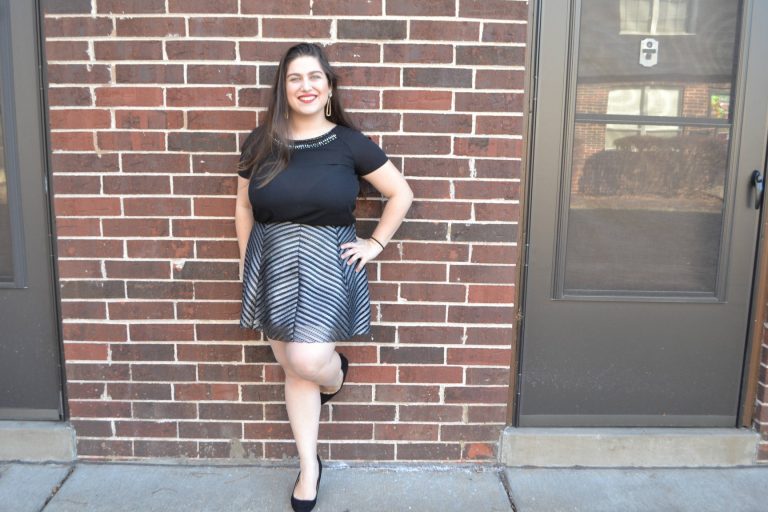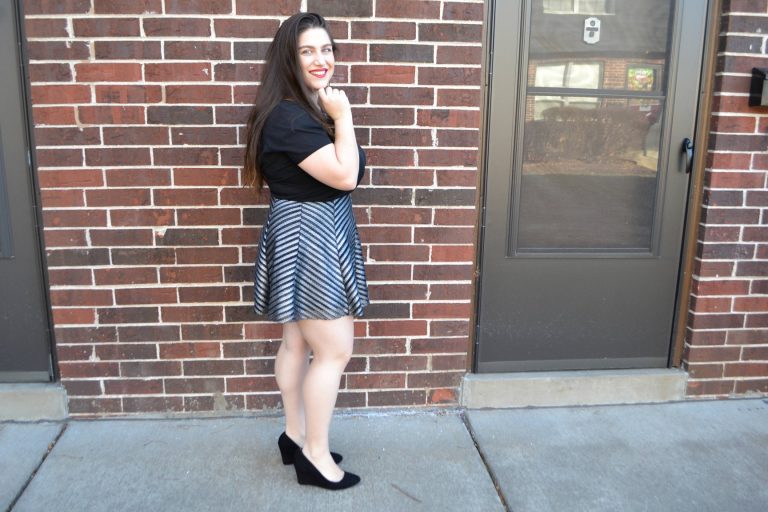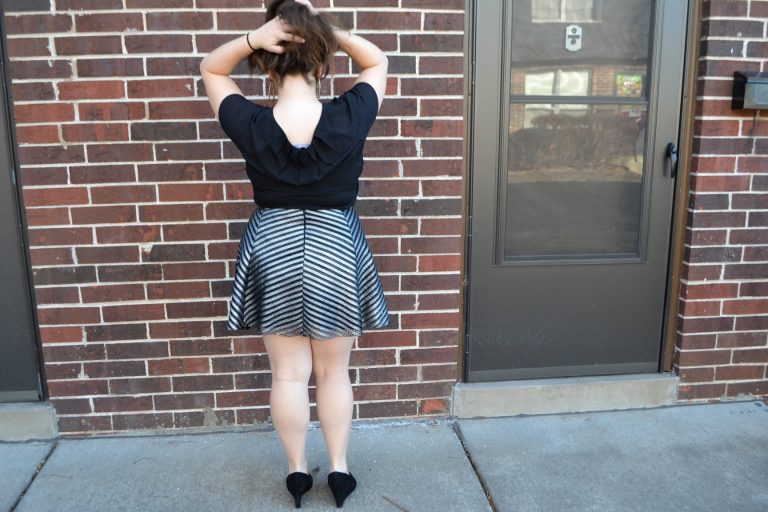 The Ms. Collection also included a Staccato Cardigan in a size Large, which retails for $44. This cardigan is super cozy, and is a gorgeous blush color. I own too many cardigans, but I'm always happy to add a new one to my collection! My other cardigans are in various shades of brown and blue, so I'm excited to brighten things up a bit.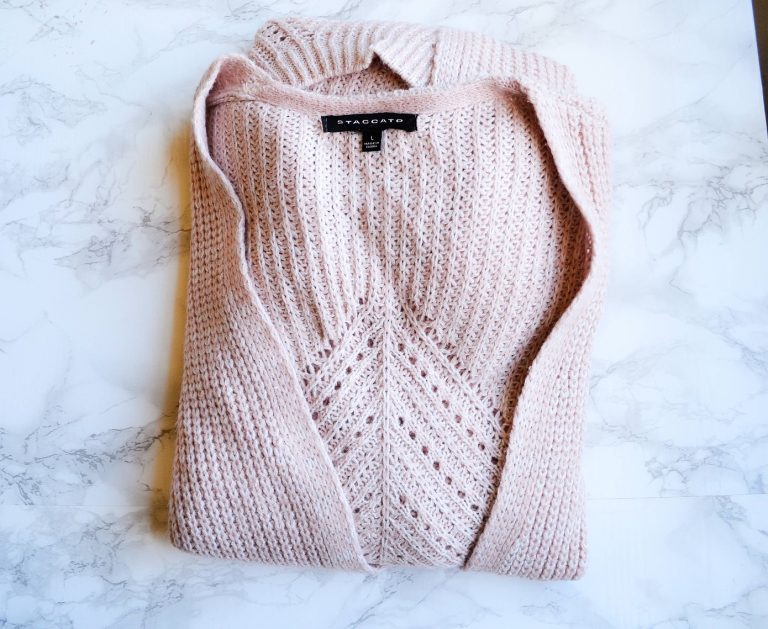 Here is the full cardigan: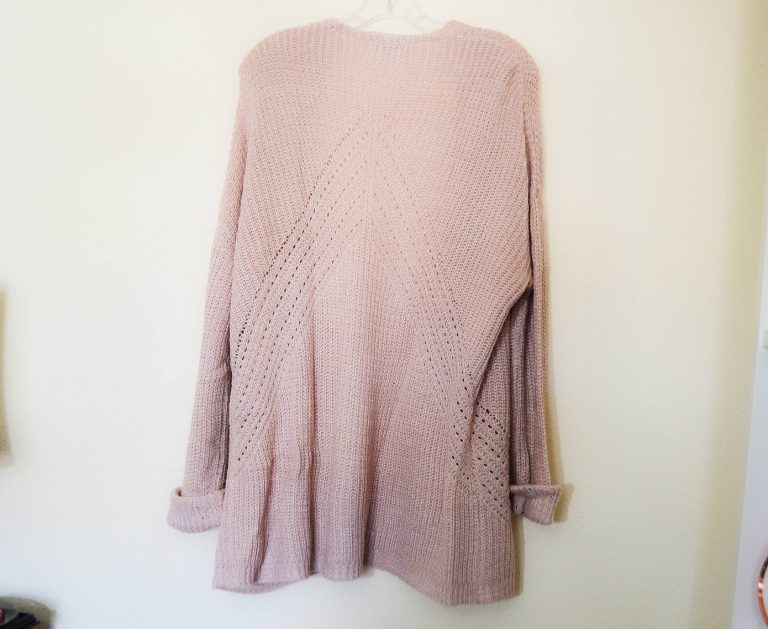 This is exactly what I'm looking for in a cardigan – soft, warm, and not too long. A lot of cardigans fall just above my knees, which only emphasizes how short I am. This one balances my figure nicely!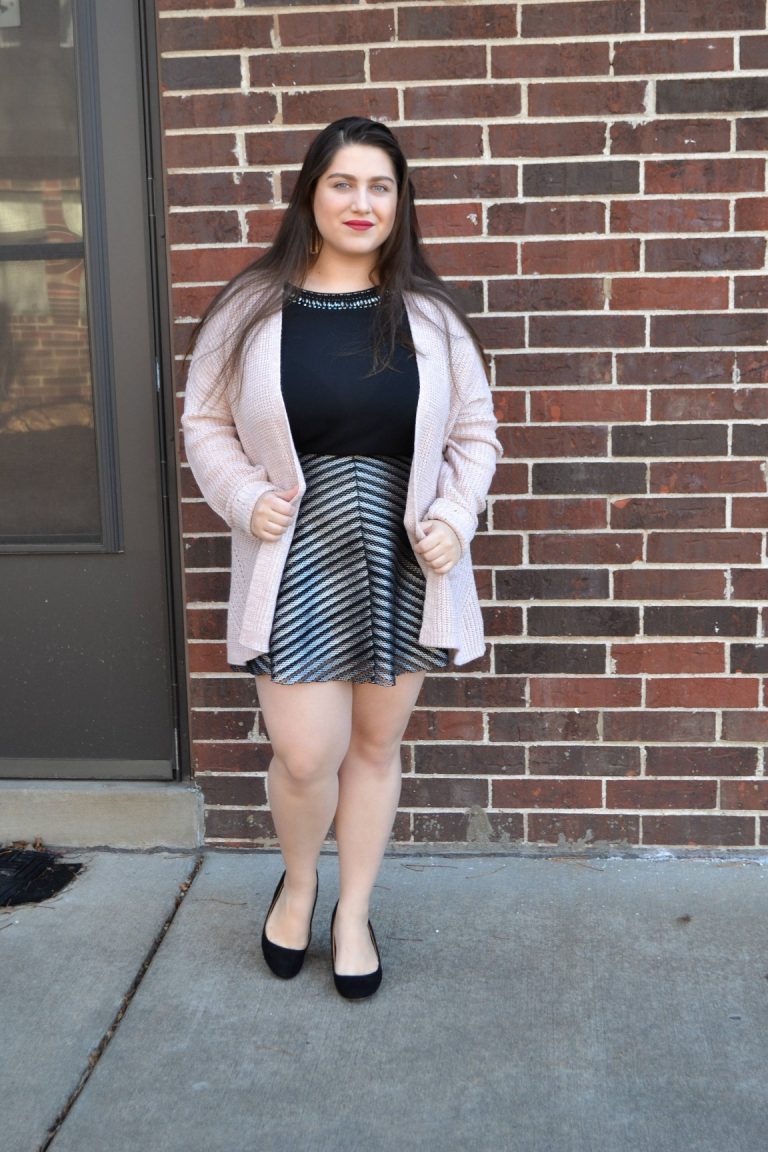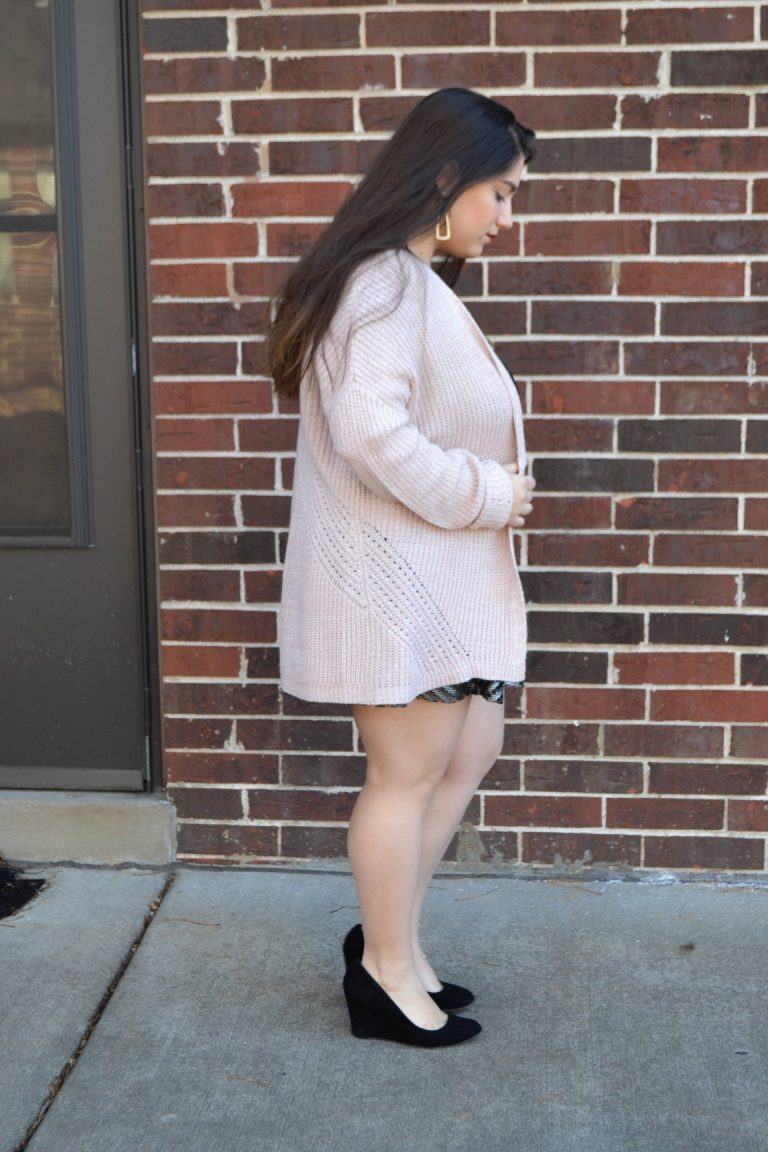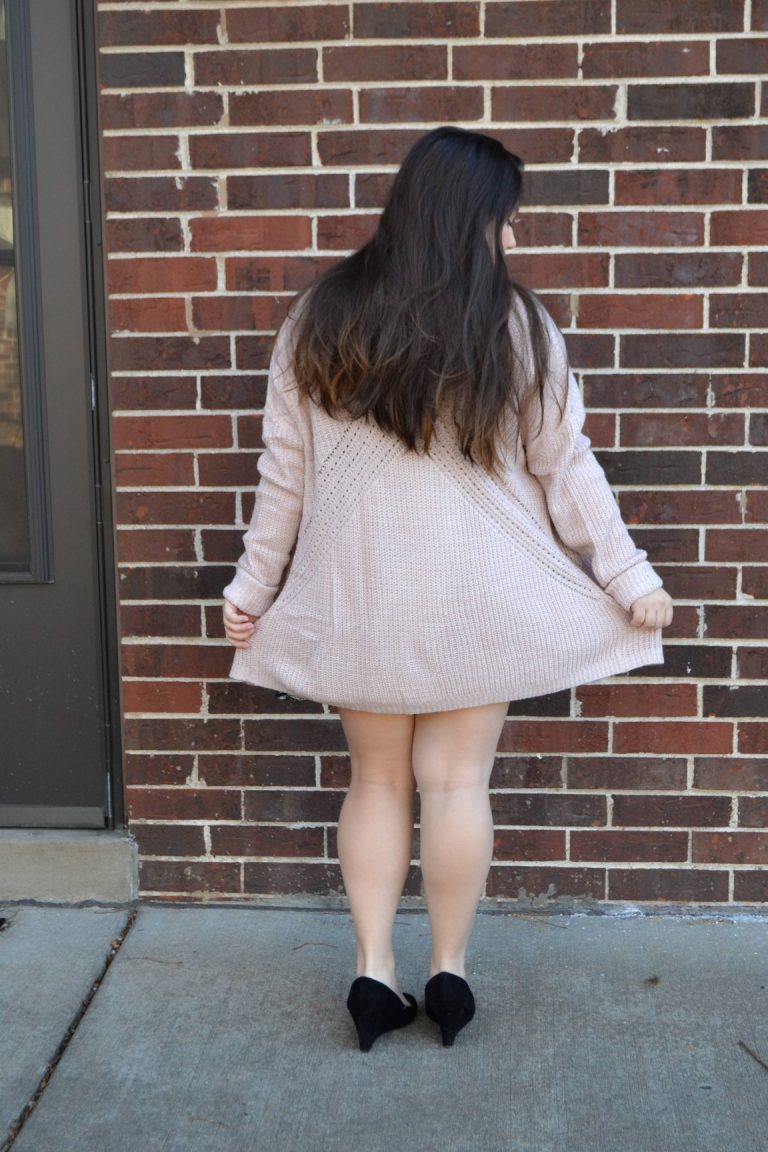 The final item I received from The Ms. Collection is an Esley Collection Dress in a Large, which retails for $75. This dress is what I was most excited about wearing. It is such a beautiful jewel tone green, which is perfect for the holiday season. It also features a beaded neckline, and the dress's fabric is very high quality.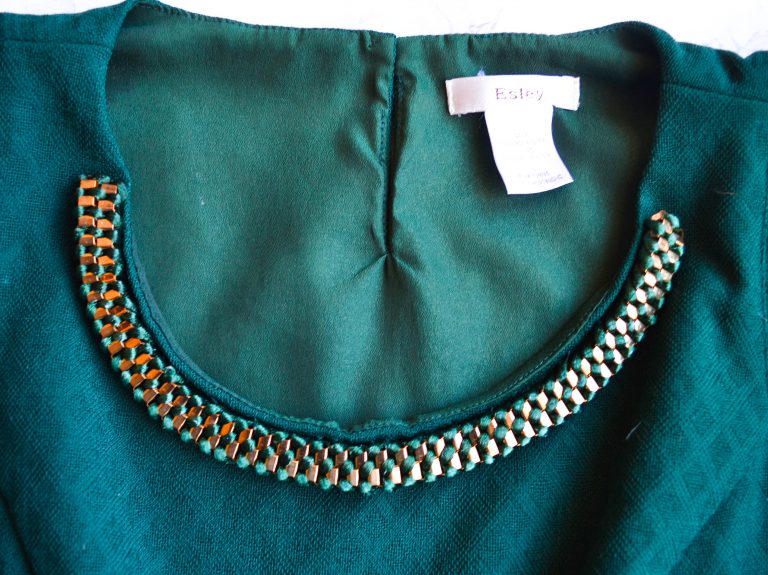 Here's the full dress: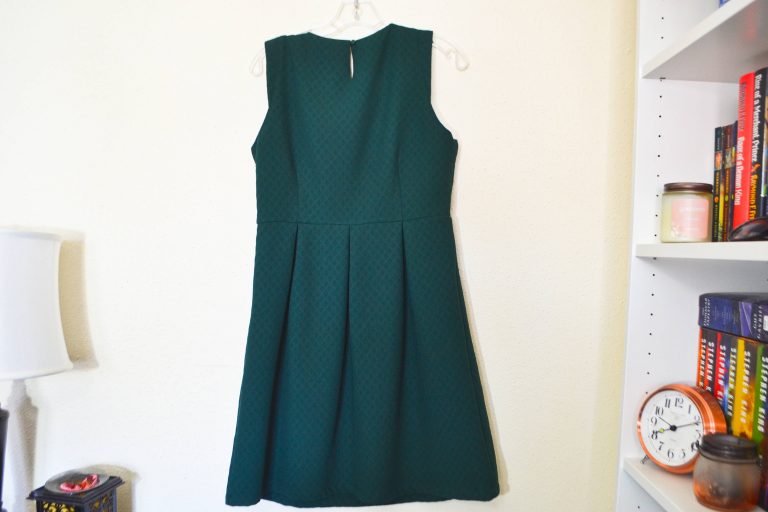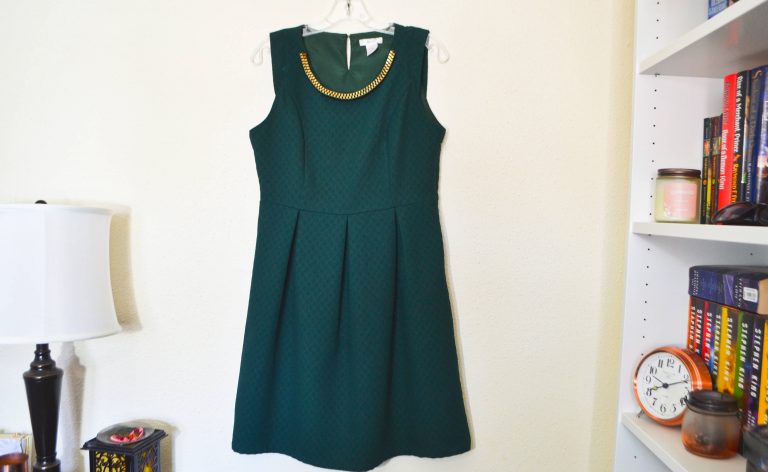 Unfortunately, the dress was too small for me. I was surprised, because all of the dresses I own are a size Large. I looked up the Esley Collection dresses size chart, and they run small. Their size Large is a size 10-12, whereas most Larges are size 12-14.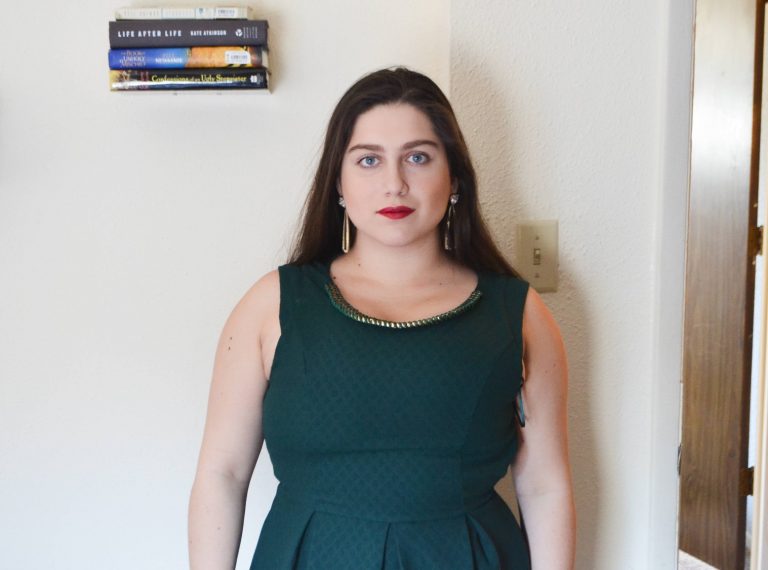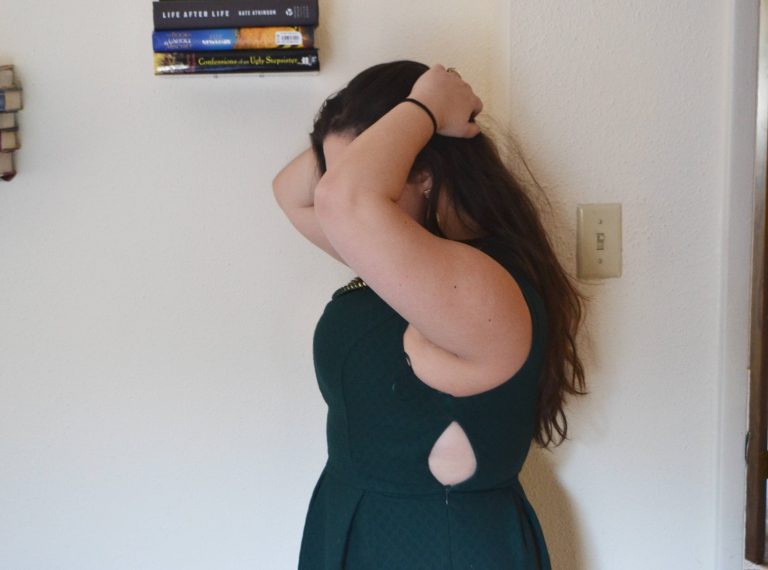 I was pretty sad about this, because the dress itself is gorgeous and I would have loved to wear it to a holiday party.
So, a major tenant of The Ms. Collection philosophy is that you can incorporate their clothes into your own wardrobe. I had a night out with my fiance, so I styled an outfit around the beaded top and skirt from my pack. The skirt is pretty short, so I paired it with black leggings. I wore my favorite black ankle booties, which instantly make any outfit cuter! I also wore a cute burgundy blazer that I found at a thrift store last month. To pull the look together, I wore a pair of Mesa Door Knocker Earrings to add even more bling .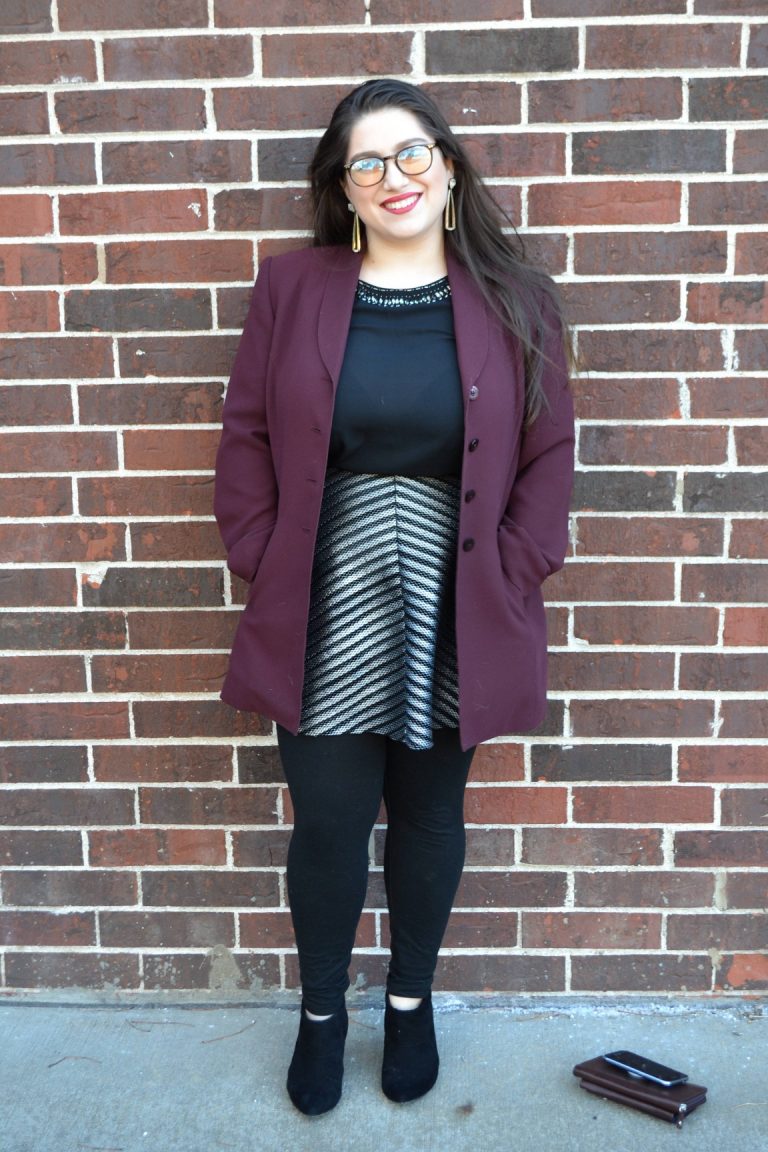 Out of the four items in The Ms. Collection, I fell completely in love with three of them. This service is wonderful because it lets you try clothes for a discount price, while also reducing clothing waste. I like to get most of my clothes from thrift stores, to reduce my environmental footprint. However, everybody in my neighborhood seems to have the same idea and the thrift stores are often picked over. Shopping there can be a hit or miss, and what I try on often isn't flattering to my body. The Ms. Collection lets you reuse clothes, with the aid of a professional stylist who takes your body and preferences into account. I can't wait to see what's in my pack next month!