Try The World delivers a curated box of gourmet foods featuring a the flavors of a new country every other month. With this Try The World box review, we're taking a closer look at the May/June 2015 Try The World box which took subscribers to Buenos Aires, Argentina!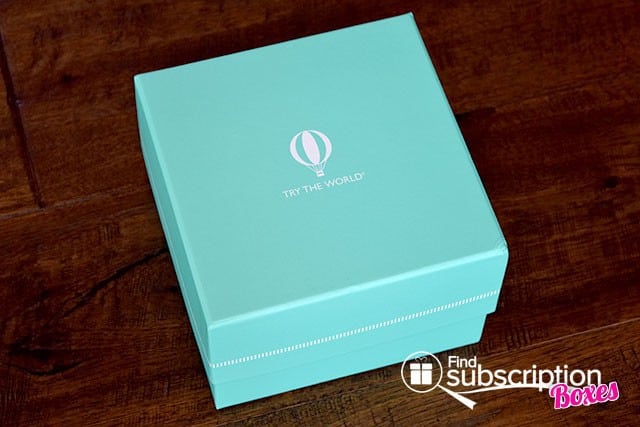 Try The World includes both a product card that describes that month's products, but also a Cultural Guide that shares more information about that box's curator and featured country. The Argentina Try The World box was curated by chef and "Latin American Foodie" host, Adolfo Suaya.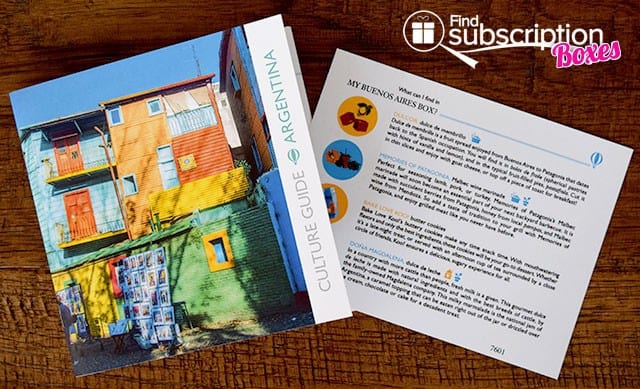 Here's a first look inside the Try The World Argentina gourmet food box.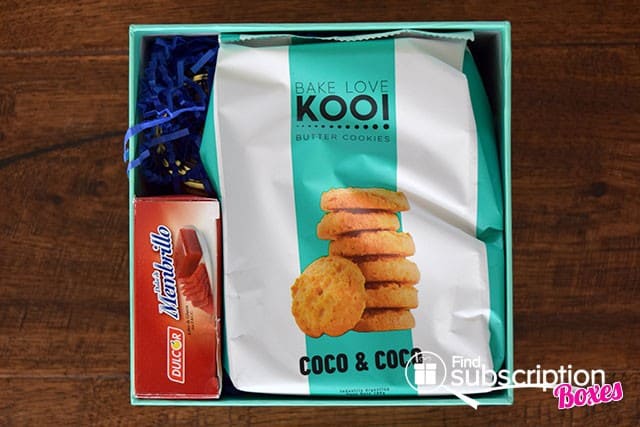 Inside the Try The World May/June 2015 Argentina Box
There were 7 items in our May/June Try The World Argentina Box.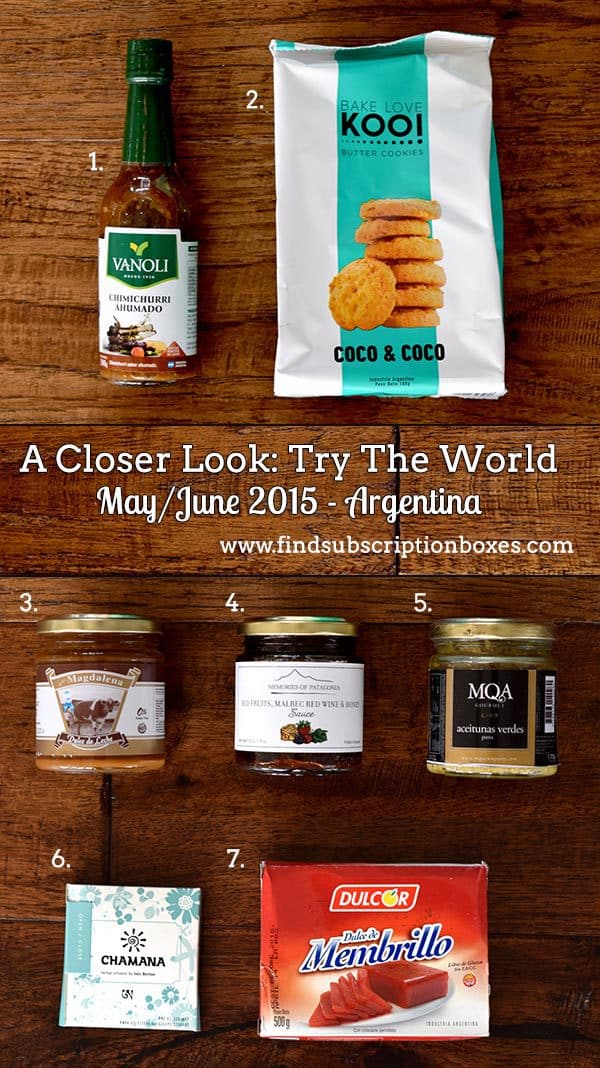 1. Arytza Chimichurri
This flavorful Argentine staple sauce is served as a dip for meat and veggies during Argentine BBQs (asados.)
2. Bake Love Koo! Butter Cookies
Made with only the best ingredients, these butter cookies can be enjoyed with a cup of tea or as a late-night treat!
3. Dona Magdalena Dulce de Leche
The national jam of Argentina, top your ice cream, cake or chocolate with this caramel topping made with natural ingredients.
4. Memories of Patagonia Malbec Wine Marina
Get your lamb, pork, or turkey ready for the grill with this marinade made with berries from Patagonia, honey, and Malbec wine.
5. MQA Gourmet Green Olive Paste
This green olive paste is made of freshly pitted and ground green olives and will add Argentine flavor to your next party.
6. Chamana and Inti Zen Argentine Teas
Enjoy these exclusive tea flavors, made using only authentic Latin American ingredients, to relax at the end of the day.
7. Dulcor Dulce de Membrillo
This fruit spread dates back to the Spanish occupation and is perfect with a slice of cheese or on top of toast.
Try The World May/June 2015 Argentina Box Review Wrap Up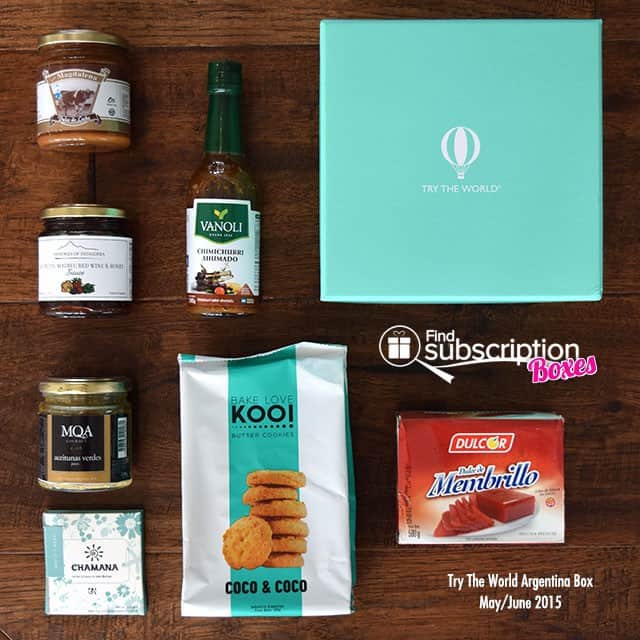 The Try The World May/June 2015 Argentina Box is perfect for adding some South American flavors of Argentina to our Summer gatherings and BBQs. We can't wait to spice up our meats with the chimichurri sauce and Malbec wine marinade. The butter cookies and dulce de leche are deliciously sweet ways to taste Buenos Aires.
What was your favorite gourmet food item from the Try The World Argentina Box?
Try The World BOGO Free Offer
For a limited time, start your Try The World subscription with an Argentina box and get a FREE Paris Box, while supplies last – a $39 free gift value!