The FabFitFun VIP Box is a quarterly subscription box curated by FabFitFun.com healthy, beauty, and fitness experts. Each season's box has at least a $225+ retail value beauty, wellness, fashion, and more amazing finds. With today's FabFitFun box review, we're unboxing the Winter 2015 FabFitFun VIP Box.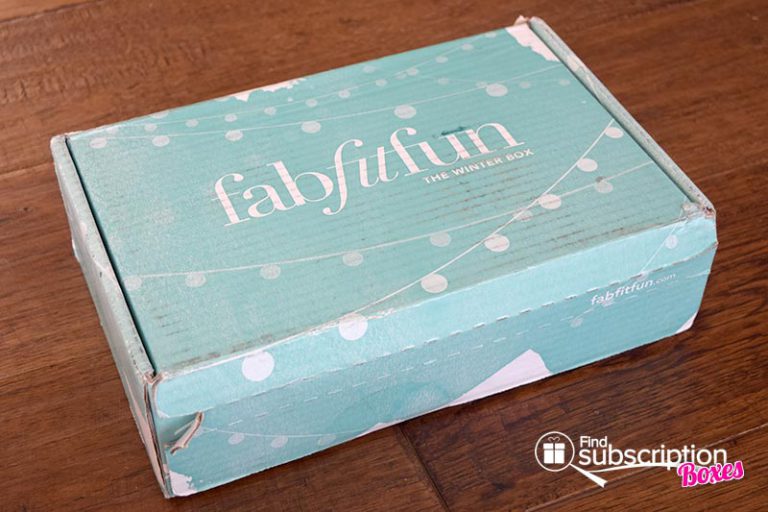 FabFitFun recently upgraded their box to include new Insider magazines. This mini magazine includes the description about that month's products as well as fun articles and interviews. The Winter Edition magazine include traveling tips and an interview with Whitney Port.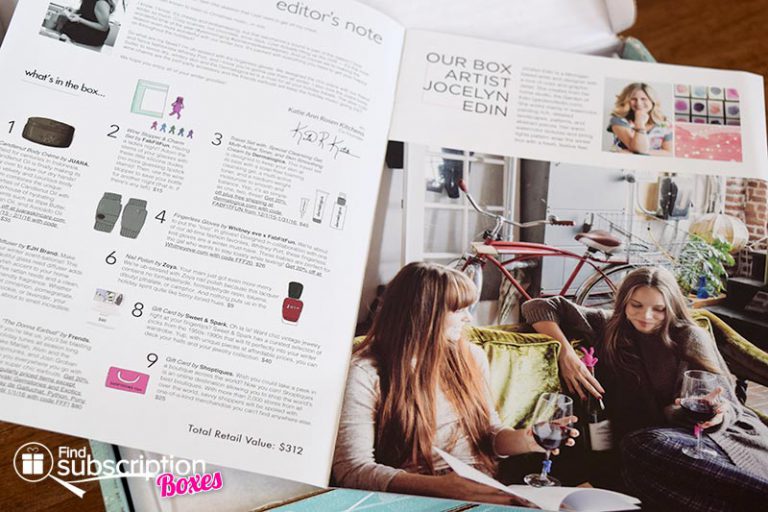 Here's a first look inside our FabFitFun Winter 2015 VIP Box.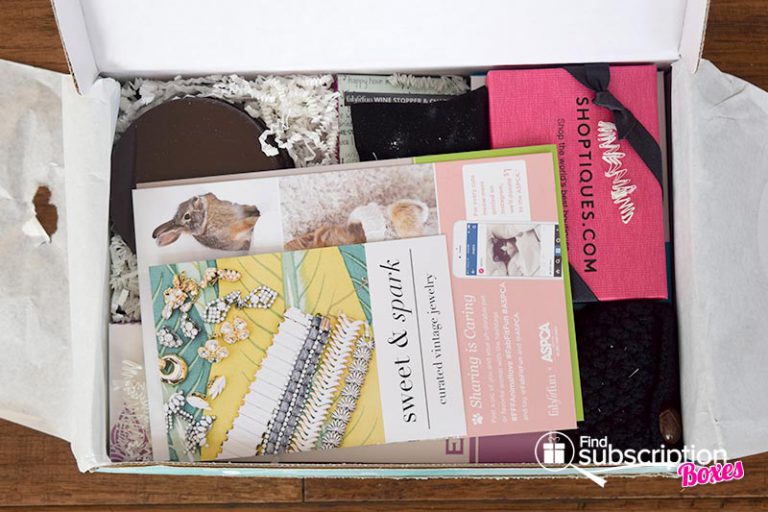 Inside the Winter 2015 FabFitFun Box
There were 9 items in our Winter FabFitFun VIP Box.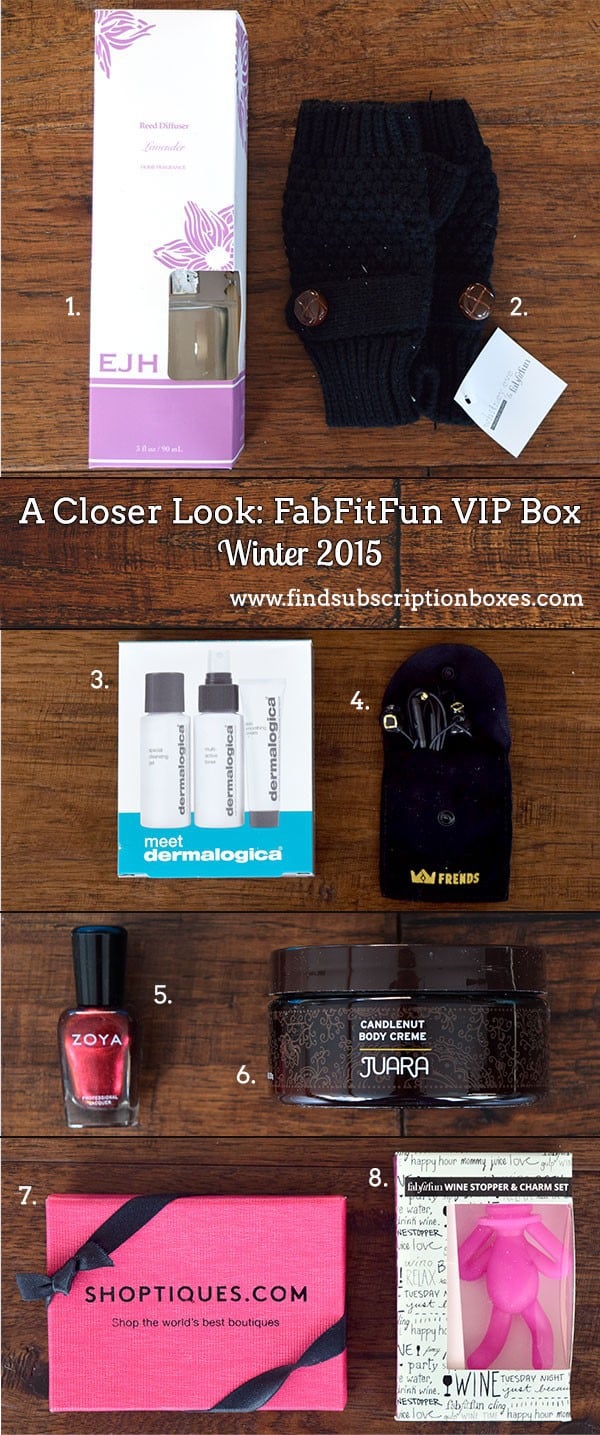 EJH Brand Diffuser in Lavender, Retail Value: $37
Coming in one of 4 fragrances, this stylish reed diffuser features a glass container, rattan reads, and an eco-friendly scent.
Whitney eve x FabFitFun Fingerless Gloves, Retail Value: $26
Made in collaboration with fashion designer Whitney Port, these fingerless knit gloves will help keep hands warm while using your phone.
Dermalogica Travel Set, Retail Value: $45
Keep your skin looking it's best even while on the road, with this three-step travel set.
Frends "The Donna Earbud", Retail Value: $80
These chic earbuds add a touch of style to your ears as you listen to your favorite music.
Zoya Nail Polish in Blair, Retail Value: $9
This berry-toned nail polish adds some holiday color to your fingers or toes.
JUARA Candlenut Body Creme, Retail Value: $35
Velvety and luxurious, this body cream is made with Candlenut Oil and other powerhouse hydrating ingredients to moisturize dry hands.
Shoptiques Gift Card, Retail Value: $25
FabFitFun Winter Stopper & Charm Set, Retail Value: $15
Keep track of your glass of wine and save any leftover wine with this cute silicone wine charms.
Sweet & Spark Gift Card, Retail Value: $40
Winter 2015 FabFitFun Box Review Wrap-Up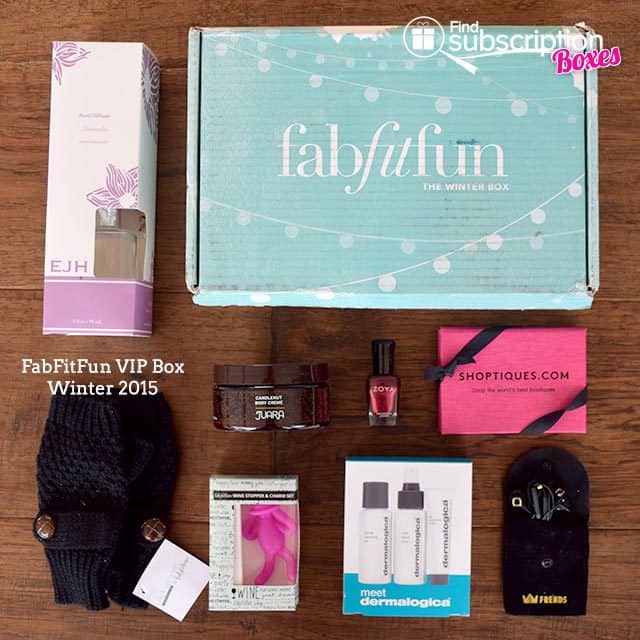 The Winter 2015 FabFitFun box featured a variety of full-sized products and accessories to add a bit of style this Winter. The fingerless gloves and the bold nail polish are great for showing off your home manicure. Cooler months often mean drier skin. The body creme and the skin care set will help keep skin healthy and fresh. The total retail value of the Winter 2015 FabFitFun VIP Box was $312.
What was your favorite FabFitFun Winter VIP Box product?
FabFitFun Promo Code
For a limited time, use exclusive FabFitFun VIP Box coupon code FSB10 to save $10 off your first FabFitFun VIP Box!