Loot Crate is one of the most popular geek + gamer subscription boxes on the directory. Every Loot Crate geek box has $40+ of geek and gamer gear and collectibles. New subscribers can save 10% off new Loot Crate subscriptions when you use exclusive Loot Crate coupon code FINDBOXES at checkout.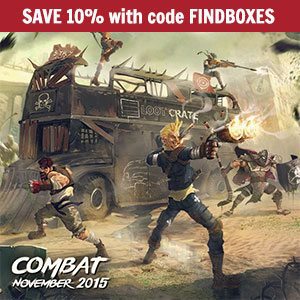 Join by November 19, 2015 and use code FINDBOXES to save 10% off November's COMBAT Loot Crate. Learn more about the November Loot Crate Combat theme.
Save 10% Off New Loot Crate Subscriptions with code FINDBOXES today!