We have our first box spoilers for the April 2015 Arcade Block. Arcade Block delivers a new, mystery, video game-theme subscription box for nerds and gamers every month.
The Arcade Block April 2015 box will feature Level 4, the latest album from Video Games Live, with EXCLUSIVE Arcade Block bonus tracks!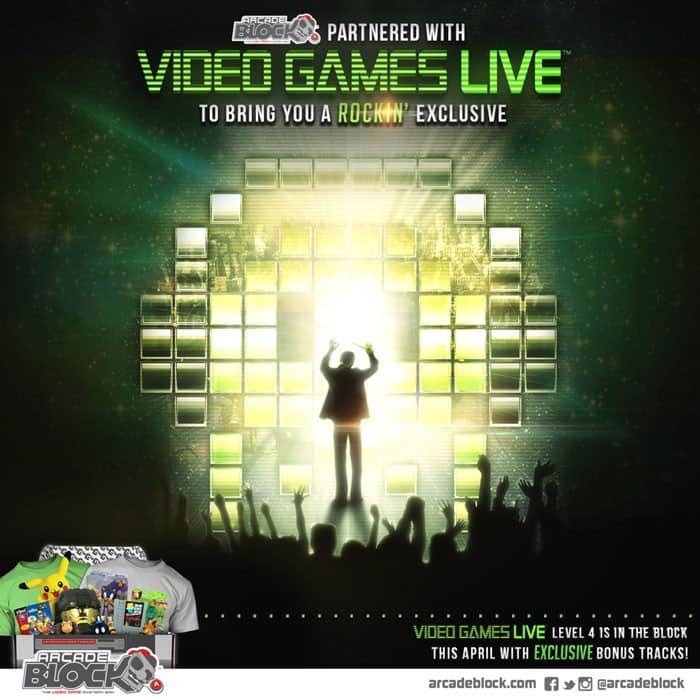 We've teamed up with Video Games Live to bring you an awesome exclusive this month! The Video Games Live album, "Level 4" is in Arcade Block, with EXCLUSIVE bonus tracks! This is the only way you'll be able to snag this version of the album, so subscribe now!
If you aren't familiar with Video Games Live (VGL), it us a concernt event featuring top orchestras and choirs performing music from the most popular video games of all time. More than just music, this is truly an immersive event, with exclusive video footage, synchronized lighitng, live action, and more to create an amazing experience.
Here's a look at sneak peek at one of the tracks on Level 4 – "Donkey Kong Country!"
Do you have a favorite video game score? Are you a VGL fan? 
Arcade Block Coupon Code
Save on new Arcade Block subscriptions! Use Arcade Block coupon code SUPERHERO to save 10% off the 1st month of new monthly Arcade Block subscriptions.