With a Citrus Lane subscription, your child will receive a customized box of toys, books, and other kid-friendly products, selected to match their age and stage. Were excited to bring you box spoilers for the August 2014 Citrus Lane box.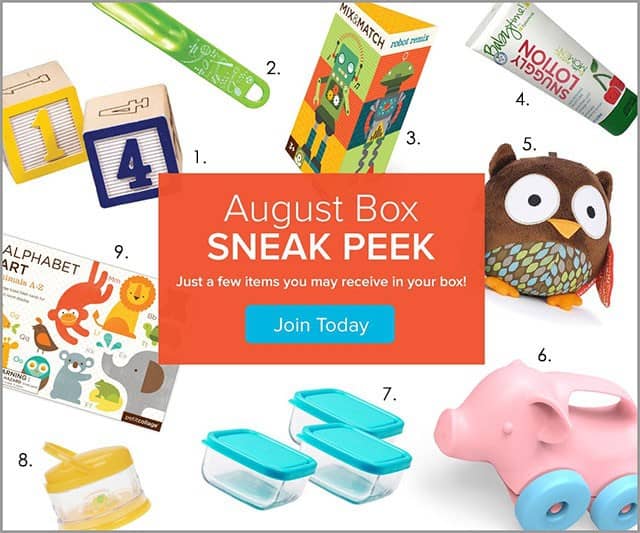 Your child's August Citrus Lane box may include one (or some) of the following (clockwise starting top left):
Spoiler #1: Melissa & Doug Wooden 123 Blocks
Hours of timeless block play await your toddler! This wonderful set of 50 traditionally styled one inch cube blocks features charming hand-painted artwork. Solid wood blocks with a colorful collection of pictures, letters and numbers encourage matching, stacking, sequencing and sorting.
Spoiler #2: Fresh Feet Wipes Shoe Horn
Great for Kids and Adults. Perfect for sneakers, cleats, or any shoe. Smooth, lightweight and durable. Quick & easy solution for putting on shoes
Spoiler #3: Petit Collage Mix and Match Robot Remix
Play matchmaker! These cards can be arranged to create hundreds of silly friends! Packaged in an ideal go-to gift triangular box. Try and match the cards to create the characters shown, or make your own funny mix.
Spoiler #4: Babytime by Episencial Snuggly Lotion – Organic Moisturizer
Lock in skin's hydration with this non-greasy nourishing moisturizer. Soothing borage seed oil helps boost skin immunity while avocado, flax and primrose oils soften and condition delicate skin.
Spoiler #5: Skip Hop Hug & Hide Chime Ball – Monkey, Lamb, or Owl
Roll around for a sweet sound! Squish, squeeze, tumble and roll. This soft roll around pal encourages baby to crawl. Features crinkle arms, fun textures and patterns and a chime inside.
Spoiler #6: Green Toys Turtle on Wheels or Pig on Wheels
Open play is the name of the game with the Green Toys Animals-on-Wheels fun, friendly-faced push toys for babies and toddlers. Made in the USA from 100% recycled plastic milk jugs that save energy and reduce greenhouse gas emission, the Elephant, Pig, and Turtle each feature an easy-to-grasp handle and free-spinning wheels that encourage both fine and gross motor skill development.
Spoiler #7: Innobaby The Glass Baby Food Storage Cubes
The Glass by Innobaby is an economical glass storage solution for baby puree, yogurt, pudding, dipping sauce and more. The storage cubes are made with 100% pure and natural recyclable glass, which is both stain proof and odor free. Leakproof storage features boa free fez grip press to seal lid, which is durable, flexible, and easy to use.
Spoiler #8: Innobaby Packin' SMART® Stackables
All-in-One Storage Solution for Moms On-the-Go! A diaper bag must-have to store, dispense and organize On-the-Go essentials. Put an end to diaper bag mess and endless searching for small essentials at home with our stackable, interlocking, interchangeable Packin' SMART®.
Spoiler #9: Alphabet Art Flash Cards – On-the-Go A-Z Animal A-Z
Discover the alphabet with 26 large-sized flash cards. Bursting with energy, these are perfect for play and room display.
Which August Citrus Lane box spoiler do you hope will be in your child's Citrus Lane box?
Not a current Citrus Lane subscriber? Use Citrus Lane coupon code SAVEHALF to get your first Citrus Lane box for just $14.50 – a 50% savings!