The Vegan Cuts Snack Box delivers 7-10 vegan (and mostly gluten-free) goodies every month. We have a first look at box spoilers for the August 2014 Vegan Cuts Snack Box.
Spoiler #1: Surf Sweets Watermelon Rings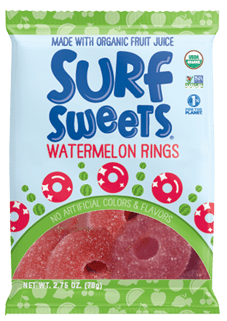 Our lightly sugared organic Watermelon Rings are full of the fresh flavor of a summer day! Made with organic sweeteners and organic fruit juice, Surf Sweets Watermelon Rings include 100% of Vitamin C per serving so you can feel great about your choice!
Spoiler #2: Chic-a-Peas: Falafel
Chic-a-Peas are a baked crunchy chickpea snack. Healthy and delicious, they are perfect for snacking and make a great topping on salads. They are all natural- chickpeas, a touch of oil, & spices… that's it. Our falafel flavor is a delicious Mediterranean blend combining garlic, onion, sea salt and other spices to bring you an authentic flavor.
We've tried the Surf Sweets Watermelon Rings before and LOVED them. Are you excited about the August Vegan Cuts Snack Box spoilers?