Save 20% off Birchbox and Birchbox Man gift subscriptions! For a limited time, you can save 20% off Birchbox 6 and 12 month gift subscriptions, as well as Birchbox Man subscriptions. Use Birchbox coupon code GIFT4ALL at checkout to save 20% off your Birchbox gift subscriptions.

With a Birchbox for women subscription, your gift recipient will receive 5 beauty samples from high-end brands, selected to match their beauty profile. 6 month Birchbox beauty box subscriptions are $60 + a $2.95 service fee. With the 20% off coupon code, the gift subscription is just $50.95 – a $12 savings.
Birchbox Man delivers 4 grooming samples, plus a stylish accessory or gadget each month. 6 month Birchbox Man subscriptions are $110 + a $2.95 service fee. Use the 20% off coupon code to get a 6 month Birchbox Man gift subscription for $90.95 – a $22 savings.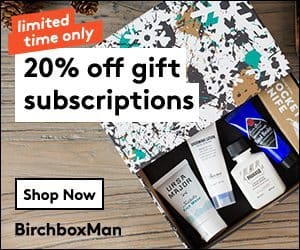 Birchbox will ship your recipient's first box (filled with best sellers anyone can enjoy) on the date you choose. The rest of their boxes will be personalized to your gift recipient's preferences.
Gift Birchbox today to save 20% off Birchbox 6 and 12 month Gift Subscriptions with code GIFT4ALL. Shop now!
Birchbox 20% off gift subscription deal expires December 11, 2016.