Bulu Box has released new Bulu Box September box spoilers! Bulu Box is monthly fitness and weight loss subscription box. Available in 2 box options (Bulu Box and Bulu Box Weight Loss), each Bulu Box delivers 4-5 health and fitness products to help you reach your goals.
Here are 3 of the products included in the Bulu Box September 2015 box:
Box Spoiler #1: Neocell Biotin Bursts in Acai Berry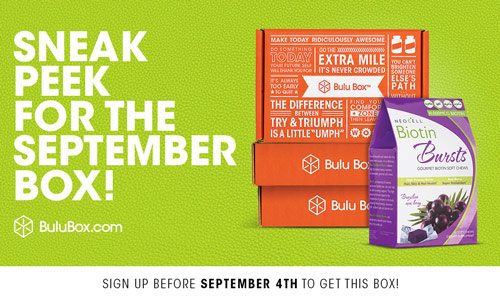 Having beautiful and radiant skin has never been so easy – or so delicious. NeoCell Biotin Bursts deliver high potency beauty nutrients in a delectable, gourmet soft chew. Formulated based off of scientifically proven ingredients NeoCell Biotin Bursts offer a delicious alternative to your daily biotin regimen.
Box Spoiler #2: CleanEnergy Patch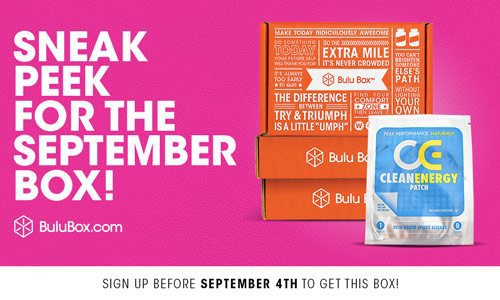 Clean Energy Patch offers a pure, more efficient form of natural Energy for athletes and others to get the edge they need.
Box Spoiler #3: Caveman Protein Performance Bar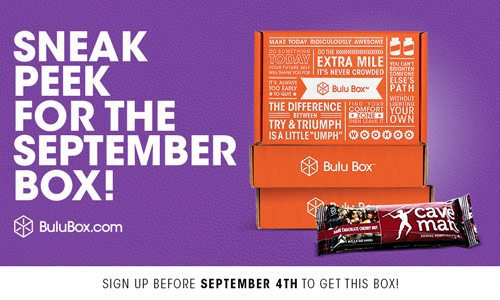 The perfect combination of nutritious, wholesome ingredients and incredible taste. Made with healthy nuts, fruit and seeds, and available in 8 delicious flavors, our bars are the everyday snack your body and taste buds will thank you for.
Which September Bulu Box spoiler are you most excited to try?
Check out our Bulu Box reviews to see some of the products in past Bulu Boxes.
Subscribe by September 4, 2015 to reserve your Bulu Box September box!
Get a $5 Bulu Box!
Save 50% off ANY Bulu Box subscription when you use Bulu Box coupon code FSB50 at checkout and get your monthly Bulu Box for as low a $4.50 per box!