We have our first look into the April 2015 Citrus Lane subscription box for babies and kids. Check out these Citrus Lane April 2015 box spoilers for a sneak peek at some of the baby toys and toddler products that could be in your child's April Citrus Lane box.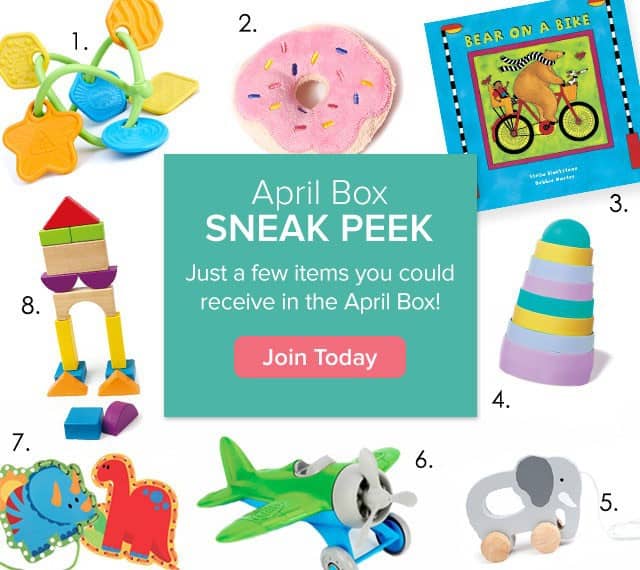 Your child's April 2015 Citrus Lane Box may include:
1. Green Toys Twist Teether
Shake, rattle and explore with the My First Green Toys™ Twist Teether. Tiny hands can easily grasp this lightweight, three-dimensional, ultra-safe teether. Each uniquely shaped and colorful charm has a distinct texture to stimulate visual and tactile senses.
2. North American Bear Co. Bake N Shake Donut Rattle
Perfectly sized for little hands and deliciously fun, Shake 'n Bake Donuts are no-calorie yummy treats to engage baby with play.
3. Bear on a Bike by Stella Blackstone, Ages 2+ years
Bear on a Bike transports young readers around the world by bike, train, raft, boat and even hot-air balloon, with a special night-time journey at the end. As you cycle through the market, sail to an island and fly over the rainbow, you will discover marvellous creatures and see many wondrous sights.
4. Green Toys Stacker, Ages 6+ months
The Green Toy Stacker takes a classic toy and makes it safer and more playful. The eight colored nesting pieces stack easily, and can stack in any order. Most importantly, the Green Toys Stacker is safe.
5. Hape Toys Elephant Push & Pull, Ages 12+ Months
Hape's Elephant Push & Pull is a fun long-nosed friend to play with around the house. Made by Hape, a leader in designing and manufacturing high quality baby and children's toys made from sustainable materials.
6. Green Toys® Airplane, Ages 12+ months
The Green Toys® Airplane is one aircraft Mother Nature is happy to clear for takeoff! Made in the USA from 100% recycled plastic milk jugs that save energy and reduce greenhouse gas emissions, this single-seater plane features a spinning propeller, two-wheeled landing gear, and racing stripes on its rounded wings.
7. Stephen Joseph Dino Lacing Card Set, Ages 3+ years
A classic game of color matching and hand-eye coordination! Each Lacing Set includes five themed cards and five coordinating strings; a zipper pouch is included for easy storage. The Lacing Card set helps the little ones to train their hand-eye coordination and color matching.
8. Hape Toys City Planner Blocks, 
A dozen wooden blocks in an assortment of shapes and colors inspire builders to reach new heights. Every fabulous city planner, architect, or builder must have had a great set of blocks to grow up with. Why not start your young construction artist off right with Hape's City Planner Blocks? The City Planner Blocks set is a wonderful variety of shapes, sizes, and colors sure to spark a youngster's imagination to roll out those imaginary blueprints and get to building.
Citrus Lane Coupon
Through March 22, 2015, get a FREE Skip Hop Lunchie and Straw Bottle with new Citrus Lane subscriptions when you use Citrus Lane coupon code SKIPBONUS at checkout – a $19 free gift value!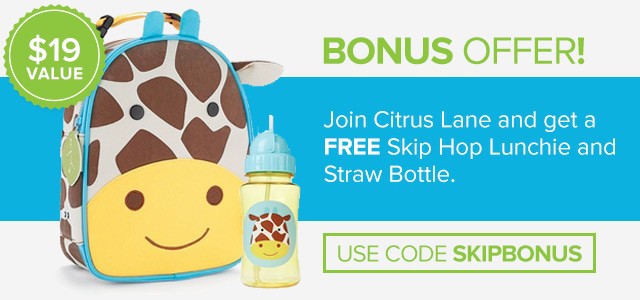 Which Citrus Lane April 2015 box spoiler would your child love to receive?