Get a sneak peek into the June Citrus Lane box with these Citrus Lane June 2015 box spoilers! You're child's June Citrus Lane box may include one of the following must-have products for babies and toddlers: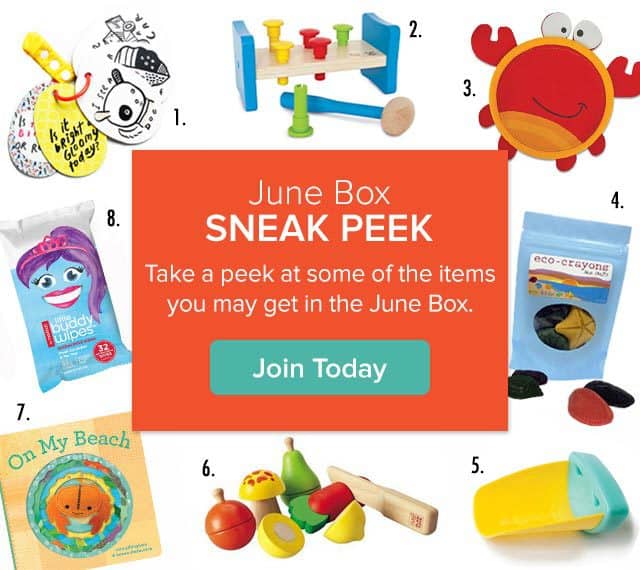 1. Wee Gallery I See Stroller Cards
I see a dog.  Is the dog big or little?  The I See Stroller cards by Wee Gallery promote exploring a baby's world. Printed on sturdy card held together with a ring and strap that connects to you stroller or bag.  Easy to take on a trip but not easy to lose.  Take your baby on a fun exploration the Wee Gallery way.
2. Hape First Pounder Wooden Hammer & Pegs Toy, Ages 12+ months
Nothing's more fun than hammering these pegs through the holes – except flipping them over and doing it again. Name the colors of each peg. Count how many times it takes to pound the peg through the hole. Use words such as "over" and "through" when describing what happens to the pegs and the bench.
3. Crab Fun Flyer by Stephen Joseph
Have fun at the pool, beach, or in the backyard with fun flyers for kids! Each fun flyer is made of water-friendly neoprene and is approximately 8.5".
4. eco-crayons, Ages 2+
Designed to emulate sea rocks from the beautiful Maine coast, these earthy-colored crayons are made with natural wax and mineral pigments. Includes eight colors of crayon rocks; made from Bees wax / carnuba wax / soy wax / mineral pigments.
5. Aqueduck Faucet Extender
As essential as soap, the ingenious Aqueduck Faucet Extender makes cleanup with little ones easy by extending the spigot's stream. No more lifting fast-growing tots to reach the flowing faucet — the Aqueduck easily attaches to nearly any standard tap, making cleanliness a cinch at home or on the go.
6. Plan Toys Fruit & Vegetable Set
Young chefs can chop and prepare 5 colorful fruits and vegetables. A wooden knife is included.
7. On My Beach by (Felt Finger Puppet Board Books)
Turn the colorful die-cut pages of this irresistible board book to discover just what makes little crab's beach so cozy. Is it the soft sand? Is it the salty seaweed? No, it's his loving family! Bright pictures, a sweet reassuring message, unique layered pages, and an adorable finger puppet combine to create interactive reading and playtime fun!
8. me4kidz Little Buddy Antibacterical Wipes
Gentle antibacterial wipes for all kinds of owies and everything in-between. Great for on the go, cleaning hands, dirty faces and scrapes too. Fresh scent that kids like. Kills 99% of germs without the sting and strong odor of your typical wipes.
Which Citrus Lane June 2015 box spoiler will your child love the most?
Citrus Lane 30% Off + Free Gift Promo
For a limited time, get a FREE gift and save on your first Citrus Lane box! Use Citrus Lane promo code MUDPUP  to get a FREE set of Mudpuppy Ring Flash Cards and save 30% off your 1st box!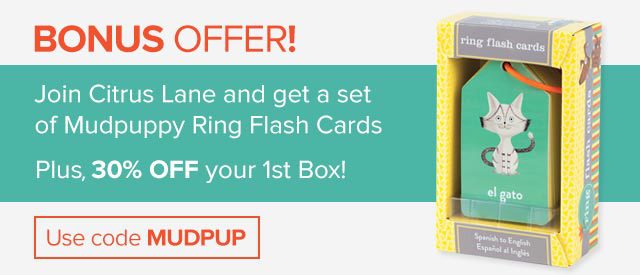 30% Off + Free Mudpuppy Bonus: MUDPUP valid for new or inactive Citrus Lane customers that purchase a self-subscription. Cannot be combined with other promotions and is valid until 11:59 PM, May 31, 2015 or while supplies last. One per household. Subscriptions automatically renew to full retail price. You may cancel anytime after receiving your first box. Available while supplies last, may be different from what is featured above and may ship separately from your first box. Please note that gift with purchase items and Add To Box items cannot be shipped outside of the contiguous 48 states. Shipping is free for subscription packages sent within the contiguous 48 states.