Discover the best products for your child, from newborn through age 5, with a customized subscription box of toys, books, and other products from Citrus Lane. We're excited to share this first look into next month's Citrus Lane boxes with these Citrus Lane March 2015 box spoilers!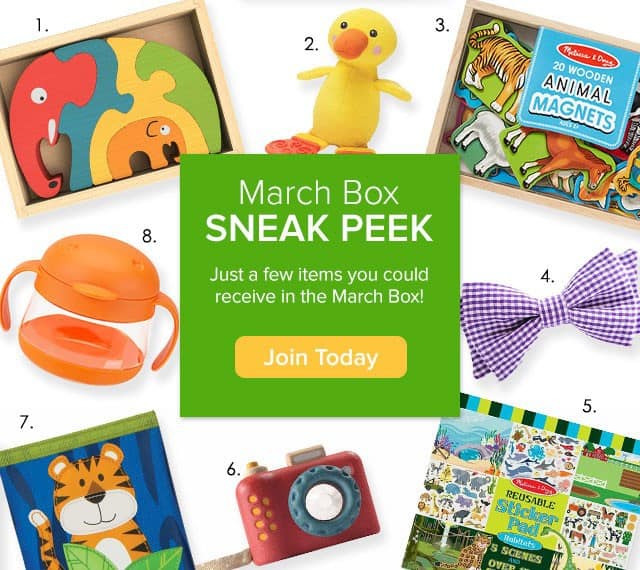 Your child's March 2015 Citrus Lane Box may include:
1. BeginAgain Toys Elephant Family Puzzle, Ages 3+ years
The Elephant Family puzzle is both playset and puzzle all in one! Children play with the pieces like a playset, put them together to complete the puzzle, and can display it on a shelf to admire! This 6 piece puzzle is hand-crafted & finished with child-safe paints and made from plantation grown rubberwood, an environmentally friendly hardwood.
2. Manhattan Toy Dotty Duck Teether Dotty Duck Teether, Ages 3+ months
Soft Teether Pals brings needed relief and happiness. Soft and plush, little ones love to suck and chew on the textured feet. Give it a shake and the adorable pal rattles excitedly.
3. Melissa & Doug Wooden Animal Magnets, Ages 2+ years
Everyone is attracted to these magnetic animals! Twenty favorite wild and domesticated animals in a compact wooden case are waiting to play.
4. LilGents Purple Gingham Bow Tie
This pre-tied bow tie is made to look like a genuine, tie-it-yourself bow tie. Bow tie comes with a velcro adjustable strap. The velcro is the 'soft' variety to prevent itching and irritation. Each piece of the bow tie is lined and sewn with great care to keep it looking starched and full for multiple wears.
5. Melissa & Doug Reusable Sticker Pad – Habitats, Ages 3+ years
Visit a farm, a prehistoric landscape, a desert oasis, a jungle, or the deep blue sea, all in this interactive sticker book! The glossy, full-color backgrounds are ready to be filled with over 150 easy-to-peel vinyl stickers that can be lifted off and repositioned again and again, so kids can follow their imaginations fearlessly.
6. PlanToys My First Camera, Ages 18+ months
Get picture perfect views of your surroundings with this PlanToys camera. Point, Focus, and click the camera and see the different images through the kaleidoscope lens!
7. Stephen Joseph Tiger Wallet
Our tri-fold wallet for preschoolers features appliquéd designs and is made of nylon material. It includes a velcro closure, a coin pocket with a zipper, and one mesh pocket and billfold.
8. Ubbi Tweat Treat Dispenser
The Ubbi Tweat treat dispenser is an innovative snack container that combines playfulness and functionality making snack time enjoyable for both parents and children. Fitted for a small child's hand, the bird shaped Ubbi Tweat stores and seals snacks to keep them fresh. Cleverly designed, the lid remains attached when open and the weighted base leans and wobbles to prevent the container from tipping over. The Tweat opening has a practical soft spill guard and is large enough for easy snack access.
Citrus Lane Coupon
Through February 28, 2015, save 30% Off Your 1st Citrus Lane Box PLUS get a FREE Dr. Seuss Mealtime Set when you use Citrus Lane coupon code SEUSS at checkout.
Which Citrus Lane March 2015 box spoiler would your child love to receive?