We have the complete box spoilers for the FabFitFun VIP Winter Box! Every quarter, the FabFitFun VIP Box delivers over $200+ worth of fashion, fitness, welness, and more. The Winter 2014 FabFitFun VIP Box has a $383.59 total value!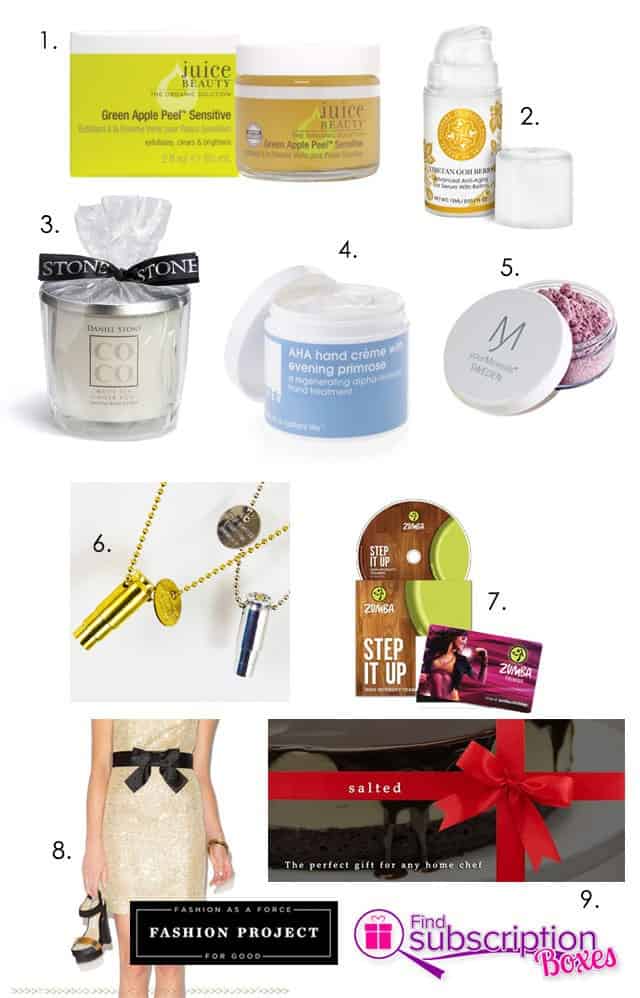 Here's are the full FabFitFun VIP Box Winter 2014 box spoilers:
1. Juice Beauty Green Apple Peel Sensitive – $39 Retail Value
Juice Beauty's bestselling, patented GREEN APPLE™ Peel exfoliates and refines to reduce fine lines and wrinkles, and lighten hyperpigmentation. Delivers spa grade exfoliation revealing a brighter complexion while firming the skin. A Daily Essential for all skin types.
2. Passport to Beauty Tibetan Goji Berry Intense Anti-Aging Eye Serum – .5oz – $88 Retail Value
The Passport To Beauty Tibetan Goji Berry Advanced Anti-Aging Eye Serum marries East with West with a rejuvenating and advanced age-defying formula exclusively designed to diminish fine lines and wrinkles, stimulate collagen and elastin while repairing and restoring the delicate eye area.
3. Daniel Stone COCO Candle – $42 Retail Value
Harnessing the remarkable properties of all natural coconut wax and a remarkably high 15% fragrance load, these innovative candles outperform any department store or boutique brand. The result is an amazingly clean-burning candle that never collects soot, exudes fragrance, and is truly ecologically responsible.
4. Lather AHA Hand Creme with Evening Primrose – $18 Retail Value
LATHER's unbelievably rich hand treatment contains alpha hydroxy acids, natural substances derived from fruits, that encourage cell renewal and help to minimize the appearance of wrinkles and age spots. In addition, infusions of chamomile, combined with evening primrose and lemongrass, help maintain soft and healthy looking hands.
5. yourMinerals Eye Shadow Duo – $44 Retail Value
yourMinerals Eyeshadow is a great eyeshadow that is applied perfect as a stand alone base shadow, or together with other yourMinerals shadows to create a glamour look. With its soft and creamy texture you will find it easy to apply and making it easy to add as a professional eye makeup. It mixes great with other colors for you to create an infinite number of shades.
6. Half United Fighting Hunger Necklace – $34 Retail Value
At HALF UNITED we've made a bold proclamation of our stance against hunger by designing the "Fighting Hunger" necklace. Each necklace incorporates three recycled bullet casing- representing your fight against hunger and putting your stance on display in a major way.
7. Zumba 60-min DVD and $25 apparel gift card (covers the cost of shipping!) – $55 Retail Value
Pretty much the most awesome workout ever. Dance to great music, with great people, and burn a ton of calories without even realizing it.
8. $30 Fashion Project gift card with free shipping (covers the cost of shipping!) – $30 Retail Value
At Fashion Project, our mission is to raise as much money as possible for charity by creating a community where our members can donate clothing and shop for causes they care about. Our members are our heroes – every sweater, handbag, or designer shoe donated, starts a movement that impacts the lives of others around the world.
9. 3-Month Membership to SaltedTV.com – $29.97 Retail Value
A better way to learn to cook. Start learning from expert chefs today with unlimited access to the Salted tutorial library.
Winter FabFitFun VIP Box Sponsored Items: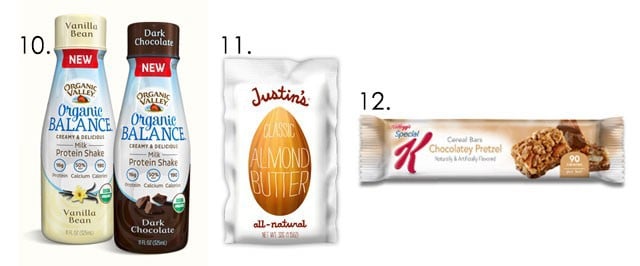 10. Organic Valley Balance Milk Protein Shake – $2.99 Retail Value
Organic Balance is a delicious, organic milk protein shake perfectly portioned for a quick breakfast, a light snack, or anything in between. Made with a simple list of high-quality ingredients, it's the perfect shake to keep you energized while you're on the go.
11. Justin's Class Almond Butter – $.63 Retail Value
Introducing the world's first ever Almond Butter. Wait, what? We're not? Okay, scratch that. Introducing the world's first ever incredibly delicious, all-natural, made with real California almonds and a secret nut grinding technique that we're positive no one else in the World uses since we invented it ourselves, Almond Butter.
12. Special K Snack Bars – $2.62 Retail Value
Which is your favorite Winter 2014 FabFitFun VIP Box item?
Become a FabFitFun VIP Box subscriber today! For a limited time, use code WINTER10 to save $10 off the Winter 2014 FabFitFun VIP Box.