We have a sneak peek into the December 2014 Citrus Lane box with these new box spoilers! Citrus Lane is a monthly subscription box for babies and young children that delivers a customized selection of toys, books and other products that match your childs age and stage.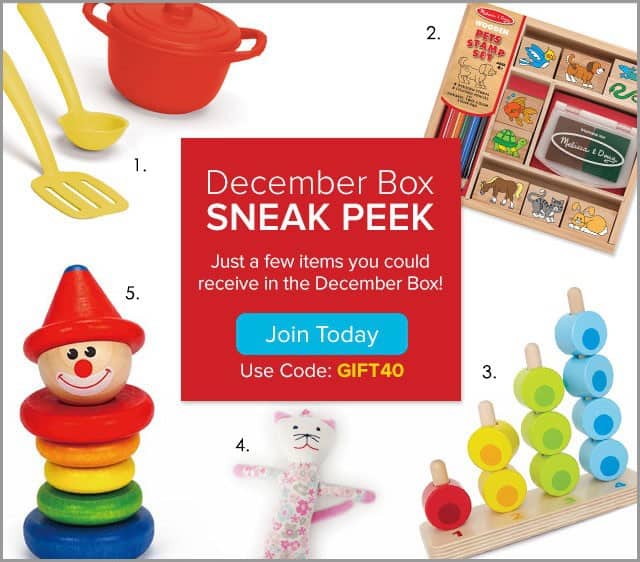 Your child's December Citrus Lane Box may include:
1. Green Toys Chef Set, Ages 2+ years
Reduce fossil fuel use and CO2 emissions…it's all part of the recipe for aspiring gourmets who use the Green Toy Chef Set. This classic collection of kitchen essentials is made from 100% recycled milk jugs, and includes a stock pot with lid, skillet, spatula and ladle. It meets FDA specs for food contact, is dishwasher safe, and is guaranteed to produce hours of Good Green Fun™!
2. Melissa & Doug Wooden Pets Stamp Set, Ages 4+ years
Help a child's creativity gallop free with this Pets Wooden Stamp Set, featuring a dog, a cat, a bunny, a turtle, a horse, and more kid favorites. The durable two-color stamp pad, five colored pencils, and nine detailed stamps are all conveniently and neatly contained in a sturdy wooden box.
3. Hape Toys Counting Stacker, Ages 12+ months
Count the pieces. Name the colors.Talk about concepts such as taller and shorter/ bigger and smaller when makig stacks of beads.
4. Under The Nile Scrappy Cat
Quirky and colorful, Under the Nile Scrappys are made from 100% Egyptian Organic Cotton Scraps left over from our clothing production. Wastefulness is not in our nature-any time we see a chance to upcycle, you bet we're going to!
5. Hape Toys Happy Clown Rattle, Ages 0+ months
Brighten baby's day with this colorful wooden rattle created especially for grabbing fingers, teething gums and smiling faces.
[Tweet "Check out the new December @CitrusLane Box Spoilers! Save 40% off + FREE gift!"]
Which Citrus Lane December box spoiler do you think your child will love? 
Subscribe to Citrus Lane and Save Today! For a limited time, use coupon code GIFT40 to save 40% off your first Citrus Lane box PLUS get a FREE gift from Skip Hop!
40% off Box & FREE Skip Hop gift: GIFT40 valid for new or inactive Citrus Lane customers that purchase a self-subscription. Cannot be combined with other promotions and is valid until 11:59 PM, December 10, 2014 or while supplies last.
Coupon code expired? Use Citrus Lane code SAVEHALF to save 50% off your first Citrus Lane Box.