We have a new FabFitFun Spring 2015 VIP Box Spoiler. Check out the first FabFitFun VIP Spring 2015 box spoiler here and the second $45 value spoiler here.
Every Spring 2015 FabFitFun VIP Box will have Palmetto Derma Collagen Booster and Restoration Serum – a $48 value!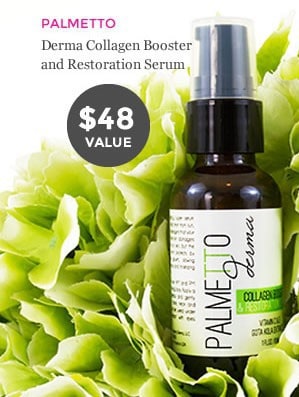 This free radical fighting super serum keeps your skin safe from the daily elements. Featuring vitamin C & E, Hyaluronic Acid, Aloe, Gotu Kola & more super powered ingredients, Palmetto's powerful vegan and cruelty-free formula increases collagen growth, rapidly slows down the aging process, fills fine lines and minimizes wrinkles once and for all!
With the three FabFitFun Spring VIP box spoilers we've seem so far, the Spring box already has a $125 value, with more surprises still to come!
Reserve your FabFitFun Spring 2015 VIP box today!
Are you excited to try Palmetto's Serum? Do you have a favorite anti-aging beauty tip? 
FabFitFun VIP Box Coupon Code
For a limited time, save $10 and get the Spring 2015 FabFitFun VIP Box for just $39.99 when you use code FSB10 at checkout – a 25% savings!