Every quarter, the FabFitFun VIP Box delivers a box of the latest trends in beauty, fashion, wellness, and more for just $49.99/quarter. We have our first box spoilers for the Fall 2014 FabFitFun VIP Box!
Every Fall 2014 FabFitFun VIP Box will include an adorable apron by Jessie Steele – a $32 retail value!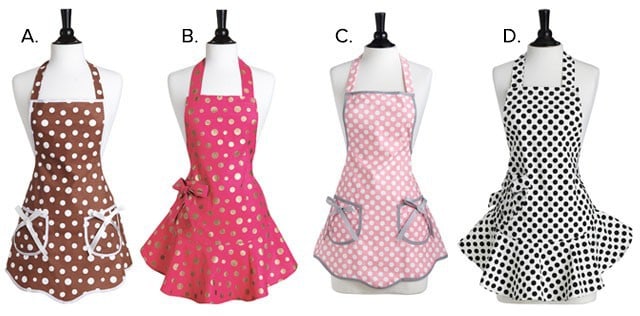 With darling dots adorning the super cute vintage-inspired designs, you'll be the hostess with the mostest this fall. Featuring adjustable ties at the waist and neck, you'll be serving up something hot in this number. (And we're not talking about dinner.)

Coming in a variety of perfect polka dotted patterns, and featuring girly details like removable grosgrain bows and fluttery ruffled hems, your kitchen will turn into the catwalk as you serve up some fierceness at your next dinner party. Oh, and you'll be in great company while wearing your Jessie Steele apron, which has been seen on homemaker legends such as Bree Van de Camp (played by Marcia Cross on Desperate Housewives), Charlotte York (played by Kristin Davis on Sex and the City), Jennifer Aniston, and Betty White.
The Jessie Steel apron in the Fall FabFitFun VIP Box will be in one of 4 styles pictured above:
A. Brown & White Retro Polka Dot Ava Apron
B. Pink & Gold Retro Polka Dot Josephine Apron
C. Rosy Pink Polka Dot Ava Apron
D. Cream & Black Polka Dot Josephine Apron
Join FabFitFun VIP Box today and save! Use code FALL5 to save $5 off your FabFitFun VIP Box subscription OR use code FRUITWATER and get a FREE Fruit Infuser Water Bottle with your Fall FabFitFun VIP Box!
We love these super stylish retro aprons! Which apron do you hope is in your box?