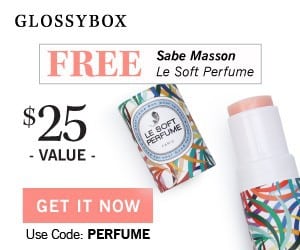 Treat yourself to a surprise beauty box featuring 5 deluxe-sized beauty products every month with GLOSSYBOX. Join GLOSSYBOX today and get a free gift when you join! For a limited time, use GLOSSYBOX free gift coupon code PERFUME to get a FREE Sabe Masson Le Soft Perfume with new subscriptions. That's a $25 free gift value!

Get a sneak peek into February's GLOSSYBOX with our GLOSSYBOX February 2016 box spoilers.

Don't miss your chance to claim this free beauty gift. Claim your free Sabe Masson Le Soft Perfume with new GLOSSYBOX subscription today. Use code PERFUME at checkout.

GLOSSYBOX Sabe Masson Free Gift Coupon expires February 29, 2016.