Open a surprise box of geek and gamer gear and collectibles with a subscription to Loot Crate. For a limited time, new or reactivating Loot Crate subscribers can get a FREE gift with new Loot Crate subscriptions. Use Loot Crate code JOINTHEEMPIRE to get a FREE Imperial Star Destroyer Keychain or use code NOGOODTOMEDEAD to get a FREE Slave I Keychain.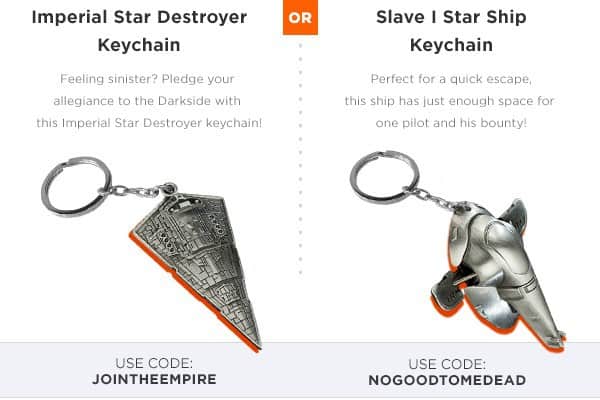 Over two inches long and made of solid steel, these high quality replica keychains are based on the official Lucas Film digital files.
The cut-off date for February's Loot Crate is February 19, 2015 – just 5 days away. Learn about the February PLAY-themed Loot Crate and get a sneak peek into this month's crate!
Want TWO bonus gifts with your Loot Crate subscription? For a limited time, Loot Crate subscribers can also receive a FREE Loot Crate t-shirt with purchase of 1 year Loot Crate subscriptions – no code required!
Get Your FREE Gift with New Loot Crate Subscriptions today!
If the Loot Crate free gift coupon codes have expired, use code FINDBOXES to save 10% off any Loot Crate subscription.