GLOSSYBOX has just revealed an amazing deal heading into the holiday season! Through December 15, 2014, or while supplies last, get a FREE Holiday GLOSSYBOX with any new 12 Month GLOSSYBOX Subscription when you use code HOLIDAY at checkout.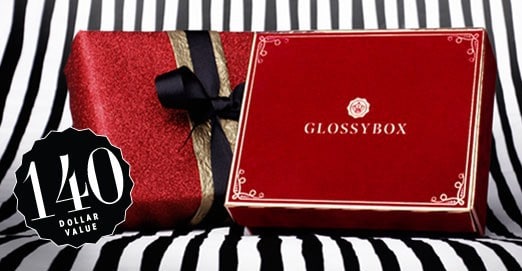 We also have full box spoilers for this year's Holiday GLOSSYBOX! The 2014 Holiday GLOSSYBOX has a $140 value and includes 8 full-size, festive beauty products: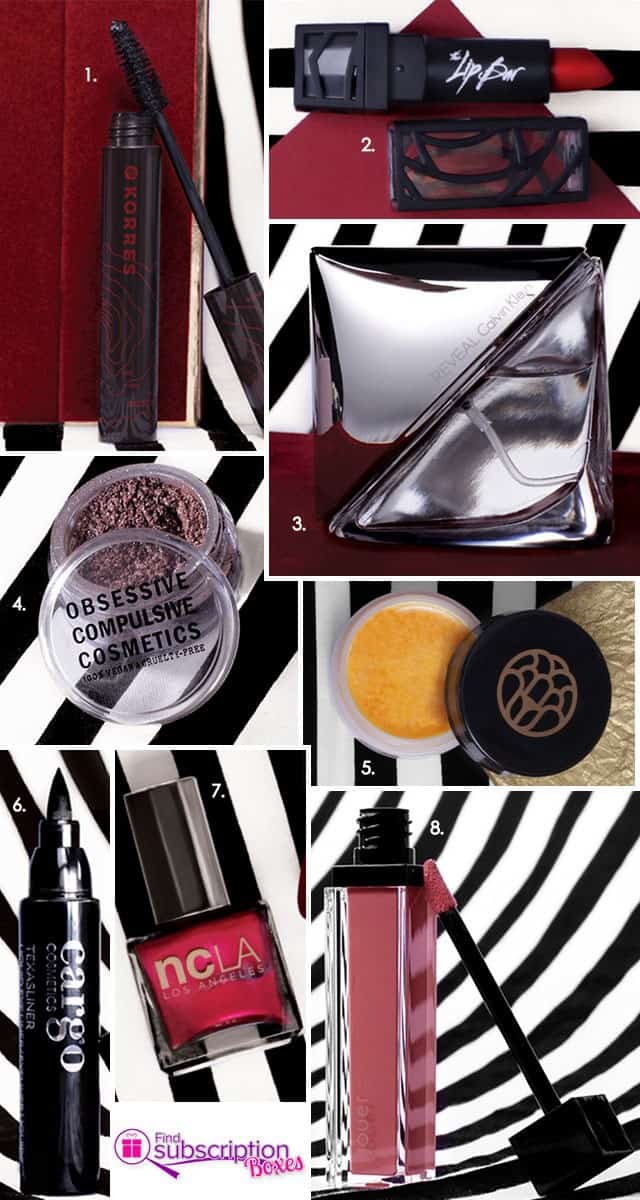 1. Korres Volcanic Minerals Volumizing Mascara – Full Size, $20 Retail Value
Featuring volcanic soil said to increase lashes by 600 percent and provide its deep, dark black hue, this mascara leaves a glossy finish with rich pigments and natural film formers.
2. The Lip Bar Lipstick in Crimson Wonderland – Full Size, $25 Retail Value
Celebrate the season by using THe Lip Bar's limited-edition candy apple red lip color. It's cruelty-free and filled with nurturing ingredients like organic shea butter, avocado oil, and coconut oil.
3. Calvin Klein Reveal – Full Size, $90 Retail Value
Designed to express Calvin Klein's core brand identity, this solar oriental is characterized by freshness and warmth. A sensorial raw salt signature captures traces of the scent of skin and is blended with orris and a drydown of sensual sandalwood.
4. Obsessive Compulsive Cosmetics Loose Colour Concentrates in Smote – Full Size, $14 Retail Value
This gorgeous holographic micronized color pigment is infused with light-reflecting mica to impart a multidimensional glimmering effect wherever it is applied.
5. Teadora Nourishing Lip Butter in Rainforest at Dawn – Full Size, $15 Retail Value
This new brand is inspired by and infused with extracts of the antioxidant-rich plants found in the Amazon Rainforest. Packed with maracuja, acai oils and mango butters, this citrusy flavor is also known as laranja, or orange in Portuguese.
6. Cargo TexasLiner Liquid Eye Liner – Full Size, $20 Retail Value
Because everything is bigger in Texas, Cargo decided to upgrade the eyeliner experience with this easy-to-control chubby felt tip liquid eyeliner. This water-based formula glides on smoothly, creating a precise cat eye in one stroke.
7. NCLA Nail Lacquer in Satin Sheets, Velvet Ropes – Full Size, $16 Retail Value
This cult favorite indie brand is inspired by the signs and sounds of Southern California. Both 5-free and American made, this gilded red shade shimmers slightly under the holiday lights.
8. Jouer Moisturizing Lip Gloss in Wind – Full Size, $20 Retail Value
Loaded with vitamin E, shea butter and jojoba seed oil to soften, nourish and protect lips, the hydrating gloss is the perfect pinky nude shade to match with every complexion.
Now is a great time to get this amazing free beauty gift with purchase with GLOSSYBOX. Use GLOSSYBOX coupon code HOLIDAY to get a FREE Holiday GLOSSYBOX with any new 12 Month GLOSSYBOX Subscription!
What do you think about the 2014 Holiday GLOSSYBOX?