Send your favorite dog a monthly dog box of 4-6 full-size, healthy dog treats and toys every month. For a limited time, through August 31, 2015, new BarkBox subscribers can get 1 FREE month of the Extra-Toy Club with new BarkBox subscriptions with BarkBox promo code SUMMER2015.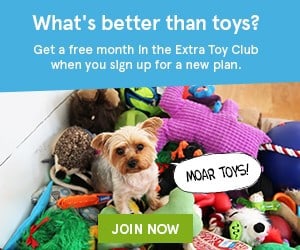 Your free dog toy will be added to your first month's BarkBox. Plus, get free shipping with 3, 6, and 12 month BarkBox subscriptions. 10% of all profits go back to shelters and rescues in the US and Canada.
Get 1 FREE Month of Extra-Toy Club on New BarkBox subscriptions with code SUMMER2015 today!
Offer expires August 31, 2015.