Receive a curated collection of the finest and hardest-to-find fragrances from perfume artists around the world with the Olfactif perfume subscription box. For a limited time, through June 30, 2015, get a FREE $20 Olfactif gift card with new Olfactif subscriptions!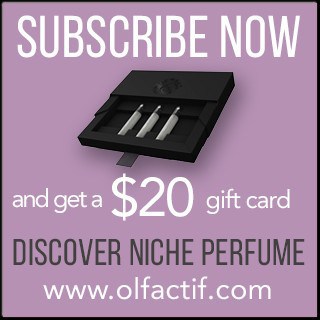 The $20 gift card can be used towards any full bottle in the Olfactif store or towards a 3, 6, or 12 month subscription.
Get a FREE $20 Olfactif Gift Card with New Olfactif Subscriptions today!
Offer expires June 30, 2015. No code required. $20 gift card cannot be combined with subscribers' $18 credit.