UPDATE: The Free Welcome Block offer has been extended through 11:59PM EST, September 27, 2015!
The Nerd Block Free Welcome Block offer is ends tomorrow! Through September 25, 2015, new Nerd Block brand subscribers can get a FREE Welcome Block with their subscription. Each Nerd Block Free Welcome Block has $20 worth of surprise nerd collectibles – a sampling of the items from the Nerd Block Family.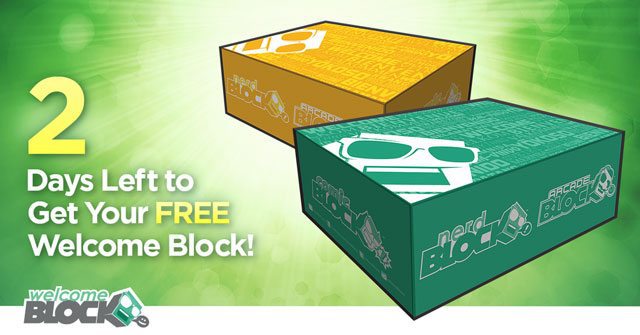 Choose your favorite Nerd Block subscription and subscribe today to claim your FREE Nerd Block Welcome Block. Pick-up multi-month and multi-Block subscriptions for additional savings.
Hurry, join the Nerd Block family and claim your FREE Welcome Block today!
Nerd Block Free Welcome Block offer expires September 25th, 11:59 PM EST.