The SockPanda sock subscription box delivers amazingly colorful, fun, and fashionable socks for men, women, and kids every month. Shop the SockPanda Labor Day Sale and a get a free month of socks with 6 month SockPanda subscriptions when you use Sock Panda coupon code LABOR at checkout.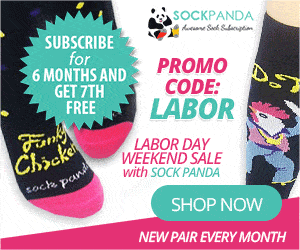 Choose from different types of fun SockPanda socks for every personality type such as bold and conservative, and designed for men, women, and kids.
Subscribe to SockPanda today for 6 months and get the 7th month FREE with code LABOR.
SockPanda promo code expires September 7, 2015.