JackedPack has revealed the first box spoilers for the JackedPack August 2015 supplement subscription sample box. Designed for weightlifters, bodybuilders, and fitness enthusiasts, that delivers 5-10 samples, customized for your fitness goals and favorite flavors.
The August JackedPack box is a pre-workout box and features 9 pre-workout samples including: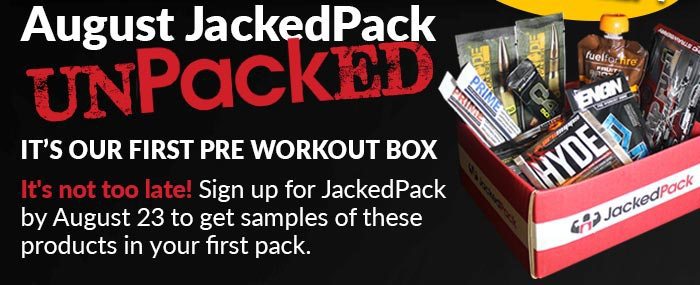 Grenade .50 Caliber – 2 flavors in every box – K.O. Punch and Orange Onslaught, 3 servings of each = 6 servings of .50 Caliber to try
Novex Biotech Prime – 2 flavors in every box – Blue Raspberry and Fruit Punch
PMD Sports Pump Fuel INSANITY – 2 flavors in every box – Outrageous Orange and Psycho Strawberry Cellucor C4 50X
Fruit Punch
EVL Nutrition ENGN – Blue Raz
ProSupps Mr. Hyde – Green Apple
BONUS SAMPLE: Fuel for Fire Fruit + Protein Fuel Pack – Banana Cocoa
Subscribed to JackedPack by August 23, 2015 to reserve your August JackedPack subscription box.
Which JackedPack August 2015 supplement sample are you most excited to try?