We have our first JackedPack July 2016 supplement box spoilers plus some amazing JackedPack free gifts! JackedPack delivers is a monthly supplement subscription sample box featuring 5-10 samples, customized for your fitness goals and favorite flavors. The July 2016 JackedPack box features 14 supplement and fitness products including: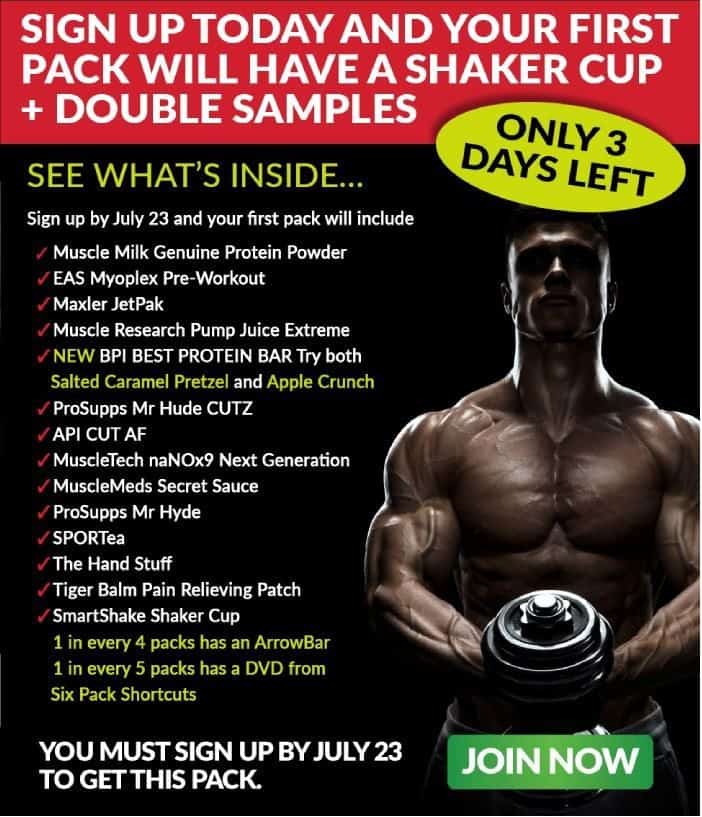 Muscle Milk Genuine Protein Powder
EAS Myoplex Pre-Workout
Maxler JetPak
Muscle Research Pump Juice Extreme
NEW BPI Best Protein Bar – Salted Caramel Pretzel and Apple Crunch
ProSupps Mr Hude CUTZ
API CUT AF
MuscleTech naNOx9 Next Generation
MuscleMeds Secret Sauce
ProSupps Mr Hyde
SPORTea
The Hand Stuff
Tiget Balm Pain Relieving Patch
FREE SmartShake Shaker Cup
1 in every 4 packs has an ArrowBar
1 in every 5 packs has a DVD from Six Pack Shortcuts
What do you think about the July JackedPack supplements box?
JackedPack July 2016 Double Samples Offer
Join JackedPack by July 23, 2016 to reserve your July JackedPack supplement box and automatically get DOUBLE SAMPLES in your July box. Subscribe now!
Save $15 Off 3 Months of JackedPack
For a limited time, use JackedPack promo code TRY3MONTHS to save $15 off 3 month JackedPack subscriptions.