The Vegan Cuts Beauty Box delivers a box of cruelty-free beauty brands every month – from unique cosmetics to luxurious skincare. A monthly Vegan Cuts Beauty Box is just $19.95 (with FREE shipping in the US) and delivers 4-7 new beauty products right to your door.
The July 2014 Vegan Cuts Beauty Box was curated in partnership with Sunny from Vegan Beauty Review and this month's box is packed with some of Sunny's all-time favorite beauty brands. Vegan Cuts has shared box spoilers for the July Vegan Cuts Beauty Box.
Spoiler #1: Emani Lipstick in Temptress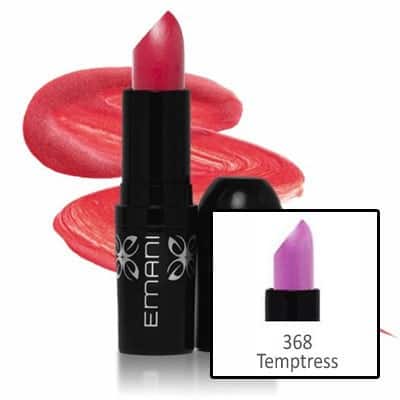 Emani Hydrating Lip Color coats the lips with brilliant color and conditions them with a 100% vegan formula. Enriched with vitamins and natural oils to nourish the lips while enhancing their appearance, Emani Hydrating Lip Color keeps them soft, gorgeous, and irresistibly kissable.
Spoiler #2: NOUVEAU/ORGANICA Lip/Cheek Cream
Easy to use and multi-tasking cream format even for us non-Picasso's, these Cream Colours have very limited availability
Spoiler #3: ellovi butter
Ellovi Butter is a raw body butter made from only six pure ingredients grown naturally around the world. What's really special about Butter is that we don't add water. That means it's highly concentrated, can't evaporate like other moisturizers, and we don't need preservatives.
July Bonus Gift!
Not a current Vegan Cuts Beauty Box subscriber? Subscribe to the Vegan Cuts Beauty Box today and you'll receive a FREE bonus gift! The first 300 new subscribers will receive one of the following Bonus Gifts (your bonus gift will be randomly selected):
GlamNatural lip gloss
Dew Puff sponge
Lavishy coin purse
VB Cosmetics Dazzle Dry top coat (sample size)
Pure Natural Diva Botanicals sugar scrub (sample size).
July Vegan Cuts Beauty Box Sneak Peek
Which Vegan Cuts Beauty Box spoiler are you most excited to try?