Love fashion? Don't miss this amazing Le Tote Select Promo! Click here to get $25 in Purchase Credit With Le Tote Select when you sign-up today and use code SHOPLT at checkout!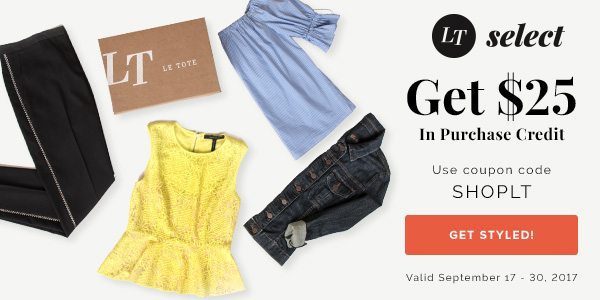 Le Tote Select is a new subscription service that delivers brand new clothing to your door. Le Tote will charge a $20 styling fee that will be credited toward anything you want to purchase. You order your tote, pay for the items you want to keep and return the rest.
For a limited time, new Le Tote Select subscribers can get a $25 credit to purchase any of the items in your Le Tote Select delivery. Just click here to join Le Tote Select now and use code SHOPLT at checkout to claim your free credit.
Le Tote Select Promo expires Saturday, September 30, 2017. Must use Le Tote Coupon Code SHOPLT at checkout to receive credit.