The April 2015 Loot Crate theme and Mega Crate contents have been announced. We also have our first Loot Crate April 2015 box spoiler hints!
The Loot Crate April 2015 Theme is FANTASY! The April Fantasy-themed Loot Crate will feature items from favorite fantasy franchises!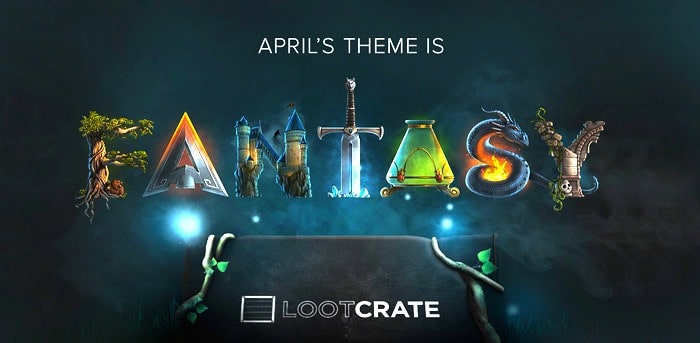 Do you like swords, sorcery, and the occasional mythical beast? Well you're in luck! This month, Loot Crate™ is all about FANTASY! So grab a good sword and the most impractical armor you can find, because you've got a quest to complete and a kingdom to save!
Loot Crate April 2015 Box Spoilers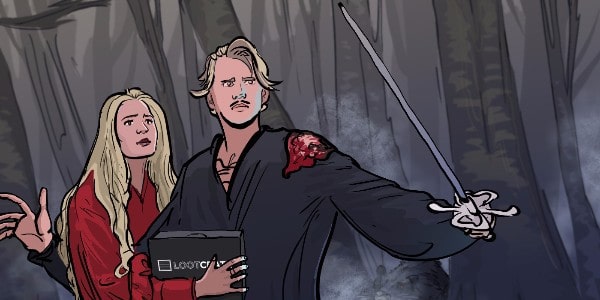 We also have our first April 2015 Loot Crate box spoilers! The Loot Crate April Fantasy crate will have at least one wearable item (perhaps a t-shirt?) as well as epic collectibles from Game of Thrones, Dungeons & Dragons, and The Princess Bride!
Loot Crate April 2015 Mega Crate
Every month, one Loot Crate subscriber is randomly selected to win that month's Mega Crate! The April 2015 Loot Crate Mega Crate has a prize value over $2,500!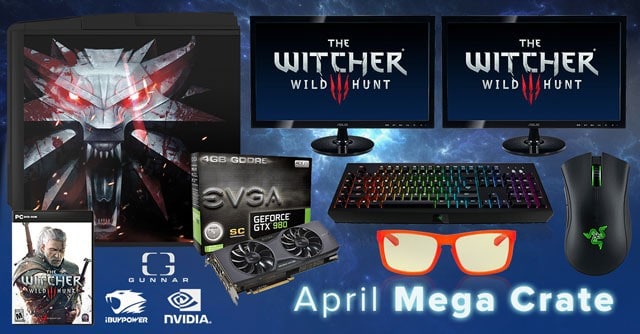 This month's Mega Crate not only includes the most anticipated FANTASY game title of the year, it also includes a Custom-built Gaming PC and all the accessories you need!
The April Loot Crate Mega Crate also includes:
Custom Built Gaming PC:

PC: Exclusive The Witcher 3: Wild Hunt Wrapped iBuyPower PC
Case: NZXT Phantom 530
CPU: Intel i7 4790K
GPU: Nvidia GTX 980 from EVGA
Hard Drive: 1 TB HDD
SSD: Apotop 128 GB SATA-3 SSD
Motherboard: MSI Z87-G45 Gaming
RAM: 2x 8 GB Gskill Ripjaws X Series DDR3-2133 Memory

Monitors: Two (2) Asus 24-ing Full-HD LED-backlit LCD Monitor
Keyboard: Razer Blackwidow Chroma
Mouse: Razer DeathAdder Chroma
Glasses: Gunnar Intercept Colors
Game: The Witcher 3: Wild Hunt
Loot Crate April 2015 Coupon Code
Subscribe to Loot Crate by April 19th, 2015 to reserve your Fantasy Loot Crate box for geeks and gamers! For a limited time, use coupon code NEWS3 to save $3 off your first Loot Crate box or use code FINDBOXES to save 10% off any Loot Crate subscription.
What do you think about the April 2015 Loot Crate theme and box spoilers? Which is your favorite Fantasy franchise?