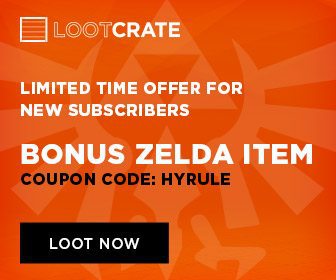 Join Loot Crate today and get a bonus gift! For a limited time, new Loot Crate subscribers can get a bonus Zelda item when you sign-up for Loot Crate. Use code ZELDA at checkout to get your free gift.

New subscribers will automatically receive a FREE Loot Crate t-shirt with new 12 month subscriptions. Subscribe for 12 months of Loot Crate today and get the bonus Zelda item in addition to your free t-shirt.

Sign-up for Loot Crate and claim your Bonus Zelda item! April's Loot Crate theme is QUEST.

NOTE: Level Up and Loot Pets orders are not eligible for bonus item. Code SAVE3 will save $3 off new Level Up subscriptions.