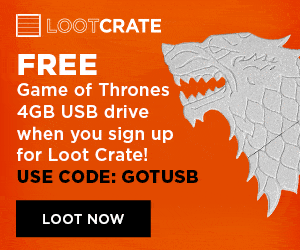 New Loot Crate free gift offer! For a limited time, new Loot Crate subscribers can get a free Game of Thrones 4GB USB drive when you sign-up for Loot Crate. Use code GOTUSB at checkout to get your free gift.

New subscribers will automatically receive a FREE Loot Crate t-shirt with new 12 month subscriptions, so you can get TWO free gifts with this deal.

Sign-up for Loot Crate and claim your free Game of Thrones 4GB USB Drive today! April's Loot Crate theme is QUEST.

NOTE: This coupon is not valid on Loot Crate Level Up. Code SAVE3 will save $3 off new Level Up subscriptions.

OFFER EXPIRES April 4, 2016.