The geek theme and box spoilers for Loot Crate June 2016 geek subscription boxes has been revealed. Every month, Loot Crate chooses a new theme for that month's geek ger and collectibles. Other Loot Crate boxes, including the new Loot Crate DX, Loot Pets, and Loot Crate Lvl Up share that month's theme. The June 2016 Loot Crate theme is DYSTOPIA.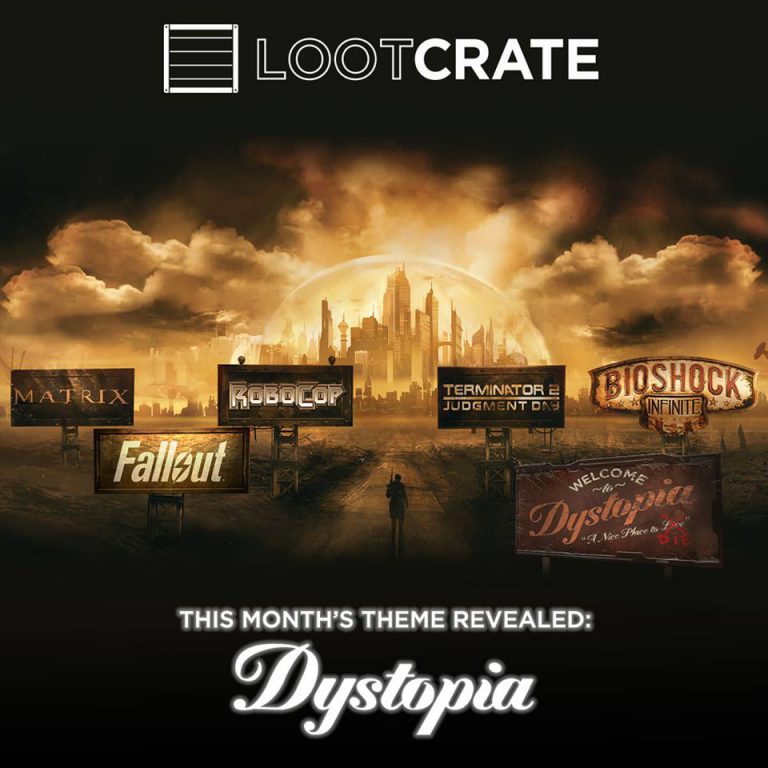 Pop culture is full of brave new worlds and societies in flux, that don't always turn out for the best. June's theme will be exploring some of the ways things can go wrong with #DYSTOPIA!
Loot Crate June 2016 Box Spoilers
We also have a sneak peek into the June 2016 Loot Crate DYSTOPIA crate with our first box spoilers! The Dystopia Loot Crate has items from Robocop, Terminator 2, Fallout, Bioshock,  and The Matrix!

Featuring some of the classics Robocop, Terminator 2 (T2): Judgement Day, and The Matrix with some new faves BioShock Infinite and Fallout 4, we've got the loot to lift your spirits!
And don't forget every Loot Crate has a collectible Loot Pin the unlocks DLC content for Looters.
What do you think about the Loot Crate June 2016 Dystopia theme and box spoilers?
June 2016 Loot Crate subscriptions close 9PM PST, June 19, 2016. Click here to reserve your box!
Looter News: June 2016 Theme Reveal
Loot Crate June 2016 Coupon Code
Reserve your June Dystopia Loot Crate today! Subscribe today and  save $3 off June's Loot Crate Dystopia crate when you use coupon code LOOTR3 or use code FINDBOXES to save 10% off any Loot Crate subscription. Don't forget, you'll also get a FREE Loot Crate t-shirt when you sign-up for 12 months of Loot Crate geek boxes.