We have tasty Love With Food May 2016 snack box spoilers! Love With Food snacks boxes are filled with healthy, all-natural or organic, or gluten-free snacks. Each month, Love With Food selects a new theme for their monthly healthy snack box. The May Love With Food snack box theme is Love Is Empathy.
Love With Food May 2016 Box Spoilers
In honor of Celiac Awareness month, Love With Food has partnered with Enjoy Life for a Gluten-Free box takeover. The May Gluten-Free Enjoy Life Foods box is celiac safe. Here's a sneak peek at the delicious healthy snacks in the gluten-free and other Love With Food May 2016 snack boxes.
Spoiler #1: Enjoy Life Foods Soft Baked Snickerdoodle Cookies – Gluten-Free Boxes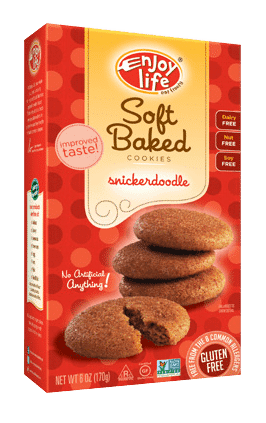 Craving a little sweetness? The sprinkling of cinnamon and sugar on our soft, allergy-friendly Snickerdoodles will satisfy anyone's sweet tooth. Enjoy Life Foods are free of the top 8 common allergens: Dairy, eggs, peanuts, tree nuts, fish, shellfish, soy, and wheat.
Spoiler #2: Surf Sweet Jelly Beans, Tasting, Deluxe and Gluten-Free Boxes
Drenched with fruit flavor, and made with organic sweeteners and organic fruit juice, Surf Sweets Jelly Beans are fun for everyone. A variety of favorite fruit flavors are included in every bag.
Spoiler #3: Skinny Pop Popcorn in Chocolate or Jalapeño Flavors, Love With Food Tasting (Chocolate) and Deluxe (Jalapeño) Boxes
SkinnyPop starts with a premium popcorn kernel, sunflower oil and the perfect amount of salt. From there, Pure Popped Perfection™ says it all. Our popcorn has no GMOs, gluten or preservatives, making SkinnyPop a tasty, guilt-free snack.
Are you excited to try the snacks in Love With Food's May "Love is Empathy" snack boxes?
Love With Food: What's In the May 2016 Box?
Save $20 Off Love With Food Annual Subscriptions
Use exclusive Love With Food Coupon code FSB20 to save $20 off any Love With Food subscription. A year's worth of Love With Food Deluxe snack boxes is just $178 after savings – that's less than $15 per box for double the snacks!
Want Gluten-Free snacks? Use our code to save on 12 months of gluten-free snacks delivered with an annual Love With Food Gluten-Free box subscription.