A few days ago Luxor Box revealed their January box theme and now we have our first Luxor Box January 2016 box spoiler. Every other month, Luxor Box $275+ worth of top-shelf beauty products, jewelry, apparel, home accessories and unique treasures from around the world.
The Luxor Box January 2016 box will include a Mottahedeh Snowflake Mug – a $45 value!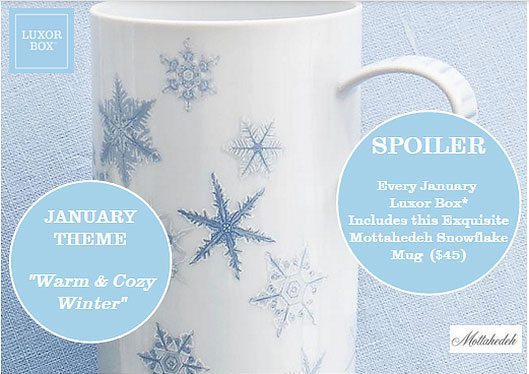 Imagine a candlelight dinner, a holiday gathering or an after snowman outing with a hot cup of cocoa. Mottahedeh has partnered for the first time with National Geographic and National Geographic's photo archive is the inspiration for this delicate design. Each actual snowflake was originally hand painted in icy tones of blue and silver.
Luxor Box has also revealed the one of the items is this month's box is too large to fit inside their standard signature box. The January 2016 Luxor Box will have over a $300 retail value!
We love the delicate design of the winter-themed mug. What do you think about the first January 2016 Luxor Box spoiler?
Join Luxor Box today to reserve your Luxor Box.
The $45 Mottahedeh Snowflake Mug is NOT included in the  OVER $300 retail value does NOT include the Luxor Box "Petite" Box.