We have our first July 2016 Luxor Box spoilers! Luxor Box is a bi-monthly luxury subscription box for women. Each Luxor box has a unique collection of items from beauty, home, jewelry, accessories and more. The Luxor Box July 2016 box will have The Julian Bag from SHAFFER LA – a $195 value!*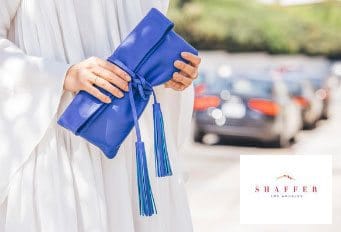 The Julian is always causing quite a stir. Made from Italian leather with an organic cotton interior, The Julian features leather ties that easily wrap around the bag's exterior to close it securely. Re-designed exclusively for The Luxor Box, our summer slimdown size is the perfect size for the necessities without the extra inches. There's no right or wrong way to wrap The Julian; she's a SHAFFER… so rules need not apply.
The above image is a likeness of the item you will receive. The exclusive slimdown version measures 8″L x 4″H when closed. It's made of Cobalt Blue Italian leather and has a 5″ Tassel.
The regular July Luxor Box will also have a "home" product from Dartington Crystal. The total retail value of the Luxor Box July 2016 box is over $475** – the highest retail value to date! Reserve your Luxor Box July 2016 box before it sells out. Join today!
Are you excited for the July 2016 Luxor Box? What do you think of the exclusive purse in the July box?
*The $195 SHAFFER LA "The Julian" and the Dartington Crystal "Home" item are NOT included in the Luxor Box "Petite" Box.
** $475 retail value does NOT include the Petite box.