We have TWO box spoilers for the Luxor Box September 2015 luxury box. Luxor Box is a luxe subscription box that delivers luxurious spa products, top-shelf beauty products and unique treasures from around the world to your door every other month.
Every Luxor Box September 2015 box (both full-size and Petite) will include TWO of the luxurious products from the Pura Botanica "Bath-and-Body Line" pictured below. (The Pura Botanica Essentials Pouch was featured in July's Luxor Box.)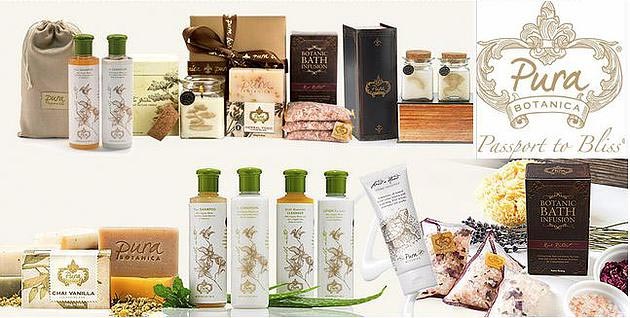 Pura Botanica is a producer of luxurious bath-and-body products and elegant, cruelty-free travel accessories.
Every September Luxor Box (not including Luxor Box "Petite" boxes) will also have a Tatum Cuff from the Meredith Hahn Collection – a $268 value!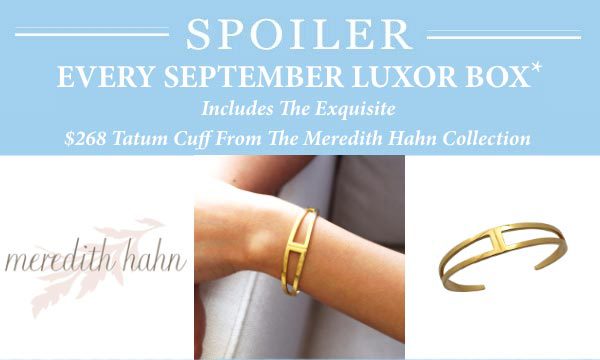 Meredith Hahn's delicate, modern designs have been carried by some of the most exclusive boutiques, including Bergdorf Goodman and Ron Herman. Her refined jewelry has graced the likes of celebrities Kate Hudson, Jamie Chung, and January Jones, as well as star bloggers We Wore What, Hapa Time, and Amelia Liana.
Luxor Box subscriptions start at $125 for US subscribers and Luxor Box has shared that September's Box is their highest valued box to date. Including this stylish cuff, the September 2015 Luxor Box retail value is just under $400.
What do you think of Luxor Box September box spoilers? We're so excited to start wearing the beautiful bracelet and can't wait to see which Pura Botanica items are in September's box. (We're big candle and handmade soap fans!) Is it September yet? :)
Read our latest Luxor Box reviews to see inside past Luxor Box subscription boxes.
Hurry! We have it from a reliable source that September Luxor Box subscriptions may close next week. Join Luxor Box today to reserve your September box of luxury gifts!