Every month, the Blush Mystery Beauty Box delivers over $100 worth of beauty must-haves right to your door. The featured curator of the March Blush Mystery Beauty Box is dermatologist Dr. David Rahimi, and the theme of the March Blush Box is "must-haves for complexion perfection."
Blush has also announced a March Blush Box spoiler. The March 2014 Blush Mystery Beauty Box will include a deluxe-sized sample of SkinCeuticals Hydrating B5 Gel.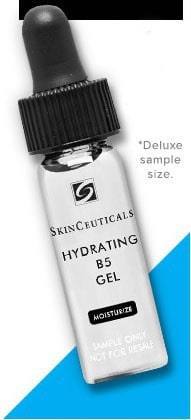 Formulated with a rich dose of hyaluronic acid and tissue-repairing vitamin B5, this refreshing gel works to restore and bind moisture to the skin for enhanced radiance, suppleness and comfort. Ideal for use with vitamin C treatments, it maximizes the effects of your daily moisturizer, resulting in optimized results.
Are you excited about the March 2014 Blush Mystery Beauty Box Spoiler?
If you're not a Blush Mystery Beauty Box subscriber, you can subscribe today for just $24.95 per month or order just the March Blush Mystery Beauty for a one-time price of $34.95.