Every month, Bulu Box delivers a subscription box of healthy and nutrition samples to help you discover the products that work best for you. Bulu Box has just announced two spoilers for the March 2014 Bulu Box.
The upcoming March Bulu Box will include: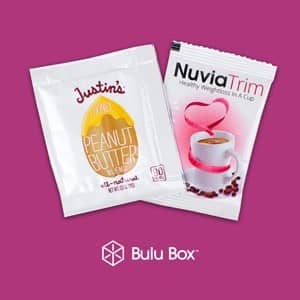 Spoiler #1: Justin's Peanut Butter – an environmentally friendly and all natural peanut butter.
Spoiler #2: NuviaTrim – a coffee-like drink designed to help you lose weight.
Excited to try these samples? Sign-up for Bulu Box before March 5th to ensure you receive these samples in your Bulu Box!
Don't forget, you can use code BULUGAN467 to save 50% off 3, 6, and 12-month Bulu Box subscriptions. That's just $55 for 12 months of Bulu Box when you use our coupon code!